The Tesla Model 3 has quickly become one of the most popular electric vehicles on the market. With its sleek design, impressive performance specs and relatively affordable price point, it's easy to see why. However, one consideration for Model 3 owners is finding reliable EV charging options when traveling and staying at hotels. Selecting a hotel with EV chargers ensures you can conveniently charge your Tesla while away from home. Here is an overview of the best hotel EV charger options for Tesla Model 3 owners.
Level 2 Chargers
Many hotels have installed Level 2 EV charging stations in their parking garages or lots to accommodate electric vehicle guests. Level 2 chargers operate on 240V power and can charge a Model 3 around 30 miles of range per hour plugged in. This makes them a good overnight charging solution while staying at a hotel.
Some of the top Level 2 EV charger manufacturers found at hotels include:
ChargePoint – One of the largest EV charging networks. ChargePoint stations are found at major hotel chains like Marriott and Hyatt. Charges up to 7.2 kW.
Tesla – Tesla destination chargers are Level 2 chargers specifically for Tesla vehicles. Provides up to 44 miles of range per hour. Found at an expanding number of hotels.
EVgo – Widespread DC fast charging network that also provides Level 2 charging. Charging speed depends on station, with most ranging from 6-12 kW.
Electrify America – Plans to install Level 2 chargers at 500 hotels in the US. Currently has agreements with several major chains.
When booking a hotel, look for mentions of Level 2 or 240V EV charging in the amenities or on their website. Compatibility with the Tesla Model 3 is likely, but you can also call ahead to confirm the charging speeds and connector types available.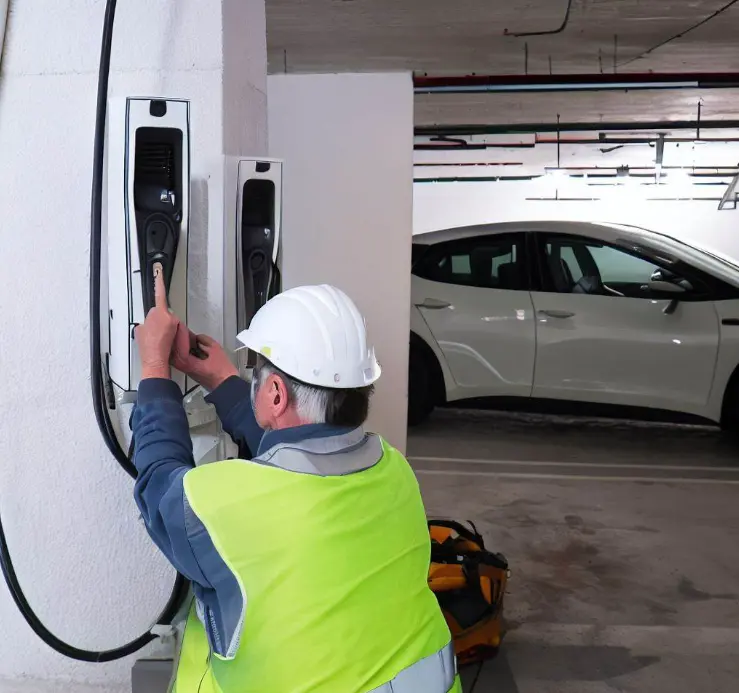 DC Fast Chargers
While less common than Level 2, some hotels are also installing DC fast chargers which can charge a Model 3 much quicker. DC fast chargers work by pumping out a high-voltage direct current that can add roughly 200 miles of range per hour to a Model 3 battery.
The two main DC fast charging standards are:
Tesla Superchargers – Tesla's proprietary DC fast charging network. Can charge a Model 3 battery up to 1,000 miles per hour. Requires a Tesla-specific connector, but some hotels have Tesla-to-CCS adapters available.
CCS/SAE Chargers – The standard DC fast charging connector for non-Tesla EVs. Charging speed can range from 50 kW up to 350 kW depending on the specific charger model and vehicle capability.
Hotels with CCS DC fast chargers include some locations of the InterContinental Hotel Group, Marriott, and Hilton brands. Amenities descriptions may mention 50 kW or higher DC fast charging. As with Level 2 stations, you can call ahead to check compatibility and charging speeds for your Model 3.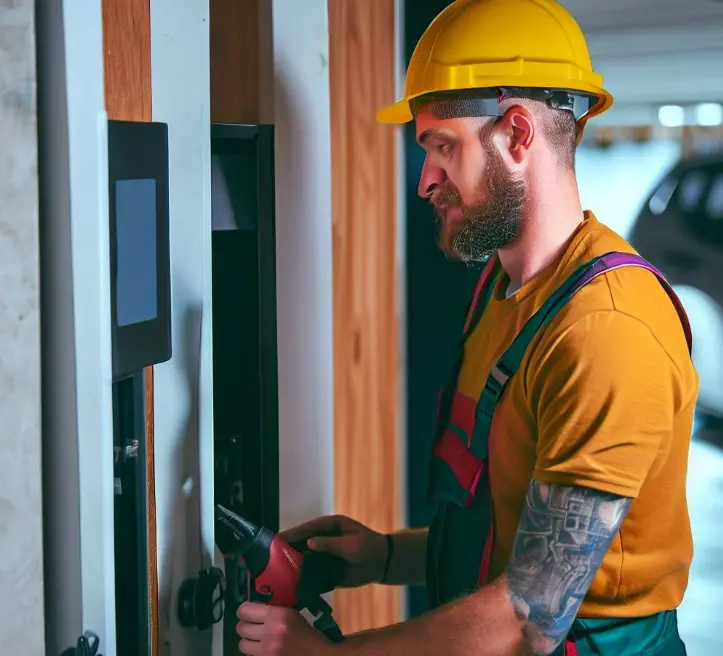 What to Look for in a Hotel EV Charger
When picking a hotel that offers electric vehicle charging, here are some key factors to consider for your Tesla Model 3:
Charging speed (kW rating) – Faster charging is better, with at least 7.2 kW Level 2 being ideal for overnight. 50+ kW DC fast charging can significantly replenish range quickly if available.
Connector type – Ensure the charging station has the Tesla connector or J1772 plug for Level 2, or CCS/SAE for DC fast charging. Adapters may be needed.
Cost – Many hotels offer charging for free, while others charge hourly rates or session fees. Compare pricing options.
Proximity – Try to pick chargers located near where you'll be parking overnight for convenience. Valet charging is also sometimes available.
Availability – Call ahead or book hotels with multiple charging stations to avoid wait times or availability issues.
App access – Ability to monitor charger status/availability and make payments via apps like ChargePoint can be helpful.
Best Hotels for Tesla Model 3 Charging
Here are some of the top-rated hotel chains and specific locations to consider for EV charging if you own a Tesla Model 3:
Hotel Chains:
Tesla Hotels – Expanding network of Tesla-approved hotels with Superchargers and destination chargers. Convenient charging reciprocity program for Tesla guests.
Marriott – Many locations have ChargePoint and Tesla Destination chargers. Marriott Bonvoy membership includes free EV charging perks.
Hilton – Numerous sites with DC fast chargers and Tesla destination chargers available. Member discounts on charging rates.
InterContinental Hotels – Have installed EVhub fast chargers from IONITY capable of 175+ kW charging.
Specific Hotels:
Westin San Diego Gaslamp Quarter – Offers on-site charging through ChargePoint with good rates. Centrally located downtown.
Hyatt Regency Orange County – A ChargePoint station provides Level 2 charging in the parking garage. Disneyland area location.
Four Seasons Hotel Silicon Valley – Destination chargers available on-site for Tesla vehicles. Heart of tech region location.
JW Marriott Phoenix Desert Ridge Resort & Spa – Boasts a bank of 4 Tesla chargers plus additional Level 2 stations on-site. Resort amenities abound.
No matter where you are traveling with your Tesla Model 3, carefully selecting hotels with EV charging stations ensures you can conveniently charge up for your adventures on the road. Advanced planning takes the guesswork out of finding compatible and affordable hotel chargers in the Tesla charging network.
Vendor Spotlight: RelayPro Hotel panic buttons are a new requirement for hotels, but they don't have to be a new expense. RelayPro was recently approved by Marriott, IHG and Choice hotels and has been installed in nearly 2,000 properties.  RelayPro is BOTH a 4G/Wi-Fi walkie talkie and a cutting-edge panic button with VOICE communication.