The FCC and Major Phone Carriers Are No Longer Servicing Analog Telephone Lines
Replace Your POTS Lines With Our Failsafe Digital Solution
POTS replacement replaces old copper telephone lines specifically for Fire & Security Systems, Fax Machines, Elevators, Voice Services, Point of Sale Systems, Gate Access, ATMs and Emergency Safety Systems for businesses and commercial buildings.
Phone carriers are no longer required to service analog copper telephone lines as per the FCC's Forbearance Order 19-72A1. The order requires that resellers and customers who utilize POTS line services move to an alternative service on or before August 2, 2022.  The FCC and most major telecommunications providers are making the push for POTS replacement and moving to wireless and fiber connections, beginning  in 2022.
How Does This Impact Your Business?
POTS lines are being discontinued, resulting in high monthly fees and less maintenance.  Our POTS replacement solution ensures that your critical systems are running smoothly with a digital connection.  We make your replacements easy and affordable, resulting in significant savings for your business.
Your Costs Increase As The Number of Copper Lines Decrease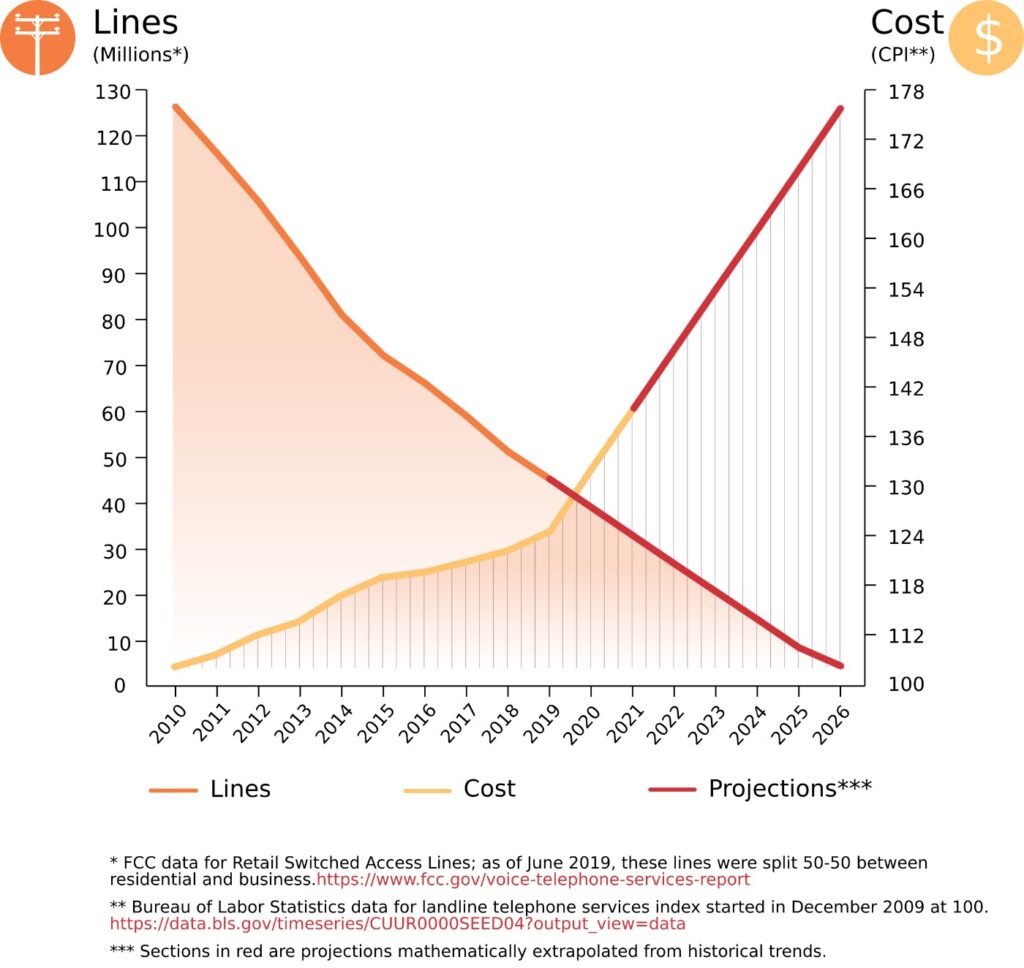 Our Solution Supports Applications that Require Analog Dial Tones
Major phone providers are no longer required to maintain their plain old telephone service (POTS) line. Our POTS line replacement solution seamlessly brings your systems over to the digital age.  We offer an enterprise grade solution for POTS replacement that converts existing POTS lines with our digital technology.  Your service will be more reliable and the savings will be significant.
Why Should You Make the Switch & Replace Your POTS Lines?
Our failsafe technology ensures that your systems will operate continuously even during a power outage. A separate battery source keeps all your critical systems working for up to 8 hours during a power outage.
The cost of copper lines has increased exponentially and prices are expected to continue to rise.  Our all-in-one solution consolidates your POTS lines replacement needs and you will receive one bill and one flat rate, that can offer savings of up to 60%.
Our all-in-one solution allows you to manage all your devices remotely from one portal while using your existing communications and critical systems.  Our solution keeps your POTS replacement needs simple with one provider for all your hardware, data and phone service needs. 
Reliable POTS Line Replacement Devices
The cost of traditional phone lines is increasing due to the decrease in the number of copper lines.  Ooma AirDial is a POTS line replacement solution that keeps your analog phone line systems and other mission-critical legacy devices connected and offers reliable service over a dedicated wireless network.
Reliable POTS Line Replacement Devices
Please complete the form below