Electric vehicles (EVs) are becoming increasingly popular, and hotels are taking notice. Installing EV charging stations provides an amenity that appeals to eco-conscious travelers while future-proofing your property for the EV transition. However, hotel EV charging comes with regulatory requirements like CTEP certification in California. This article explores CTEP certification and its impact on hotel EV charging.
What is CTEP?
CTEP stands for the California Type Evaluation Program, which sets safety and performance standards for commercial EV charging stations in California. CTEP is administered by the California Department of Food and Agriculture's Division of Measurement Standards (DMS).
Under CTEP regulations, all EV charging stations that collect payment in California must be certified to ensure accuracy and reliability. The program requires extensive testing of hardware and software to evaluate electrical safety, electromagnetic compatibility, communication protocols and charging accuracy.
Manufacturers must work with an independent testing laboratory accredited by the DMS to certify their EV charging products. Once certified, the products receive a Certificate of Approval (COA) and can be legally installed and operated in California.
CTEP Timeline for Hotels
As of January 2021, all newly installed Level 2 EV chargers in California must comply with CTEP regulations. The timeline for CTEP compliance is:
January 1, 2023: New DC fast chargers must comply
January 1, 2031: Pre-2021 Level 2 chargers must comply
January 1, 2033: Pre-2023 DC fast chargers must comply
This means hotels that already have EV chargers installed will need to upgrade to CTEP-compliant models by 2031-2033 depending on charger type. New hotel EV chargers being installed now must be CTEP-certified already.
CTEP Certification Process
Getting CTEP certification for hotel EV chargers involves a few key steps:
Submit COA application and $500 fee to DMS.
Work with CTEP-approved independent lab for evaluation.
Pay lab fees for testing and technician time/travel.
Lab will test and photograph EV chargers in the field.
If approved, DMS issues COA for the EV charger model.
COA is added to statewide database and charger can be installed.
Charger must meet accuracy and disclosure requirements in the field.
Hotels should choose CTEP-certified Level 2 or DC fast chargers when installing EV charging stations to comply with California regulations. Work with your EV charging provider to source certified hardware.
CTEP Standards for EV Charging Stations
To receive CTEP certification, hotel EV chargers must meet standards outlined in NIST Handbook 44. Key requirements include:
Displaying pricing per kWh and start/stop times
Showing all pricing tiers before charging session
Tracking/displaying kWh usage and costs during sessions
Providing detailed receipts with charging fees itemized
Undergoing field testing for accuracy
EV chargers must also have tamper-proof metering, offer multiple payment options, and continue working in offline mode. CTEP aims to ensure a fair, consistent and transparent EV charging experience.
Benefits of CTEP Certification
While CTEP compliance adds steps for hotels installing EV chargers, it provides some key benefits:
Ensures guest safety – Rigorous testing by independent labs means chargers meet electrical safety standards. This prevents fires, shocks and other hazards for hotel guests.
Provides fair and accurate charging – CTEP requires EV chargers to accurately track kilowatt-hours and session costs. This protects consumers from inaccurate billing.
Allows standardized features – CTEP requires pricing disclosure, receipts, etc. so drivers know what to expect when using any CTEP EV charger.
Discourages low-quality products – CTEP blocks inferior or unsafe chargers from entering the California market through required testing.
By complying with CTEP, hotels can provide reliable, transparent EV charging experiences. Though certification adds initial costs, it protects hotels from issues down the road. Overall, CTEP benefits California EV drivers and charging site hosts.
EV Charging Demand from Hotel Guests
EV adoption among travelers is rising quickly. Over 90% of EV drivers say convenient charging is important for choosing accommodation, and 80% actively seek lodging with EV charging.
Major hotel brands are reporting strong demand for EV charging:
Marriott has seen EV charging requests double each year since 2018. Nearly 20% of their hotels now offer charging.
Hilton aims to install EV chargers at over 50% of US properties by 2030 based on guest demand.
Hyatt reports EV charging is influences guest booking decisions and has installed chargers at 15% of hotels so far.
Consumer surveys also show that EV drivers will pay more to stay at hotels with charging. More than half said they would pay over $10 extra, and 20% would pay over $50 more.
As EV adoption grows exponentially in the coming decade, EV charging will shift from an amenity to a necessity for hotels. Making charging convenient will be key to attracting eco-conscious travelers.
Options for Hotel EV Charging Stations
When installing EV chargers, hotels must balance guest needs, available power, and budget. Here are some popular options:
Level 2 Chargers: Offer ~25 miles of range per hour. Best for overnight guests. Require 208/240V power.
DC Fast Chargers: Offer ~200 miles in 30 minutes. Allow quick top-ups for all guests. May require upgrades.
Smart Chargers: Gather usage data, integrate with software, allow dynamic sharing/scheduling to maximize usage. Require networking capabilities.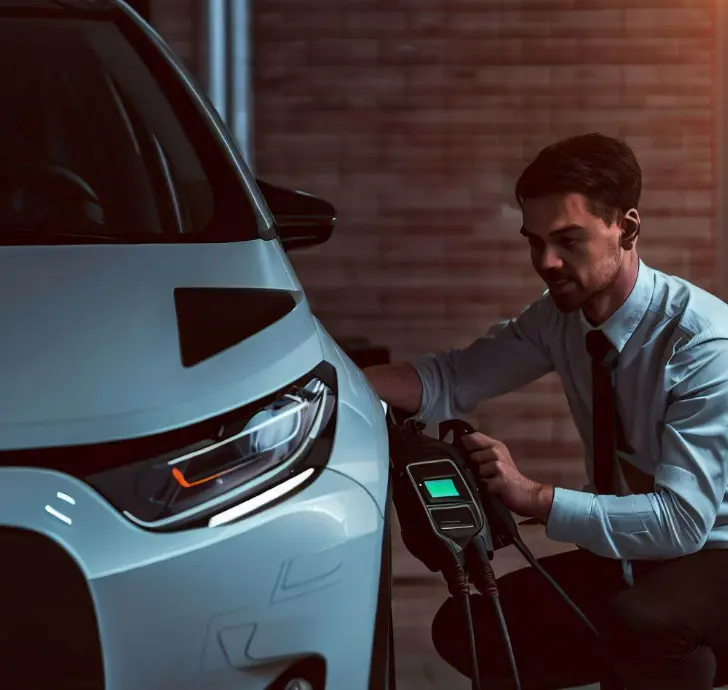 Load Management: Strategies to balance EV load on the grid, avoiding upgrades. Can leverage solar, batteries, smart charging.
Valet Charging: Staff plugs in guest vehicles. Allows more EV's to charge without multiple stations. Requires organizational process.
Hotels may want to install Level 2 stations for overnight charging supplemented with a DC fast charger for quick daytime top-ups. Adding smart chargers or load management enables adjusting to demand.
Strategic Planning for Future EV Charging Infrastructure
With growing EV adoption, hotels should take a strategic approach to EV charging:
Conduct an EV readiness assessment to understand electrical capacity and load management opportunities.
Survey guests to gauge charging demand and willingness to pay room premiums.
Start with pilot deployments to test EV charger models and utilization rates.
Plan for scaling up deployments as demand increases over the next 5-10 years.
Choose flexible, networked chargers that allow remote management as needs change.
Explore capital sources like government grants and utility programs to offset costs.
Partner with EV charging providers that handle CTEP certification, installation, maintenance and software.
By taking a data-driven approach, hotels can build out EV charging that maximizes utilization and return on investment.
The Bottom Line
With skyrocketing EV adoption, hotels that don't offer charging risk losing potential guests. But adding EV chargers comes with learning curves, especially in regulated markets like California. The CTEP certification program helps ensure hotel EV chargers are safe, reliable and transparent.
Though CTEP adds initial hurdles, it provides long-term protection for hotels while giving guests fair charging experiences. As EV charging evolves from novelty to necessity, CTEP will help California properties make a smooth transition. Partnering with experienced EV charging providers simplifies the installation and compliance process.
Vendor Spotlight: RelayPro Hotel panic buttons are a new requirement for hotels, but they don't have to be a new expense. RelayPro was recently approved by Marriott, IHG and Choice hotels and has been installed in nearly 2,000 properties.  RelayPro is BOTH a 4G/Wi-Fi walkie talkie and a cutting-edge panic button with VOICE communication.