When it comes to choosing a security camera system for your home or business, there are many factors to consider. Two popular brands in India are Hikvision and CP Plus. Both offer quality cameras and systems, but which is a better overall option? Let's take a deeper look at how Hikvision and CP Plus compare.
Overview of Hikvision
Founded in 2001 and headquartered in Hangzhou, China, Hikvision is one of the largest manufacturers of security cameras and video surveillance systems in the world. They have a huge market share, accounting for about 23% of the global video surveillance market. Hikvision products are used all over the world in both commercial and residential applications.
Some key things to know about Hikvision:
Wide range of camera types – Hikvision offers IP cameras, analog cameras, binocular cameras, and more for all budget levels and needs.
Advanced features – Many Hikvision cameras have intelligent features like facial recognition, ANPR, perimeter protection, and automated deterrents.
4K and 5G technology – Hikvision is on the cutting edge with high resolution 4K cameras and 5G compatibility.
Large R&D budget – Over $1 billion invested annually allows fast innovation and new product development.
Global support – Hikvision has a strong worldwide presence with local representatives for easy service and support.
Popular brand – Due to their large market share, Hikvision systems integrate easily with other brands via ONVIF compliance.
Overview of CP Plus
Founded in Taiwan in 1984, CP Plus is also a major player in the global security camera market, though smaller than Hikvision. They have a strong focus on innovation and technology. Some key facts:
Wide portfolio – CP Plus offers security cameras, video recorders, network devices, access control, and integrated solutions.
Advanced AI – Cameras have intelligent features like object recognition, people counting, and automatic incident detection.
Image quality – CP Plus uses high quality Sony sensors in many cameras for clear imaging day or night.
Reliability – CP Plus cameras are ruggedized for demanding outdoor use and most have IK10 impact ratings.
Design excellence – The systems have a sleek, minimalist design that integrated seamlessly into any environment.
Local support – While smaller than Hikvision, CP Plus still has representatives in many regions for installation help.
Competitive pricing – CP Plus offers similar advanced features to Hikvision cameras at lower price points.
Product Quality: Hikvision vs CP Plus
When it comes to image quality and build quality, Hikvision and CP Plus cameras are both excellent options. They use many of the same high-end components like Sony image sensors. Image quality is equally sharp at 1080p and higher with Hikvision or CP Plus.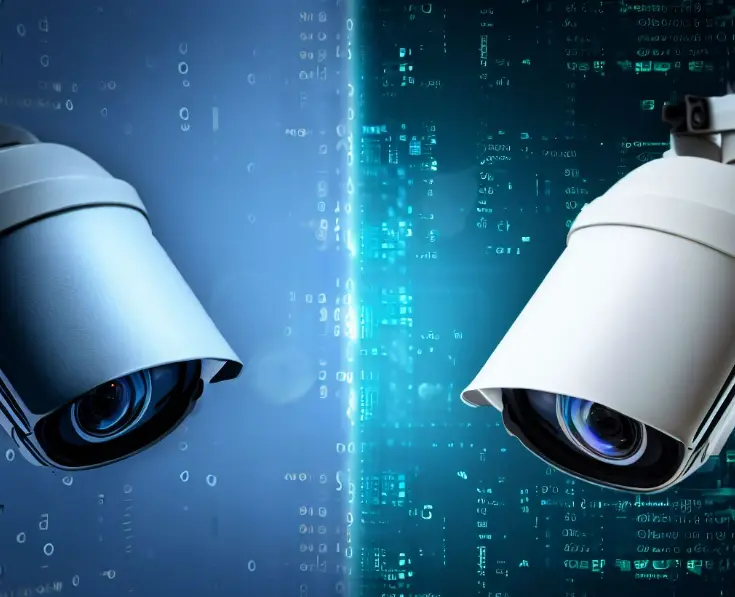 Both brands undergo rigorous testing and offer weatherproof, vandal-resistant cameras. Neither has a consistent edge in reliability or durability. Ultimately, image clarity is on par between the two at any given price point or camera type.
Advanced Features: Hikvision or CP Plus?
Both Hikvision and CP Plus integrate intelligent video analytics and AI into many of their cameras. But Hikvision may have a small advantage thanks to their massive R&D budget.
Hikvision cameras are more likely to offer advanced features like facial recognition, auto vehicle detection, and integrated deterrents like sirens or lights. However, CP Plus is innovating rapidly as well with great AI abilities of their own in newer camera models.
For basic analytics like motion detection and people counting, either brand will work well. But if cutting-edge features are a priority, Hikvision edges out CP Plus slightly due to their investment in advanced research.
Ease of Use: Hikvision vs CP Plus
Both security camera systems are easy to set up, operate, and manage via their apps and software. However, Hikvision has larger market share which means their software is more universally compatible.
The Hikvision NVR software can integrate footage from cameras of other brands easier than CP Plus systems. The Hikvision mobile app also tends to be a bit more intuitive and full-featured for live viewing and playback on phones or tablets.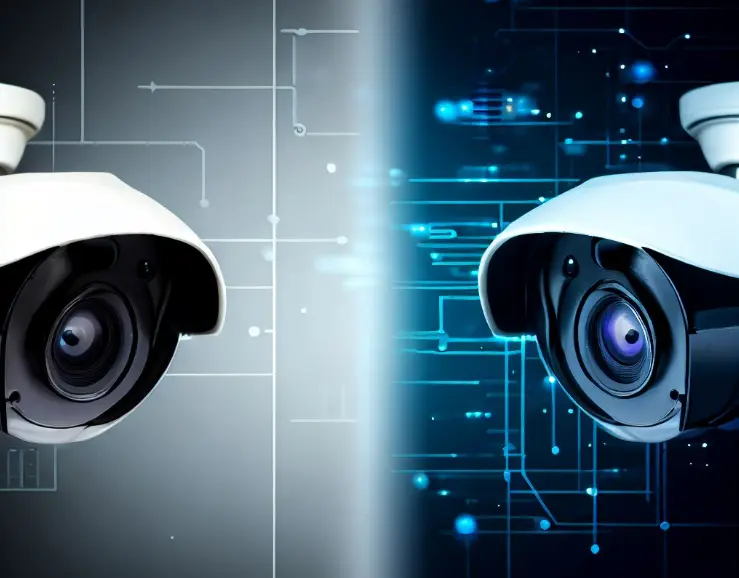 On the other hand, CP Plus systems have slick, modern designs that blend into any environment discreetly. Their camera bodies are also slimmer for hiding more easily. So either brand is very user-friendly, but Hikvision may integrate a bit smoother.
Cost Effectiveness: CP Plus vs Hikvision
Although it's becoming less pronounced as CP Plus grows, their cameras still carry lower price tags than similar Hikvision models in many cases. This makes CP Plus cameras competitive for smaller budgets.
Hikvision offers more sales and bundles frequently as well. Over time, the total cost of a Hikvision system may come out slightly below a CP Plus equivalent due to discounts. Hikvision also maintains product value better for reselling later.
However, CP Plus cameras are a great affordable option and often come pre-wired for fast, low-cost installation. So either brand can provide security at competitive prices depending on your specific needs and budget.
Installation and Service: Hikvision vs CP Plus
Hikvision has a greater global presence with representation in over 155 countries. This means installation and service support is often more accessible regionally for Hikvision owners if issues arise.
CP Plus service is still excellent, but may require shipping items back to factory service centers in some areas more often than a Hikvision device. Hikvision also has a strong commitment to replacing faulty items quickly under warranty.
That said, most installations go smoothly with either company. They provide comprehensive documentation, software suites, and tech support assists installers expertly. If purchasing from an authorized dealer, on-site help is also usually available.
Compatibility & Expandability
Hikvision's larger market dominance means their systems integrate most universally with 3rd party devices for things like access control, analytics tools, and more. Adding additional Hikvision cameras later is also very simple using the same management software.
While still compatible, CP Plus integrates best within its own ecosystem of devices. Mixing CP Plus and other brands requires more custom configuration. Expanding an existing CP Plus system with new cameras is still straightforward, but not quite as plug-and-play as Hikvision.
The Verdict: Hikvision vs CP Plus
Overall, both Hikvision and CP Plus offer outstanding security camera systems. For straightforward applications without advanced features critical, a CP Plus system is a solid choice at a competitive price.
However, Hikvision has a stronger presence, more intelligent camera options, and better support making it a slightly safer pick for businesses and large properties. Homeowners seeking basic needs are well-served by either top brand as well though.
Ultimately, Hikvision vs CP Plus comes down to individual requirements, budget, aesthetic preferences, and the level of after-sales support needed locally. For balanced performance at a lower investment, CP Plus is hard to beat – but Hikvision offers an edge in universal compatibility overall.