The hoteliers of West Hollywood are no strangers to drama, but recently things have reached a fever pitch.
With recent high-profile attacks putting hotels on edge, West Hollywood hospitality managers are rethinking their security protocols. While panic buttons installed under registration desks and in back offices once felt like sufficient protection, vulnerabilities have been exposed as assailants grow more brazen.
Experts say outdated systems and complacent staff training have rendered many panic buttons ineffective, leaving staff and guests unsafe. To provide true 24/7 protection, hoteliers must reassess placement, upgrade connectivity, and establish clear emergency protocols. Panic buttons linked to smartphones and remote monitoring services are now considered essential. While costs can be daunting, legal liability and brand reputation demand action.
By working closely with security consultants, West Hollywood hotels can discreetly upgrade their panic response and limit disruptions. The time is now for hoteliers to hit the panic button on improving their emergency systems. With a few smart upgrades, they can truly deliver on guest security.
How has West Hollywood Expanded Protections for Hotel Employees?
The City of West Hollywood passed the groundbreaking Hotel Worker Protection Ordinance in 2021, dramatically expanding safeguards for hotel employees. The new protections went into effect between September 2021 and July 2022 through several critical provisions.
The ordinance mandates that hotels provide employee safety devices (ESDs) for staff working alone in guest rooms. These devices allow workers to quickly summon help if they feel threatened or unsafe, providing crucial reassurance.
Additionally, the law establishes limits on daily room cleans and requires overtime pay for overwork, providing protections around compensation and workload. No more unrelenting demands without proper payment!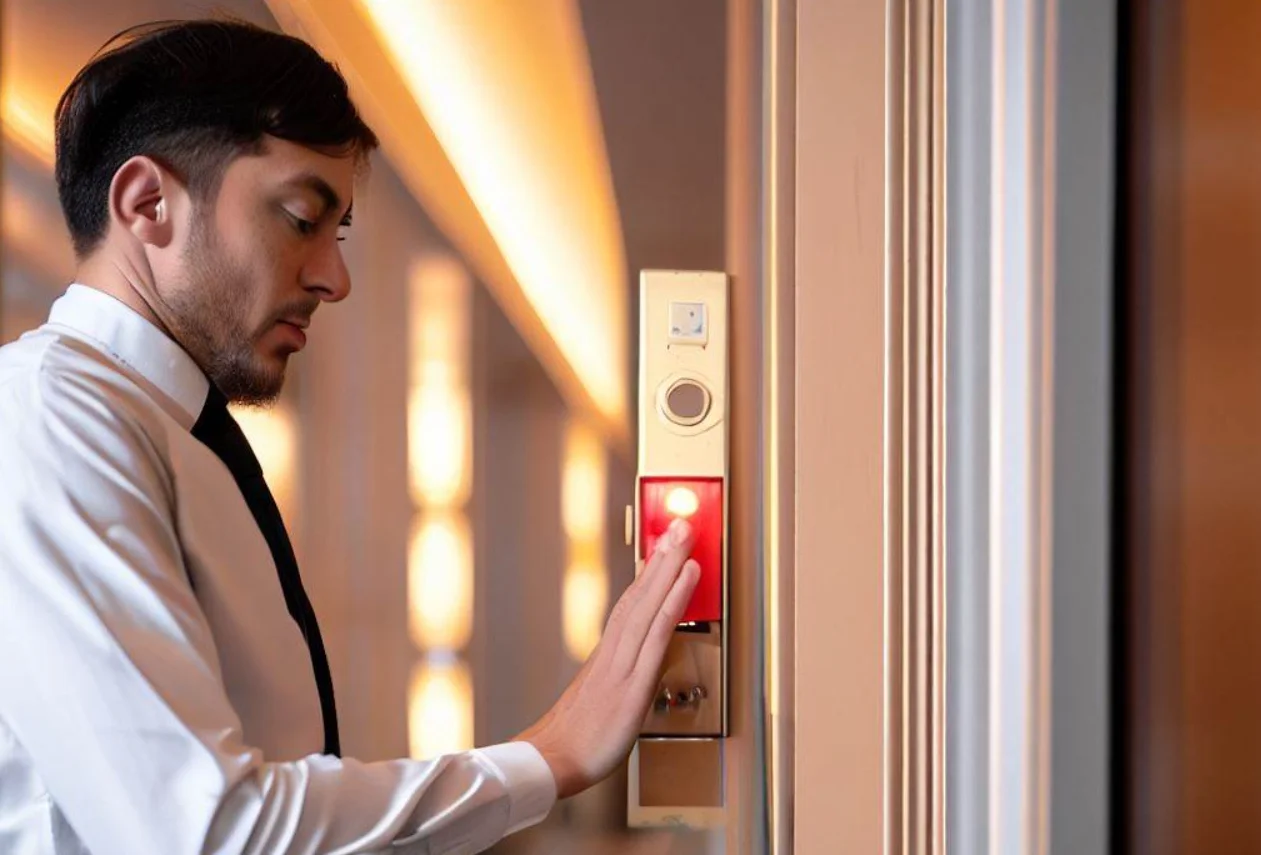 The ordinance also strengthens right of recall rules, giving laid off workers the opportunity to return when business picks back up and preventing displacement. This takes care of people during challenging transitions.
Furthermore, new employee retention obligations require that existing hotel workers be retained for 90 days when a hotel changes ownership. This allows continuity for staff during periods of potential upheaval.
What are Hotels Required to do Under West Hollywood's Groundbreaking Worker Protections Law?
The trailblazing Hotel Worker Protection Ordinance passed by West Hollywood applies comprehensive new standards to all hotels in the city limits. This includes provisions around panic buttons, workload regulations, right of recall, and required training – marking a major shift in employee protections for this vulnerable workforce.
Specifically, the ordinance obligates hotels to provide their staff working in isolation with personal security devices, commonly known as panic buttons. These allow workers to swiftly summon help if they feel threatened or unsafe. Additionally, hotels must designate someone to urgently respond when a panic button is triggered, ensuring rapid aid.
The law also sets limits on daily room cleans to prevent overburdening housekeepers. Moreover, it strengthens recall rights for any laid off staff so they have the opportunity to return when business rebounds. What a relief for workers facing uncertainty!
Furthermore, the ordinance mandates that hotels contract certified organizations to conduct training for housekeepers on best practices. This empowers employees with knowledge and skills for success. Hotels must also monitor staff to confirm protocols are followed.
What Features Make Panic Buttons Effective for Hotel Workers?
The West Hollywood ordinance mandating hotel worker panic buttons opens up questions for hoteliers on how to select solutions that truly protect their employees. With countless options on the market, how can hotels choose devices that reliably safeguard vulnerable staff?
According to the law's provisions, an effective hotel panic button needs to have certain vital capabilities. First, the device must accurately pinpoint the worker's location when triggered, enabling rapid response. Can you imagine the danger if help was dispatched to the wrong area of a sprawling hotel?
The panic button should be portable and easy for staffers to carry on their persons while working in isolated spaces like guest rooms. If the device is bulky or cumbersome, the worker may opt to leave it behind, eliminating its protection.
The device must provide direct contact to the designated hotel security personnel or manager responsible for emergency response. There should be no question of who will provide aid when the panic button is activated. Direct communication is essential for fast assistance.
While various solutions exist on the market, hoteliers should vet options thoroughly to ensure they have these key features. When lives could be at stake, effectiveness is everything. Hotels also need solutions scalable to their specific size and needs.
By selecting reliable panic buttons primed for rapid response, hotels can fully honor the pioneering protections in West Hollywood's ordinance. Most importantly, they can give their valued staffers peace of mind that help is just a push of a button away if danger arises. Now that's true security.