Security cameras from AXIS Communications and Speco Technologies are two of the most popular options for home and business video surveillance systems. With both brands offering high-quality cameras packed with useful features, it can be tough to decide which is the better choice for your needs. This in-depth comparison examines key factors like video resolution, night vision, durability, management software, and more to help you determine the best security cameras for your situation.
About AXIS Communications
Founded in 1984 and headquartered in Lund, Sweden, AXIS is a globally renowned manufacturer of video surveillance equipment for a wide variety of applications. Their extensive product portfolio includes internet protocol (IP) cameras, video encoders, network video recorders, and video management software.
Known for their high-quality imaging, easy installation, and integration with other systems, AXIS cameras can be found securing and monitoring premises ranging from private homes to retail stores, banks, casinos, airports, and more.
About Speco Technologies
Speco Technologies is an American company founded in 1958 and based in Amityville, New York. Originally manufacturing audio products like speakers, Speco has grown over the decades into a leading brand for video surveillance equipment including analog, IP, and hybrid cameras as well as digital video recorders. Their solutions are designed for effortless setup, flexibility, and maximum performance at affordable prices. Speco cameras secure all kinds of commercial, industrial, residential, and governmental properties across the United States and beyond.
Key Factors in Comparing Security Cameras
With many options to choose from in AXIS and Speco security cameras, it helps to focus on a few vital factors that impact real-world performance:
Video resolution – Higher resolution produces clearer, more detailed images and footage. Many models offer 4K and 5MP clarity.
Field of view – Wider angles allow a single camera to monitor larger areas. Varifocal and zoom lenses provide versatility.
Night vision – Low-light imaging ensures visibility even in total darkness. IR and starlight technologies enhance night viewing.
Durability – Resistance to weather, tampering and vandalism ensures reliable outdoor operation. IP66 or IK10 ratings indicate robust builds.
Management software – Platforms like AXIS Companion and Speco Blue make accessing footage and features simple.
Storage options – Models with SD card slots or network video recorders offer onboard or remote recording.
Smart features – Motion detection, pan/tilt/zoom, auto tracking, and video analytics add automation and convenience.
Budget – Comparing prices and features helps balance performance with affordability for your needs.
AXIS vs. Speco IP Cameras
AXIS M2025-LE Mk II – AXIS' M2025-LE MK II is a compact, indoor-outdoor-rated bullet-style IP camera with HDTV 1080p resolution and wide dynamic range. It offers a varifocal 3-9mm lens with P-iris control for crisp images in all lighting. The IK10 vandal-resistant casing and IP66 weather protection allow flexible mounting outdoors. Other highlights include onboard storage, two-way audio, digital PTZ and AXIS Companion support.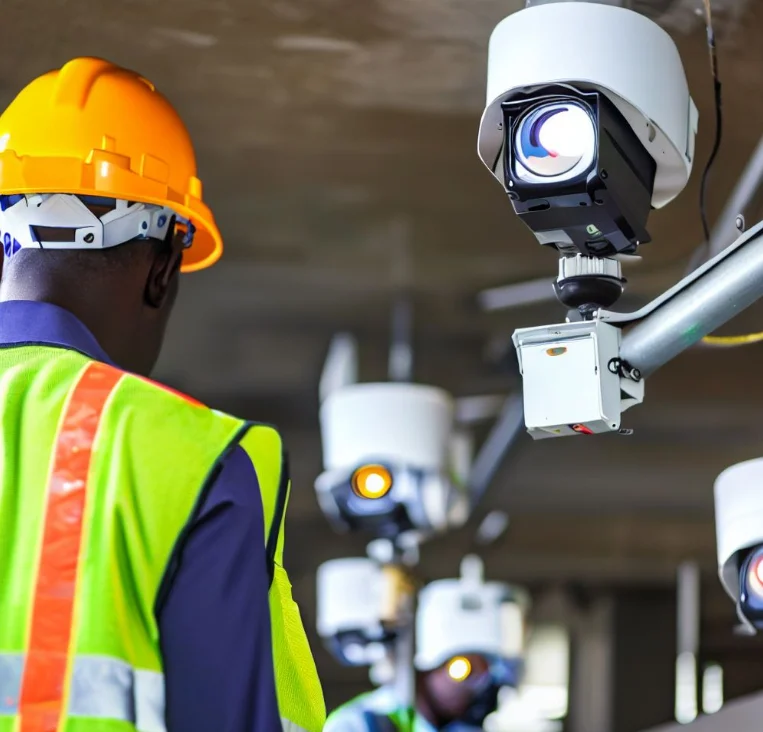 Speco IPC-T5EC – Speco's IPC-T5EC is an outdoor turret IP camera with 4MP resolution and H.265 compression for optimized performance. The varifocal 2.8-12mm lens provides flexible viewing angles. Starlight technology and IR LEDs ensure clear night vision up to 200 feet. This camera has an IP67-rated housing to withstand harsh environments and IK10 impact resistance. The convenient design works seamlessly with Speco Blue and other systems.
Comparing these two models, the AXIS M2025-LE MK II has the advantages of familiar, user-friendly AXIS software integration, onboard storage and digital PTZ capabilities. The Speco IPC-T5EC counters with higher 4MP resolution, a more powerful optical zoom range, greater night vision reach and a more durable IP67-rated build. The prices are similar, so needs like resolution, lens versatility and software compatibility will likely determine the better choice here.
AXIS vs Speco 4K Security Cameras
AXIS P3807-PVE – With 5MP resolution and HDR, AXIS' P3807-PVE dome camera records ultra sharp 4K video ideal for identifying faces and license plates. The integrated IR LEDs provide long-range night vision. Designed for indoor and outdoor usage, this camera offers a motorized varifocal lens with P-iris and auto zoom/focus. AXIS Perimeter Defender analytics help secure facility perimeters. Edge storage and AXIS Companion integration maximize functionality.
Speco MIPUF85IRW – Speco's MIPUF85IRW bullet camera also delivers 4K clarity and WDR technology for pristine footage in any lighting. The 4.7-13mm motorized lens allows easy field of view adjustments. Smart IR LEDs avoid overexposure when capturing subjects at close range. This camera withstands temperature extremes from -58° to 140°F and meets stringent IP66, IK10 and NEMA 4X ratings for harsh environments. It seamlessly works with Speco Blue and SpecoVision.
The AXIS P3807-PVE stands out for its powerful video analytics features perfect for monitoring gates, fences and other secure areas. The Speco MIPUF85IRW offers a wider operating temperature range and meets IP66, IK10 and NEMA 4X benchmarks for superior durability in exposed outdoor settings. Both integrate with each company's respective companion software platforms. With comparable pricing too, choosing between these 4K cameras really comes down to desired premium features and build specs.
AXIS vs Speco NVRs and Recording Solutions
AXIS S3008 Recorder – AXIS S3008 is an 8-channel network video recorder offering easy centralized recording for IP cameras. Up to 6TB of onboard storage provides ample space for continuous recording. This compact unit can connect with AXIS Companion cameras for plug-and-play functionality as well as third-party ONVIF cameras. Remote viewing on desktop and mobile is intuitive through AXIS Companion apps. Edge storage support and optional cloud plans allow further backup and redundancy.
Speco NS48IPAWS – The Speco NS48IPAWS manages up to 48 channels of IP cameras. The preloaded 4TB hard drive can be expanded to 28TB for massive video storage capacity. Rugged aluminum construction allows flexible rack or wall mounting. This NVR records H.265 and H.264 encoded streams up to 12MP resolution. It works seamlessly with Speco cameras but also supports thousands of ONVIF models. Access footage anywhere with Speco Blue mobile apps for iOS and Android.
For smaller camera systems, the 8-channel AXIS S3008 Recorder provides convenient unified recording and monitoring powered by the user-friendly AXIS Companion platform. For more expansive camera deployments, the 48-channel Speco NS48IPAWS enables virtually unlimited storage potential and broader device support. Both eliminate the need for per-camera SD cards or licenses. Again, it depends on your camera count and storage requirements when choosing between these recorders.
The Verdict: AXIS or Speco Security Cameras?
When comparing AXIS versus Speco security cameras, both brands prove to be worthy contenders with quality IP and analog cameras packed with useful features. AXIS IP cameras do carry advantages in brand recognition and integration with AXIS Companion software for straightforward recording and remote viewing. However, Speco cameras frequently match or exceed AXIS models in areas like video resolution, night vision capabilities, durability ratings and storage capacity for the price.
Ultimately, choosing between AXIS and Speco comes down to your specific needs and preferences. For familiar AXIS quality with a focus on balanced performance and smart features, their cameras will serve you well. To maximize video resolution, ruggedness and storage in a flexible system, Speco models are an excellent option with significant bang for your buck. Either brand provides top-of-the-line solutions sure to deliver the reliable monitoring your property demands. Carefully match the camera capabilities and specifications with the requirements of your unique deployment to select the AXIS or Speco security cameras that are the best fit.