COVID-19 Vaccine Mandates: What Can Travelers Expect?
Travel looks completely different than it did in the past, travelers have a lot to take into consideration, such COVID-19 vaccine and testing policies for hotels, for airlines and for destinations that they plan to travel to.  As COVID-19 cases begin to increase, countries, hotels and airlines are creating polices to aid in preventing the spread of the coronavirus.  The U.S. has surpassed 40 million COVID-19 cases since the pandemic began in March of 2020 and 4 million of those cases were reported in recent weeks, including the multiple COVID-19 variants.
Which Hotel Technology is Right for Your Hotel?
COVID-19 Vaccine Mandates, Are Americans in Favor?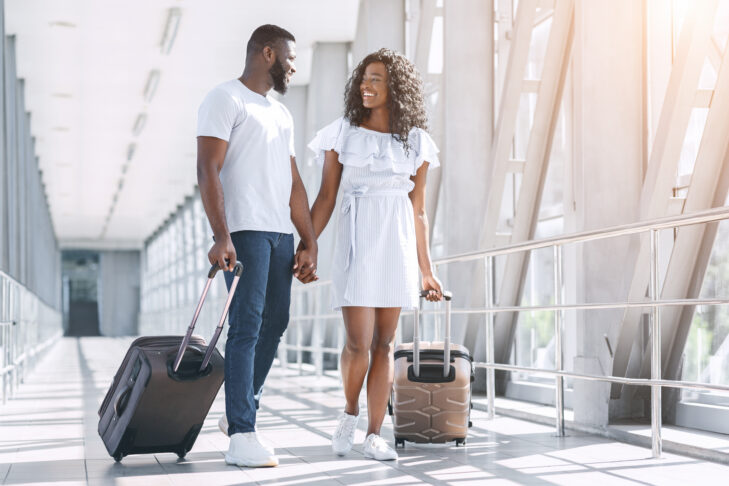 A recent poll conducted by Gallop shows that the majority of Americans support requiring proof of COVID-19 vaccination in order to travel by airplane, to book hotel stays, to dine in restaurants, to attend large events and to work in offices.  The poll conducted in August of 2021 found that 61% were in favor of showing proof of COVID-19 vaccination when traveling by airplane.  58% were in favor of the requirement in order to attend large events and 56% of those surveyed were in favor of vaccine requirements for working in offices.  In August of 2021, Americans appeared to be more supportive of vaccination requirements for hotel stays and to dine in restaurants than they were earlier in the year.  When it came to booking hotel stays, 53% of those surveyed were in favor of requiring evidence of vaccination, which increased from 43% in April of 2021.  53% were in favor of showing proof of vaccine for those dining in restaurants, which also increased from 40% in April of 2021.
What Are the COVID-19 Vaccine Requirements for Hotels?
Hotels within the U.S. and parts of the Caribbean have also began instituting vaccination policies for not only their employees but for guests as well.  The Public Hotel in New York City was one of the first hotels to require that all employees, guests and visitors be vaccinated against COVID-19.  The policy went into effect on September 5th and requires that all guests over 12 years old produce a vaccine card or vaccine passport showing proof of the COVID-19 vaccination.  The Equinox hotel in New York City also requires that by September 13th, that all guests and onsite staff provide proof of the COVID-19 vaccine as well.  Another New York City hotel, The Wythe Hotel requires that everyone attending their events, those in outdoor dining areas and those booking hotel stays show proof of vaccination.  Hotels in other states are also instituting their own vaccine requirement policies, as of July 24th, 2021, the Pilgrim House Inn in Massachusetts requires evidence of the COVID vaccine in order to be allowed in indoor and outdoor spaces, to attend shows and for hotel stays.  Currently, New York City requires proof of COVID-19 vaccination for all individuals attending and working in restaurants, gyms, theaters and other indoor event venues.  New Orleans and San Francisco also have similar vaccination requirements for indoor dining, recreation and event venues.
COVID-19 Vaccine Policies for Travelers
As COVID-19 cases continue to rise globally, including the emergence of the delta variant, some countries are requiring proof of vaccination for travelers.  Countries like The Netherlands considers the U.S. to be a very high-risk country and in addition to requiring proof of vaccination, they also require that all vaccinated travelers show proof of a negative COVID-19 test, travelers are also required to self-quarantine for 10 days.  Germany requires travelers to complete a European Medicines-accepted COVID-19 vaccination course.  Travelers can also show that they've recovered from COVID-19 between the past 28 days and 6 months or provide a negative COVID-19 test result taken 72 hours prior to their travel.  Canada requires vaccinated travelers to test negative for COVID-19 before they can enter the country.  Travelers must also show proof of being vaccinated against the coronavirus and complete a vaccine course two weeks prior to traveling.  Travelers need to stay abreast of these COVID vaccine requirements, which vary depending on the country.
Caribbean Hotels COVID-19 Vaccine Requirements
Some Caribbean Islands and hotel groups in the Caribbean have begun establishing policies to reduce the spread of COVID-19.  The COVID-19 transmission rate in Puerto Rico has increased to 11% compared to the 1.4% transmission rate in June of 2021.  Consequently, in August of 2021, Puerto Rico began requiring COVID-19 vaccinations for all hotel guests and short-term rentals including guests at Airbnb properties.  Violations could result in fines of up to $5,000 or a six-month jail sentence.  Some resorts in the Caribbean have also established polices related to COVID-19 vaccinations.  As of September 1st, guests at the Elite Island Resorts in Antigua, St. Lucia, the Grenadines, Barbados and Panama will be required to be vaccinated.
COVID-19 Vaccine Policies for Airlines
Some Airlines in the U.S. are requiring that their employees show proof of being vaccinated.  Delta airlines, now requires that all their newly hired employees are vaccinated against the coronavirus.  Delta has not mandated COVID-19 vaccination for existing employees, but unvaccinated employees will be charged a monthly health insurance surcharge of $200.  United, Frontier and Hawaiian Airlines have also established policies requiring that employees get vaccinated as well.  If employees at Frontier Airlines opt not to get the COVID vaccine, they will be subjected to frequent testing.
What Can Travelers Expect in the Future?
Many hotel brands have no established policies on COVID-19 vaccination requirements for employees or for their guests.  However, as COVID-19 cases continue to increase a few hotels have begun instituting polices for their hotels and guests.  The American Hotel and Lodging Association (AHLA), encourages employees to get vaccinated and provides a number of COVID vaccine resources, from the Centers for Disease Control and Prevention (CDC) and other health organizations that seeks to help hotels increase vaccination rates.  The AHLA believes that increasing employee vaccination is crucial in protecting both employees and guests, which will in effect lead to the recovery of the Hotel Industry.