Why Hotels Should be Investing in Direct Booking Technology
Hospitality Net conducted a survey that examined booking preferences and decision-making factors that impacted travelers.  The research surveyed 1,500 U.S. travelers about their preference to either book directly with hotels or to book on Online Travel Agencies (OTAs).  70% of responders preferred to book on OTAs and 30% preferred to book directly on the hotel's website.  Travelers preferred to book on OTAs due to poor booking experiences with hotels, expensive rates, and concerns about payment security.
Those that preferred to book directly with hotels, did so for the direct booking benefits, 28% of travelers preferred to book directly with hotels for extra perks, 21% booked directly to get the best price and 21% did so because of loyalty programs.  12% of travelers felt that booking on OTA's were faster than booking directly on hotel websites.  In order for hotels to increase direct bookings they need to offer travelers a more streamlined booking process with benefits that can help to build brand loyalty.
Consumers are Not Completing Purchases
A 2022 research study conducted by Baymard Institute found that many online shoppers are abandoning their shopping carts before completing their purchases.  48% of online shoppers felt that extra costs like taxes and fees were too high and lead them to abandon their transactions.  24% did not complete purchases because the site required them to create an account in order to check out and 17% felt that the check-out process took too long and was too complicated.
Vendor Spotlight: Namastay One Click Booking and Payment Solution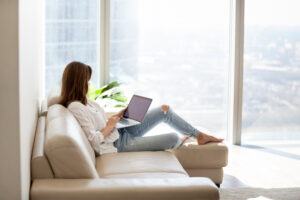 Hotels could be missing out on valuable revenue because the booking process is too long or by requiring travelers to create an account in order to book their hotel stays.  Most U.S. travelers preferred OTAs for the simplicity, the membership rates, and security that they offer.  Namastay streamlines the booking and payment process for hotels by enabling one-click booking and payment technology.  Hotels can offer guests a better booking experience by allowing them to book their hotel stays directly from the hotel website using digital wallets like Apple Pay and Google Pay.  In 2021, digital wallets accounted for almost 49% of online purchases and it is predicted that by 2025 53% of online purchases will be made using digital wallets.  Namastay allows hotels to transform the booking experience and attract more customers by giving them the ability to book their stays with one-click booking and payment.  Namastay also includes a "pay now or pay later" feature that offers guests more flexibility while securing their reservations.  The solution can be seamlessly integrated into the hotel's website and existing systems and provides a fast, secure, and seamless booking experience for guests.
Fast Payment and Booking
Being natively integrated in your website, Namastay provides a fast and seamless booking experience to your guests.
Complete Payment Suite
Namastay empowers hotels to offer secure and complete payment suite enabling customers to book and pay directly on your website.
Plug and Play
Namastay is compatible with major channel managers and PMS in the market.
Security and Compliance
Namastay guarantees enterprise grade security for your hotels and keeps your data safe.
Easy to use and Manage
Namastay allows hoteliers to create the booking experience they want and manage direct booking in no time.
Frédéric Robles co-founder & CEO says: "We are very proud to implement Namastay in such a forward-looking and renowned international hotel group. By optimising the guest booking experience and facilitating hotels' access to modern online payment technologies, we aim to increase hotel margins by increasing conversion, improving customer loyalty, and decreasing dependency on OTAs and legacy providers."
Direct Bookings are Beneficial for Hotels
Improved Payment Process
Travelers want a direct booking and payment experience that is easy and convenient, 12% of travelers felt that booking on OTA's were faster than booking directly on hotel websites.  Hotels that offer guests a quick payment gateway with different payment options can improve the booking and payment experience and attract more travelers.
Lower Customer Acquisition Costs
Direct bookings are more beneficial for hotels due to lower customer acquisition costs, OTAs charge commissions of up to 25% to hotels for each booking.  Hotels that increase direct bookings can increase their direct revenue.
Build Loyal Customer Base
Returning guests are more likely to book directly, as hotels offer special perks to guests that book directly on the hotel's website.  28% of travelers preferred to book directly with hotels for extra perks.  Many hotels offer special benefits to guests that book directly, guests can request special check-in and check-out times and can earn points and discounts that can be used during their next stay.
Upselling Capabilities
Direct bookings allow hotels to promote special offers and packages that customers can purchase.  Hotels can generate revenue by upselling some of their services, allowing guests to upgrade rooms and book a variety of hotel experiences.
Gain Customer Insights
Direct bookings give hotels the opportunity to receive valuable customer data that can be used to improve the booking experience.  Hotel websites can identify and track user behavior and offer tailored messages and promotions.  Hotels can also gain valuable insight that helps to better understand customers and identify areas to focus on or to improve.