Hotel Technology, Panic Buttons & the Labor Shortage
During the pandemic many hotels had to close their doors and had to reduce their staff due to travel restrictions.  As a result, many hotel employees were laid off or had reduced work hours as hotels struggled to keep their doors open due to historically low occupancy levels.  Now that travel bans have been removed and occupancy is close to pre-pandemic levels, hotels are experiencing a major labor shortage.
Many hotel employees left the Industry in order to find higher paying jobs, better benefits and safer working conditions that decreased their exposure to the coronavirus.  According to a Job Market Survey conducted by Joblist, Hospitality workers who were changing fields were looking for higher salaries, better benefits, and more flexible schedules.  Some hotels have increased wages and are offering bonuses and other incentives as a means of luring employees back.  But 70% of those that left Hospitality have no plans to return regardless of the incentives.
58% preferred to work in a different industry
37% felt that the pay was inadequate
20% felt their jobs lacked benefits
17% felt their schedules were not flexible
14% preferred to work from home
9% felt their jobs were a COVID-19 health risk
The Effects of Staffing Shortages on Hotels
Many hotels are struggling due to staffing shortages and are operating at reduced capacity, as a result
hotels have had to reduce services, which has had an impact on hotel revenue.  Hotels are operating with fewer staff and reduced housekeeping hours, the front desk hours have been reduced as well and some hotels have been forced to offer less dining options to guests.  Due to less staff, guests are facing longer wait times for their requests, as well as longer wait times to check-in and this can have an impact on the overall guest experience.  Guests that have had a negative experience are more likely to leave negative reviews that can have an influence on whether travelers decide to book with your hotel.
How can Hotel Technology Help with the Labor Shortage?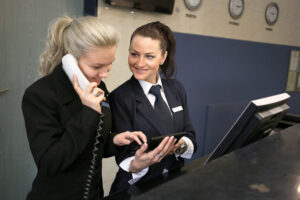 Hotel technology can transform roles and can lead to a more rewarding work experience.  Hotel employees want to work in an environment that is taking steps to ensure their safety from violence and from the spread of COVID-19.  Contactless and other hotel technology has the ability to decrease the spread of COVID-19, to offer employees a harassment free work environment and to create a more streamlined and efficient hotel operation.  Hotel technology can also solve many of the frustrations faced by guests during their hotel stays.  Guests crave convenience and hotels can better attract them by using technology to provide all their services in one convenient and easily accessible place.
Hotel Panic Buttons for a Safer Work Environment
Employees want to feel safe while at work, 9 out of 10 hospitality employees have experienced some form of sexual harassment and 96% felt that hotel panic buttons would make them feel safe while at work.  Investing in the safety of employees by providing panic buttons will give employees an increased sense of value and will create a better work culture.  Safety is important to employees and hotels that take employee safety seriously are more likely to stand out to prospective employees.
25 states have passed hotel panic button laws and major hotel brands have developed panic button brand requirements as well.  Hotels must act quickly to meet fast-approaching deadlines to adhere to panic button legislations, brand standard requirements, and union requirements for panic buttons.  Major hotel brands like Hilton, Hyatt, IHG and Marriott International have set deadlines for their properties to become compliant with hotel panic button requirements by December 2022.
Vendor Spotlight: MOP by Visual Matrix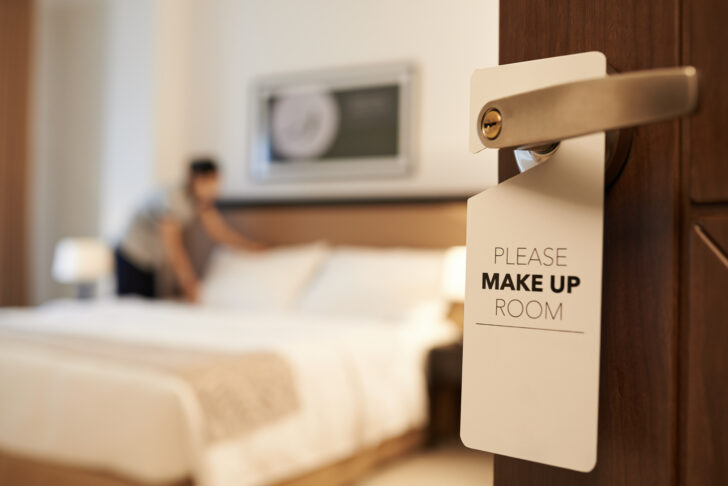 Visual Matrix's Mobile Operating Platform (MOP) allow hotels to operate more efficiently, perform tasks faster and create a safer environment by providing easy access to information.  The platform is compatible with most mobile devices and allow hotel employees to sign in using any internet or Wi-Fi compatible device, including iOS and Android operating systems.  MOP can also be accessed from tablets and computers from wherever the user is located.
Panic Button
MOP's panic button allow hotels to comply with panic button legal requirements by giving employees the ability to notify hotel personnel and provide location details during an emergency.  The panic button appears on every screen within MOP and is easily accessible by employees.  Once pressed, the panic button immediately activates the device camera and sends out emergency alerts and phone calls to staff members and preset lists, allowing employees in distress to receive immediate assistance.
Automated Task Management
MOP streamlines the front desk operations, by allowing staff to process special requests, enter maintenance tickets and change room statuses.  The front desk staff can function more efficiently as they have total visibility of what's going on in all areas of the hotel.  MOP also allows management and room attendants to keep track of rooms that need to be cleaned and disinfected.  Each morning a list of rooms to be cleaned appear on each room attendants screen, management can also view which rooms are entered to be cleaned and when rooms are ready for inspection.  The front desk staff also have the ability to instantly update room status and indicate when immediate assistance is required in guest rooms by room attendants.
Housekeeping and Maintenance
MOP also allows hotels to operate more efficiently and complete tasks faster by having information directly in their hands.  Room attendants can report maintenance items found during the cleaning process with their handheld devices.  With the click of a button, employees can report missing items, report smoking in guest rooms or report damaged and broken items.  MOP streamlines the communication process by allowing issues to be reported using photos or text messages.  Maintenance also receives daily task lists and urgent updates via a preventative maintenance calendar.  The front desk staff are also notified when rooms are being serviced and once repairs have been completed.
Guest Text Messaging System
Contactless and other hotel technology has the ability to decrease the spread of COVID-19, while providing a more convenient experience for guests.  MOP allows hotels to limit interaction with staff by enabling guest text messaging.  Guests can use their mobile devices to communicate with hotel staff and to make special requests for items such as extra towels or to request wake up calls without the need to go directly to the front desk.
Vendor Spotlight: RelayPro 
Hotel panic buttons are a new requirement for hotels, but they don't have to be a new expense. RelayPro was recently approved by Marriott, IHG and Choice Hotels and has been installed in nearly 2,000 properties.  RelayPro is BOTH a 4G/Wi-Fi walkie talkie and a cutting-edge panic button with VOICE communication.