Marriott's Associate Alert Devices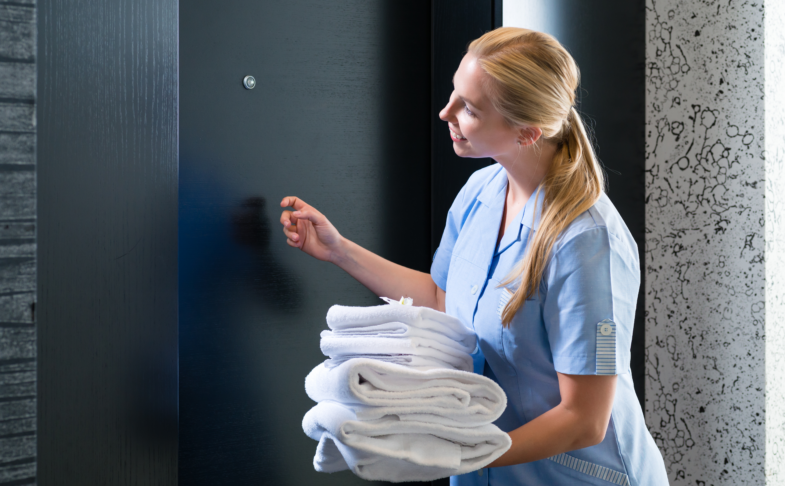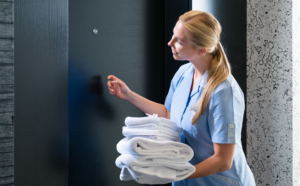 Due to the nature of their jobs, hotel employees often work alone and work late hours, and are more at risk of becoming victims of workplace violence.  The pandemic has exacerbated safety concerns as hotels are operating with fewer staff and more staff members are required to work alone, which has the potential to further contribute to an unsafe environment.  Employees who work in guest rooms are especially vulnerable as they are often isolated from the rest of their teams and are more likely to be harassed or assaulted, 9 out of 10 hospitality workers have suffered some type of abuse during their dealings with guests.
Employee safety is a top priority for hotels and an employee safety platform is essential in ensuring their safety.  Panic buttons are employee safety devices that when activated sends out an emergency alert with precise locations, allowing responders to locate distressed employees within minutes.  Hotel brands have made a commitment to equipping their staff with hotel panic buttons as a part of the AHLA's 5-Star Promise.  Hotels also pledged to provide employees with training and to update their policies in an effort to increase the safety of their workers.  Hotel brands have different requirements and deadlines by which their properties are required to implement panic button systems, in addition hotels are required to meet deadlines as specified by the relevant hotel panic button laws.
Marriott's Associate Alert Devices

Marriott International has made a commitment to ensuring the safety of their employees by providing workers with workplace panic buttons.  The hotel brand plans to implement its Associate Alert Devices by December 31, 2022, and all Marriott managed properties and franchised hotels in the U.S. and Canada are required to be in compliance by January 1, 2023.  There are numerous hotel panic button solutions on the market that hotels can choose from, however Marriott properties must ensure that brand standards are met in terms of coverage areas, the room level accuracy and that the appropriate employees are provided with panic buttons.
Marriott's Associate Alert Device Brand Standards
The Associate Alert Device System requires certain brand standards, such as:
Reliable geolocation capability with the ability to locate employees to 100% room-level accuracy within 5 meters of the horizontal plane.
System coverage is required in all guest rooms, public restrooms, spa treatment rooms, housekeeping closets and service landings on guest floors.
Employees that are regularly in direct contact with guests in enclosed areas are required to be provided with the safety devices.
Marriott Recommended Panic Button Vendors
There are many aspects that hotels must consider when implementing an employee safety platform.  There are solutions on the market that require the installation of hardware and others require a mobile panic button application instead.  A few details that hotels must consider are the cost, the maintenance, the scalability and whether vendors provide failover or an alternative connection that ensures reliability before they make a purchase.
Marriott has simplified the vendor selection process for its properties by certifying three vendors that can be utilized to implement the Associate Alert Device System.  Marriott recommends AT&T, ASSA ABLOY and PwC as vendors that meet their brand standards.  Marriott has selected AT&T and ASSA ABLOY as preferred vendors that meet all brand requirements, franchises and non-Marriott flagged properties can access these vendors at a discounted rate.  Properties are also allowed to select other vendors that better fit the needs of their hotels, as long as those vendors meet Marriott's brand standard requirements.
AT&T Staff Alert Solution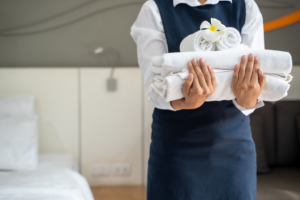 AT&T's Staff Alert is an IoT solution that can be used by employees to send emergency alerts when they require assistance.  The employee safety device uses a combination of Bluetooth and ultrasound technology to pinpoint the precise location of employees that are in distress.  Alerts are sent out in real time by the press of a button which indicates that an employee requires immediate assistance.  The staff alert solution allows for the separation of the guest Wi-Fi Network from the AT&T Staff Alert Network, which helps to improve the reliability of the solution and reduces the risk of a congested Wi-Fi network.
Features and Benefits:
Employees will carry a lightweight device with an LED light and audible alert.
Each guest room will be equipped with an easy to install plug-in extender Bluetooth Low Energy (BLE) Beacon.
The solution activates only when the employee presses the safety button, saving battery life and avoiding continuous tracking of hotel associates.
Highly secure cloud hosting for processing and storage of data, which provides hotels with necessary reliability, availability, and scalability.
A web-based portal to help manage the Staff Alert solution in near-real time.
Proactive monitoring of equipment coupled with ongoing support and maintenance.
ASSA ABLOY Global Solutions Staff Safety
ASSA ABLOY staff safety is a cloud-based solution that is designed to provide a rapid response in the event of an emergency and pinpoints precise locations in real time.  The hotel room safety devices are cloud based, always kept up to date and monitored extensively.  The solution is scalable and allows for the addition of new devices on the same IoT network.  The ASSA ABLOY staff safety provides 100 % property coverage and 24/7 technical support.
Features
Safety button hardware
 Employee location tracking
Employee groups
Alerts & notifications
Contact attempt history
Admin dashboard
 Bluetooth beacon
On property location tracking
Main Benefits
Cloud based solution, always up to date and monitored
 Provides a sense of safety for staff
Meets the AHLA-5-Star promise
Intuitive and easy to use
Easy setup and installation
Scalable and easy to add new devices
24/7 tech support
Scalable for additional solutions using the same IoT Network
PwC Indoor Geolocation Platform
PwC's Indoor Geolocation Platform (IGP) utilizes IoT technology that does not require location beacons or in- room infrastructure in order to provide precise locations.  The platform includes rapid response buttons to send out alerts during an emergency and provides alerts directly to a dashboard or to a panic button app on mobile devices.  The solution is highly accurate within eight meters and is customizable to fit the needs of any hotel.
Features
Transmits message to security, providing location in seconds
PwC managed geolocation database with access point locations and signals
Mobile app for easy hotel signal mapping
Dual-press activation reduces false alarms
Accessible from any device connected to internet
Communication is provided through IoT network
Web app provides access to alert push notifications on any platform with history and lookback data
Text alert system and property-specific dashboard with global/management dashboard available
Network infrastructure installed at each property as needed
Benefits
Meet compliance requirements of accurate location
No in-room infrastructure needed, installation with no downtime
Highly reliable with quick deployment
Designed to minimize false alarms
Easily monitored
Evolving, customizable platform
Vendor Spotlight: RelayPro
Hotel panic buttons are a new requirement for hotels, but they don't have to be a new expense. RelayPro was recently approved by Marriott, IHG and Choice Hotels and has been installed in nearly 2,000 properties.  RelayPro is BOTH a 4G/Wi-Fi walkie talkie and a cutting-edge panic button with VOICE communication.