The Internet of Things (IoT) is revolutionizing the way we interact with the world around us. What was once a futuristic concept is now a reality that is transforming our daily lives in ways we never thought possible.
With the number of connected devices set to reach 20.4 billion by 2020, the Internet of Things has become an integral part of our lives. Businesses are also jumping on the bandwagon, with 94% of organizations that have implemented IoT solutions seeing a return on their investment.
From tracking assets in real-time to providing personalized experiences, IoT has a wide range of benefits. It's not just limited to smartphones and laptops; pretty much any physical object can be transformed into an IoT device if it can be connected to the internet.
So, how does it work? IoT technology allows devices to send and receive data while communicating with each other. This means that regular devices can be turned into "smart" devices, improving automation and allowing for remote control and monitoring.
How is the hospitality industry using the Internet of Things (IoT) to enhance guest experiences?
The hospitality industry is always looking for ways to provide guests with a more comfortable and personalized experience. That's why it's no surprise that many hotels have embraced IoT technology to create 'smart rooms' that cater to guests' every need.
With IoT devices, guests can control various aspects of their room using their mobile phone or a provided tablet. This includes everything from temperature and lighting to entertainment systems and even voice-activated assistants. Plus, with the integration of personal gadgets, guests can also enjoy mobile check-in, keyless entry, and digital communications that make their stay more seamless and convenient.
But the benefits of IoT in hospitality go beyond just guest comfort. Hotels can use this technology to reduce costs and tap into the power of automation. By automating certain tasks, hotels can create a more efficient and streamlined operation, which ultimately leads to a better guest experience.
The best part is, this is just the beginning. As technology continues to evolve, so does the potential for IoT in hospitality. Imagine a hotel room that knows your preferences before you even arrive, or a room that adjusts to your mood and needs throughout your stay. With the right IoT strategy in place, the possibilities are endless.
However, as with any technology, there are also challenges that need to be addressed. Security concerns and privacy issues are just some of the hurdles that need to be overcome as IoT in hospitality continues to grow.
How is the Internet of Things (IoT) being used to enhance staff safety in the hospitality industry?
The hospitality industry is not only using IoT to enhance guest experiences but also to ensure the safety and well-being of their staff. With the implementation of new-age panic buttons, hotels can establish a truly connected safety platform that advocates for the on-going safety of their employees, on and off the property, 24/7 through GPS-enabled monitoring.
These panic buttons use the power of IoT to enable hotels to easily track, respond to, and manage situations that require immediate attention. By leveraging IoT technology, hotels can even detect suspicious behavior and trespassers, making their staff feel more secure and protected. This integrated panic button platform ensures real-time insights into these key areas, enabling better safety overall.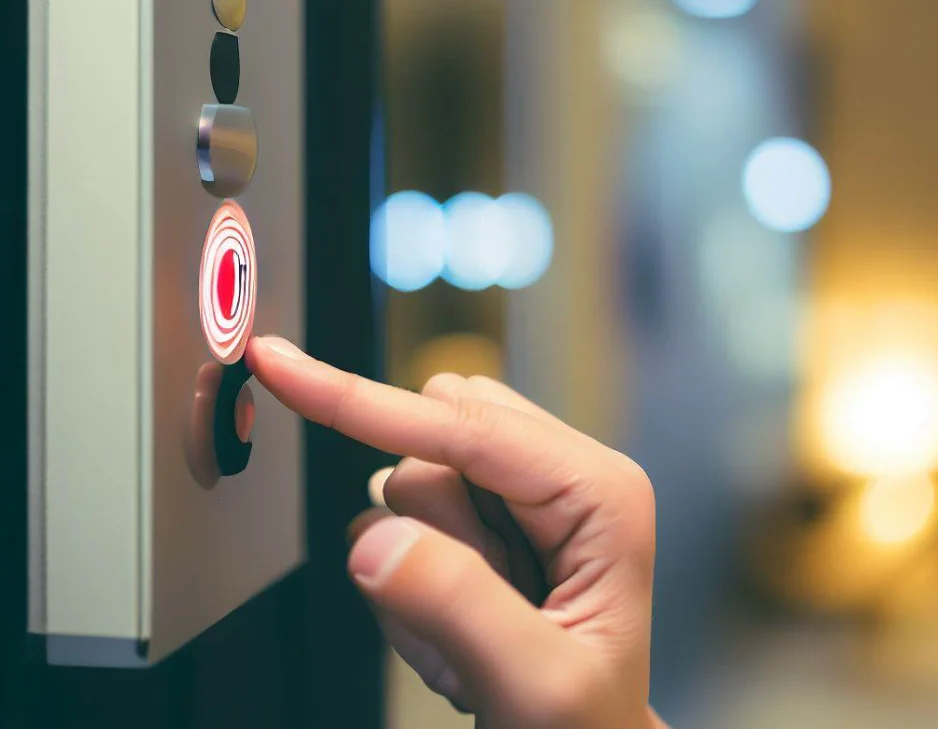 Moreover, IoT technology is helping hotels to overcome the challenges of human reporting alone. Many issues can slip through the cracks if they are either unreported or under-reported. However, with IoT solutions in place, hotels can address any issues immediately, ensuring compliance with safety regulations and giving hotel employees peace of mind.
With the implementation of IoT devices such as AI security cameras, biometric access controls, and panic buttons, hotels can create a safer environment for both guests and staff. These devices are a far cry from their legacy counterparts of the past, leveraging the power of IoT to establish a truly connected safety platform that advocates for the ongoing well-being of hospitality staff.
How can the Internet of Things (IoT) help to proactively manage preventable threats and improve staff safety in the hospitality industry?
The Internet of Things (IoT) can help to proactively manage preventable threats and improve staff safety in the hospitality industry in a number of ways. With work-related injuries totaling 4.5 million in 2017 and costing an estimated $161.5 billion in medical expenses, wage and productivity losses, and administrative expenses, the need for IoT-enabled safety platforms has never been more important.
The IoT is ideal for safety devices that can collect data by means of connected devices and platforms. As IoT technology continues to improve, hoteliers can equip their staff with a range of safety-focused devices that empower staff safety, monitor physical conditions, and ensure help is always close by in case of an emergency.
Vendor Spotlight: RelayPro Hotel panic buttons are a new requirement for hotels, but they don't have to be a new expense. RelayPro was recently approved by Marriott, IHG and Choice hotels and has been installed in nearly 2,000 properties.  RelayPro is BOTH a 4G/Wi-Fi walkie talkie and a cutting-edge panic button with VOICE communication.