As technology advances, hotels and commercial buildings require more complex electrical and telecommunications systems to support their operations. Low voltage systems provide a safe, reliable, and cost-effective solution for these needs. In this article, we'll explore what low voltage systems are, their key benefits, and how they can enhance hotels and commercial spaces.
What are Low Voltage Systems?
Low voltage systems operate at less than 50 volts, compared to standard 120V and 240V electrical systems. They are commonly used for lighting controls, access control, audio visual systems, voice and data networks, nurse call systems, fire alarms, and more.
While standard voltage handles high power applications like HVAC and major appliances, low voltage systems distribute lower levels of electricity for automation, communications, and specialty uses. They involve components like switches, relays, interfaces, controllers, and cable runs.
Key Benefits of Low Voltage Systems
Safety Low voltage electricity poses minimal shock hazard, reducing risks for guests, staff, and maintenance personnel. Hotels have a duty to provide safe environments, so low voltage systems align with safety goals.
Flexibility
These systems readily adapt to technology changes and new capabilities. Their modular nature allows easy renovations, upgrades, and expansions. Hotels can introduce new amenities and customizations to impress guests.
Energy Efficiency
Advanced lighting controls, HVAC integration, and automation through low voltage systems improve energy efficiency. Lower energy use cuts utility bills and supports sustainability initiatives that appeal to eco-minded travelers.
Reliability
Properly installed low voltage networks prevent power fluctuations, disruptions, and downtime. Robust systems with backup power enhance reliability for mission-critical hotel operations and guest services.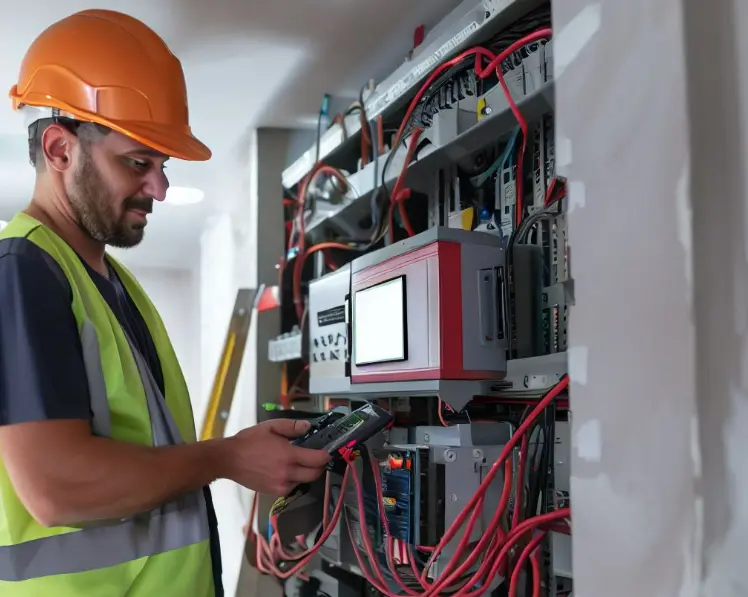 Cost Savings
While initial costs may be higher, low voltage systems save money over time through greater safety, efficiency, and reliability. Their long functional lifespans spread costs over many years of use. Intelligent controls also optimize energy use.
Aesthetics
Low voltage lighting controls allow dynamic and personalized lighting schemes. Hotels can program sophisticated lighting scenes to match their branding and décor. This ambiance enhances the guest experience.
Integration
Modern hotels contain many disparate systems, which low voltage networks can unify. Integrated systems enable automation, remote management, and data sharing under one infrastructure. This makes hotel operations more seamless and responsive.
Low Voltage Systems in Guest Rooms
For an optimal guest experience, hotels incorporate low voltage systems into their room designs. Common applications include:
Lighting controls – Create lighting scenes for different modes like clean, sleep, relax, and impress. Integrate with HVAC and shading.
Access control – Keyless door locks increase security and track room access. Tie into booking data and staff assignments.
AV systems – Allow guests to play their own music and video from personal devices on in-room TVs and speakers.
Voice and data networks – Provide strong, reliable Wi-Fi throughout each room. Offer hardwired connections as well.
Electrical outlets – Place outlets properly to reach guest devices anywhere in the room. Include USB charging.
Nurse call systems – Connect guest calls directly to staff for prompt service. Integrate with room status and staff assignments.
Occupancy sensors – Detect room occupancy to drive HVAC, lighting, and outlets for efficiency. Integrate with access control for security.
With integrated low voltage systems in each room, hotels enable personalized experiences guests expect. Networking these systems also allows remote monitoring, troubleshooting, and upgrades from a central dashboard.
Low Voltage Systems for Common Areas
Low voltage networks also enhance lobby spaces, conference rooms, lobbies, lounges, and back-of-house areas through:
Lighting controls – Program lighting scenes for different venues and activities. Schedule automatic adjustments.
AV systems – Distribute audio and video seamlessly to any display or speaker throughout the building.
Access control – Manage permissions for reserved spaces like meeting rooms, executive areas, and employee zones.
Intercoms – Enable convenient two-way voice communications for guest assistance and staff collaboration.
Digital signage – Update lobby signage remotely to promote amenities and drive revenue.
Security systems – Connect video surveillance cameras and access control doors across the network.
With zoned lighting controls, adjustable AV routing, and integrated access management, hotels can customize common areas for each event or usage. Low voltage infrastructure unifies it all for smarter operations.
Ideal Low Voltage Design for Hotels
Effective low voltage systems share common design attributes:
Modular components – Mix and match devices from multiple vendors for best-in-class solutions. Avoid proprietary locks.
Centralized infrastructure – Converge all low voltage applications onto a unified IP network for simplicity.
Intelligent controls – Implement automation, scheduling, and data sharing through integrated control systems.
Future-proofing – Build in adequate capacity, conduits, and flexible topology to allow upgrades and expansions down the road.
Professional installation – Adhere to electrical codes and industry best practices for safe, robust implementation.
User-centric design – Organize systems around the needs and experiences of hotel guests and staff who use them.
Staff training – Educate technical staff on the installed systems so they can properly operate and maintain them long-term.
With a standards-based, scalable approach, hotels can achieve cohesive low voltage systems that work together smoothly. Open frameworks prevent vendor lock-in as technology progresses.
Call to Action
For expert low voltage solutions tailored specifically for your hotel or commercial space, contact JET Hotel Solutions at www.jethotelsolutions.com. Our skilled team specializes in optimizing low voltage design to enhance your brand experience. Reach new levels of comfort, connectivity, and sophistication through integrated low voltage systems.