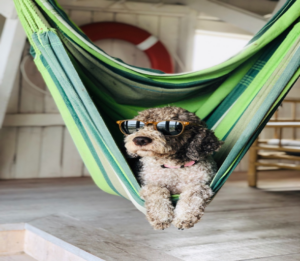 Since the onset of the Covid-19 pandemic, many shelters, pet stores and private breeders have reported an increase in the demand for dogs.  Shelters are now experiencing lower than normal return rates, and many people who chose to initially foster dogs have decided on adoption instead. The global crisis has sparked the desire for pet companionship and many breeders and pet stores have reported having a wait list for the purchase of dogs that stretches into 2021.  2020 has been a stressful year to say the least, many people have experienced unprecedented changes and their pet companions have been right by their sides throughout it all.  We've had to live through mandatory stay at home orders and travel bans that forced us to stay indoors.  Social distancing, hand sanitizers and face masks have now become the norm.  The world was forced to essentially shut down and many of us had to cancel or make changes to our travel plans.  After months of staying home, many Americans are ready to travel and they're taking the entire family along, including their pets.
A Tailored Experience for Dogs
Many pet owners are weary of leaving their dogs at boarders or at the sitters during the crisis and are opting to take their pet family members along for vacation.  Google has reported that searches for pet friendly hotels have increased by 90 percent and searches for dog vacations have gone up by 50 percent.  Hotels are reopening and are now tailoring the hotel experience to include amenities for dogs that range from basic to luxurious.  Travelers have many options to choose from when it comes to creating a memorable experience for their pets.
Upgrade Your Hotel Technology!
Outdoor Adventures and Parks
Many hotels have put a lot of thought and care into the amenities and packages that cater to dogs.  Select hotels will provide dog walking, dog sitting services, grooming services and many are also equipped with pet stores.  Hotels like The Pines Lodge in Colorado cater to the adventurous spirit in your dogs.  Packages include maps of dog friendly hiking trails and dogs can be equipped with GoPro cameras to record their doggie adventures.  The hotel also provides a pet friendly restaurant and spa that provides massages to help your dog relax after their adventurous hike.  The luxurious dog experience doesn't end there and dogs also receive a turndown pillow service at bedtime that includes treats.
We all know how super excited dogs are to go to the park and to be outdoors, what better treat than to select hotels that offer a great park experience for your pups.  The Pasea Hotel and Spa is a dog's dream come true and offers a 1,100 square foot dog park for your dogs to run and play all day.  The hotel is also conveniently located 2 miles away from Huntington Dog Beach in California.
Spa Packages, Menus and Welcome Gifts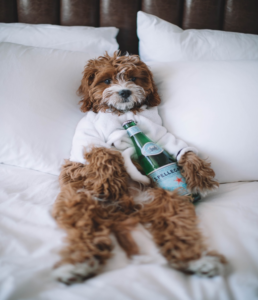 Many hotels are also offering spa packages and special menus that are geared towards your doggie.  The Brazilian Court Hotel in Florida offers packages that include pet facials, pet scrubs and paw soaks at their Pet Boutique.  Packages can also include daily walking services and photo shoot sessions. Hotels have incorporated welcome gifts for their canine guests and gifts include doggy treats, drinking and eating bowls, as well as chewy toys.  Pets also get their own dog beds with beddings, to ensure that they're enjoying the full experience of their hotel stays.  Mountain Shadows Resort in Arizona sends your pups home with a stylish bandana and locally made dog biscuits.
The Kimpton Hotels and Restaurants have a very pet friendly policy and provide bedding, food and water bowls, as well as pet treats at no extra costs to guests.  They also provide a music playlist designed to sooth your pups after their long travel.  The hotel also provides recommendations on pet friendly activities, restaurants and services that cater to your pets.
The Pet Industry is a Multibillion Industry
According to the American Pet Products Association (APPA), 84.9 million homes in the United States own a pet, of that 63 million are dog owners.  In 2019 Americans spent 95.7 billion on their pets, of that amount, 36.9 billion was spent on pet food and treats and 19.2 billion was spent on pet supplies.  Americans also spent 10.3 billion on boarding, grooming, training, pet sitting and walking services for their pets.  Most Americans consider their dogs to be a part of the family and will spend money to ensure that their needs are met.  Dog owners will also put those funds into a hotel that has a dog friendly policy that will cater to their pet travel companions.
Benefits of Having a Pet Friendly Policy
Pet friendly policies allow hotels to better compete against experiences offered by Airbnb.  They are tailored to allow guests to incorporate their pets into their everyday activities and to ensure that pets have a memorable experience as well.  Hotels with pet polices also build a loyal following and will stand out to guests who enjoy vacationing with their pets.  Traveling with pets require extra packing of beds, bowls, food and toys that will require more effort on the part of hotel guests.  Pet friendly hotels that cater to your dogs and provide for all their needs will be greatly appreciated by guests and will increase the likelihood of them returning.  Many hotels will require a cleaning fee or a pet fee and will include packages that range from basic to luxurious experiences that pamper your pups.  Guests can go on vacation with peace of mind in knowing that their best friends are enjoying every experience right alongside them.