Hotels Can Better Attract Guests with Contactless Technology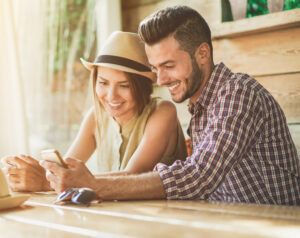 Guests Want Contactless Technology
The right hotel technology can help hotels to perform more efficiently and help to reduce costs while providing guests with a quality experience that keeps them returning.  Guests are more likely to gravitate to hotels that offer self-service options, a study conducted by Oracle Hospitality and Skift found that 73% of travelers were more likely to stay at hotels that offered self-service technology.  Guests want more control of their hotel experience, 39% of guests want the ability to order room service from their mobile devices or a chatbot and 38% wanted a fully self-service model, with staff only available upon request.  73% of guests also wanted to use their mobile devices to manage their hotel experience.
Contactless technology can help hotels to operate more efficiently and can help to attract more returning guests, 34% of travelers said that slow service would be their number one deterrent to rebooking a hotel.  Guests are looking for a more high-tech hotel experience, 74% wanted hotels to use AI to offer guests more tailored services and 77% were in favor of using automated messaging or chatbots for their customer service requests.
Hotels are Investing in Contactless Technology
More hotels are investing in contactless technology, the study also found that 96% of hoteliers are investing in contactless technology, 62% felt that a fully contactless experience is likely to be the most widely adopted technology in the next three years.  54% of hoteliers also reported that their highest priority is to adopt technology that improves or eliminates the need for the front desk experience between now and 2025.  With so many travelers gravitating towards hotels that offer self service technology, how can hotels provide guests with the seamless hotel experience that they want?  There are numerous technology solutions on the market that will allow hotels to perform more efficiently, while offering guests a quality contactless hotel experience.
Vendor Spotlight: IRIS Guest Experience Platform
IRIS Guest Experience Platform offers hotels a convenient hospitality platform that helps hotels to increase revenue, reduce costs, and deliver a quality contactless experience to guests.  The platform helps hotels to enhance the guest experience by offering guests the convenience of making digital service requests, ordering and paying for food and beverage and accessing the hotel's directory with the device of their choice.
IRIS Digital Service Requests
IRIS's digital service requests enable guests to communicate with hotel staff with their mobile devices, guests can make requests in their preferred language, removing language barriers that could cause miscommunication.  Guests can use IRIS to digitally access, browse and book different treatments and facilities that the hotel offers.  Hotels can also use the solution to promote their services and allow guests to manage their own bookings.
Guests can also use IRIS to make requests for additional items without the need to go directly to the front desk.  Guests can use their mobile devices to request extra towels, fresh linen, pillows, turn down service and other items.  Guests can use IRIS to request all the services that the housekeeping team offers.  IRIS places access to the Concierge at the guests fingertips, allowing guests to schedule transportation ahead of time.
IRIS helps hotels to address guests requests more efficiently by routing direct requests to specific departments, allowing staff to easily view and respond to each request.  Hotels can tailor alerts and escalations can be set up to fit the hotel's operations, staff can be notified via SMS, Email or Voice.
IRIS Food and Beverage Order and Pay Solution
IRIS's F&B Order and Pay solution allows hotel restaurants to provide guests with a quality digital experience that is simple, quick and convenient.  Guests can have more control of their dining experience, instead of alerting the wait staff, guests can use their mobile devices to order and pay for their meals and drinks.  IRIS gives guests the ability to browse menus, place orders and have their meals delivered directly to their tables or to their rooms, guests can also pick up their orders.  Hotels can use IRIS's F&B feature as a stand-alone without integrations or can easily integrate it into their POS and manage and all food and beverage orders in one place.
IRIS Guest Directory
IRIS's guest directory allows hotels to offer guests the most up-to-date information without costly reprinting by staff.  The solution makes it easy for guests to access information about the hotel and its facilities with their mobile devices.  Hotels can provide guests with recommended activities, restaurants, and other hotel experiences.  Guests can also instantly access information about the local area.
Benefits for Hotels

Increase Revenue
Hotels can increase revenue by upselling their services, the platform allows hotels to accept multiple orders at once without fielding multiple phone calls.  Menus are also instantly updated, giving guests access to the most updated food options.
Reduce Costs
Hotels can free up valuable resources by receiving orders into a structured ticketing system or directly to POS.  IRIS offers more accuracy resulting in less waste and saving on average up to 4 minutes processing time per order.
Guests are in Control
IRIS allows hotels to exceed guest expectations by providing them with everything they need on their preferred device.  Guests can access information, directions, service requests and F&B ordering from one platform.
Features
IRIS Guest Web
•  No download or installation
•  Easy access from any device
F&B Ordering
•  Menu only or interactive ordering
•  Flexible fulfilment methods
Service Requests
• Spa and fitness
• Housekeeping and concierge
Guest Directory
• Local attractions and maps
• Facilities
Payments
• Integrate with payment gateway
• Tips / Gratuity
POS Integration
• True menu sync into IRIS
• Orders sent directly to POS
PMS Integration
• Guests can charge to room
• Orders and requests are verified against PMS