Travelers are Flocking to Green Hotels
As a result of the COVID-19 pandemic, travelers have become more conscious of traveling more sustainably and are seeking out companies that are aligned with their values.  Travelers also want to make a positive impact on local communities during their travel.  The American Express Travel: Global Trends Report released in March of 2021 highlighted traveler sentiment since the pandemic began.  68% of respondents were trying to become more aware of sustainability-friendly travel brands to support.  72% were passionate about traveling to locations to help boost the revenue for local communities.  69% wanted to choose a hotel/airline that valued diversity and inclusion and 60% wanted to book airlines that have a carbon neutral commitment.
Interested in Upgrading Your Hotel Technology ?
Beyond Green's Sustainable Hotels and Resorts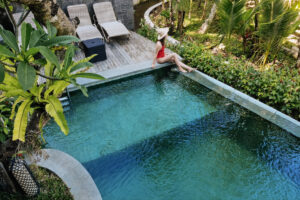 Beyond Green is a part of the Preferred Hotel Group Network and has an impressive portfolio of 27 hotels, resorts and lodges that are committed to sustainability.  Guests get their choice of diverse accommodations in unique locations around the world.  Beyond Green was launched in April of 2021, with the goal of renewing the planet and enhancing the lives of others through travel.  With the belief that protecting the planet and embracing cultural diversity can help to create a more authentic and meaningful travel experience.  All of Beyond Green's member properties are subjected to a rigorous vetting process.  Properties must meet globally recognized sustainable tourism standards and the United Nations Sustainable Development Goals.  Properties undergo site evaluations every two years based on more than 50 sustainability indicators.  Member properties must purchase from local sources as much as possible and must also offer fair wages and benefits to employees.
According to Beyond Green, "We are dedicated to innovation in conservation and environmentally friendly practices.  All Beyond Green members have eliminated single-use plastic water bottles on property, actively work to reduce their carbon footprint, and embrace new technologies ranging from renewable energy to water recycling, while also actively supporting wildlife conservation and ecosystem restoration."  "Beyond Green stands for Nature, Community, and Culture, always with gratitude and respect.  As travelers, we recognize that we are guests in the places we visit. It is both a privilege and an honor to experience the cultural and natural treasures of the world, uncovering its limitless potential to surprise and inspire, and to help leave it better than we found it."
Beyond Green Properties Offer Unique Experiences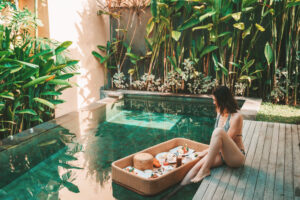 Beyond Green has 27 hotels, resorts and lodges located around the world in Africa, Asia, Europe, Central/South America and North America.  Travelers can choose from a variety of locations to enjoy unique experiences that have a meaningful impact on the environment and on local communities.
AndBeyond Bateleur Camp, Kenya
AndBeyond Bateleur is located in Kenya and offers guests unique experiences such as a classic safari camp to experience the Great Wildebeest Migration.  Visitors to andBeyond Bateleur Camp get to experience African wildlife year-round.  Guests can explore the area by driving, on foot or by hot air balloons and will encounter animals such as lions, rhinoceros and elephants.  As part of their partnership with the neighboring Maasai, andBeyond Bateleur Camp is staffed by local community members.  Guests can also request guided visits to a Maasai village to learn firsthand about Maasai culture and heritage.
The Brando, French Polynesia
Travel in style to the Brando resort in the French Polynesia and arrive by the resort's private airline.  This resort has powder white beaches, azure tropical waters, and vibrant coral reefs that make The Brando one of the world's most iconic private island luxury retreats.  Visitors to the Brando can experience The Varua Te Ora spa, nestled is a hidden oasis surrounded by tropical flora designed.  Guests can enjoy the relaxation and unwind as, the spa's holistic treatments draw from ancestral Polynesian culture that heals body and mind. The spa includes a steam bath, waterfall, and tea lounge.  Guests can also enjoy Polynesian dance, music lessons and weaving lessons with the local staff.
Islas Secas, Costa Rica
Islas Secas in Costa Rica allows visitors to experience the beauty and ecological abundance of the Islas Secas archipelago with a Secas conservation guide and local expert nature guide.  A one-hour boat ride from Islas Secas, this UNESCO World Heritage Site is a biodiversity bonanza of marine life.  Coiba National Park includes a large marine protected area where migrating humpback whales, turtles, and whale sharks may be sighted.
Aristi Village, Greece
Nestled into a hillside in the Zagori region of northern Greece, Aristi Mountain Resort is surrounded by ancient villages and Byzantine monasteries linked by stone bridges that date back to the Byzantine Empire. Nearby, Vikos-Aoös National Park, with its winding footpaths, pristine rivers and hiking trails that run through spectacular Vikos Gorge, dubbed the Grand Canyon of Greece, combine for a perfect Mediterranean nature and culture getaway. Award-winning Greek professional photographer, Costas Zissis, a local from Zagori, guides visitors on two distinct tours to capture unforgettable pictures and ends with a photo exhibition at the hotel.  Visitors can enjoy tailor-made excursions that can include horseback riding, hiking, birdwatching, geotrails and white-water rafting.
Travelers are Actively Seeking Eco-Friendly Hotel Options
Travelers are becoming increasingly attracted to hotels that have adopted environmentally friendly practices.  As a response to the growing number of travelers who are environmentally conscious, online travel company TripAdvisor created the GreenLeaders Program that showcases hotels and other accommodations that are committed to being environmentally friendly.  GreenLeaders highlight hotels that are dedicated to recycling, to the use of local and organic foods and to providing electric car charging stations.  GreenLeaders can achieve bronze, silver or gold statuses depending on their environmentally friendly practices, the higher the status, the greener the practices.  Hotels that have adopted eco-friendly practices will display a GreenLeaders badge on the TripAdvisor's listing page, travelers can click on the badge to get information on the specific eco-friendly practices that hotels have adopted.