Why Should Hotels Invest in Green Cleaning Technology?
COVID-19 has had an impact on the priority of travelers, according to a survey conducted by travel advisory company Virtuoso, 82% of respondents believed that COVID-19 has made them want to travel more responsibly.  When planning a vacation, 50% felt that it was important to choose hotels, cruise lines and travel companies that had strong sustainability policies and 72% believed that travel should protect the environment.  70% of travelers also believed that traveling more sustainably enhances the vacation experience.  COVID-19 has placed the spotlight on sanitation, and hotels have invested in various hotel cleaning technologies in order to provide a safe environment for employees and guests.  Guests have the expectation of a clean and safe hotel experience but are also interested in hotels that have environmentally friendly policies in place and those that have taken steps to protect the environment.  How can hotels provide a safe and clean experience, while ensuring that cleaning agents are also safe for the environment?
Upgrade Your Hotel Technology!
Probiotic Cleaning Technology for Hotels
Hotels are looking for hospital level cleanliness and disinfection, but can hotels invest in cleaning agents that are effective against microbes and also environmentally friendly?  In September 2020 global biotechnology company Novozymes announced Microvia Probiotics for cleaning products.  Microvia Probiotics uses microbial technology to provide continuous deep cleaning on surfaces, while allowing users to avoid the overuse of harsh chemicals and cleaning agents.  Microvia Probiotics utilizes helpful microbes to aid in the cleaning process, chemical cleaning products remove all microbes, including the beneficial bacteria.  The premise behind probiotic technology is that it utilizes helpful bacteria to breakdown impurities into substances that are no longer harmful.  Novozymes has done extensive research on the use of probiotics in cleaning products, as well as scientific studies into the effectiveness and safety of probiotic technology and naturally derived formulas that leverage probiotic technology.
According to Novozymes, "Novozymes scientists are leading the way to a future of cleaning with probiotics, rather than harsh chemicals, as the hero. You want a cleaner home? Add more bacteria!" says Rene Garza, Novozymes' Vice President for Household Care Americas. "People traditionally clean using chemical products that aim to remove all microbes, but there are beneficial bacteria within our home microbiome that can break down soils to natural harmless substances. Using probiotics in cleaners mean that we can boost the proportion of these helpful microbes, so they can continue the cleaning themselves."
"From our research and that of industry experts, it would appear that consumers are ready for natural products that clean by themselves. Many surface cleaner users have expressed a positive interest in probiotic cleaning products, with almost as many concerned that disinfectants destroy good bacteria," remarks Rene Garza. " Novozymes' Microvia probiotics add another dimension to the term 'living space'. The probiotic bacteria help create a thriving microbiome, so that dirty surfaces get a longer-lasting clean, even while the consumer sleeps!"
The Benefits of Probiotic Cleaning Technology
Derived from nature
Produces enzymes that actively and continuously clean 
Active for up to seven days after application
Tackles hidden dirt and grime, even in the tiniest of crevices and fine grooves
Contains a unique combination of Bacillus bacteria that produce up to almost 70 different cleaning enzymes 
Works naturally to breakdown and remove many different types of residue, including typical food components like starch, protein and fats 
Contributes to the balance of microbiome of the property 
Can be used in hard surface cleaning products for kitchens, bathrooms, floors, and more
Offers versatility in application for use in homes, offices and industrial premises
Offers a comparative shelf life to chemical cleaning products
Provides effective visual clean, as well as deep clean
No unpleasant chemical odor
Reduces human, animal, and environmental impacts from use of harsh chemical products
Travelers Want Eco-Friendly Hotel Options
Many travelers are seeking eco-friendly accommodations and according to a 2019 Booking.com Sustainable Travel Report, 73% of global travelers intended to stay at least once, at environmentally friendly accommodations.  The number of travelers increased from 62 % in 2016 to 68% in 2018 and is steadily rising. The study also found that 70% of global travelers were likely to book environmentally friendly stays, whether they were actively searching for them or not.  And 62 % felt better about staying at hotels and other accommodations knowing that they were environmentally friendly.
Hotels Can Benefit from Probiotic Cleaning Technology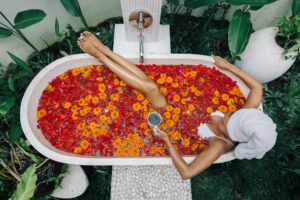 The COVID-19 hotel impact has been severe and as a result, hotels have invested heavily in cleaning solutions in order to reduce the spread of COVID-19 and other diseases that could potentially affect employees and guests.  Consumers are developing an interest in an alternative to chemical cleaning products.  And the COVID-19 pandemic has increased the interest in greener probiotic products as many are questioning the long-term impact of chemical cleaning and disinfecting products.
Hotels can cater to guests' expectations by investing in cleaning products that utilize probiotic technology.  Travelers are actively seeking hotels and accommodations that have environmentally friendly policies in place and a hotel's commitment to sustainability is likely to attract those guests.  Probiotic technology can also help to better protect hotel employees, as some chemical cleaning and disinfecting agents have been linked to respiratory illnesses.  Guests will also benefit from less skin, eye and respiratory irritation.  Hotels will see fewer cases of sensitivity to chemicals and fewer allergies, while protecting the environment.
Travelers are Paying Attention
Travelers are becoming increasingly attracted to hotels that have adopted environmentally friendly practices.  As a response to the growing number of travelers who are environmentally conscious, online travel company TripAdvisor created the GreenLeaders Program that showcases hotels and other accommodations that are committed to being environmentally friendly.  GreenLeaders highlight hotels that are dedicated to recycling, to the use of local and organic foods and to providing electric car charging stations.  GreenLeaders can achieve Bronze, Silver or Gold statuses depending on their environmentally friendly practices, the higher the status, the greener the practices.  Hotels that have adopted eco-friendly practices will display a GreenLeaders badge on the TripAdvisor's listing page, travelers can click on the badge to get information on the specific eco-friendly practices that hotels have adopted.