Hotels Need to Make In-Door Air Quality a Priority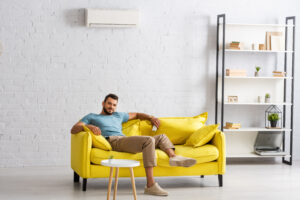 COVID-19 made sanitation a priority and travelers are paying keen attention to the safety protocols that hotels have implemented.  A 2020 study commissioned by the American Hotel and Lodging Association (AHLA) and conducted by Morning Consultant, discovered that the health and safety protocols that hotels have in place had an impact on the comfort level of guests.  81% of guests would feel more comfortable staying at hotels that had implemented enhanced hotel cleaning and safety standards.  A separate 2020 survey conducted by P&G Professionals found that COVID-19 has had an impact on traveler expectations.  57% of travelers wanted hotels to be transparent about the safety measures that they were undertaking to prevent the spread of COVID-19 and 67% had the expectation of frequent and enhanced cleaning.  The survey also found that hotel cleanliness was more important than the pricing and the location of the hotel.
What Hotel Technology Best Fits Your Needs?
Hotel In-Door Air Quality is a Priority for Travelers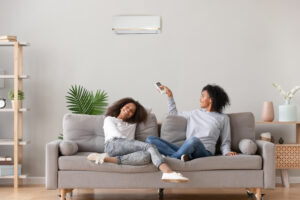 Travelers want hotels to invest in hotel technology in order to create a safer environment and they are actively seeking hotels that are making in-door air quality a priority.  According to the U.S. Consumer Sentiment on In-door Air Quality and COVID-19, 91 % of consumers considered in-door air quality (IAQ) to be important in the prevention of COVID-19.  77% believed that in-door air quality would have an impact on which hotels they decided to book.  And 52% were willing to pay more to stay at a hotel with better in-door air quality.  The survey found that in-door air quality was important to consumer, but they also wanted hotels to clearly communicate the in-door air quality standards that were in place to protect guests.
Improving in-door air quality will give consumers the confidence they needed to venture out to hotels where they will occupy the same space as others.  According to the survey, "Providing this real-time data will enable consumers to make informed decisions, quell their fears or misconceptions and be more confident in re-entering public buildings.  It will no longer be enough for building owners to simply implement COVID-19 safety measures (whether about cleaning protocols or IAQ) – they will need to effectively communicate their efforts to boost occupant confidence, and in turn drive a quicker, safer return to these indoor public spaces."
Friedrich's FreshAire Accessories for Hotels
Hotels can reassure guests that they are taking added safety measures to ensure their safety by investing in in-door air quality solutions.  Friedrich Air Conditioning launched their FreshAire IAQ (in-door air quality) accessories to be used with Friedrich's air conditioners, they are aimed at improving in-door air quality.  These accessories integrate HVAC air purification to reduce microcontaminants, such as bacteria and viruses in order to provide better in-door air quality.  FreshAire Merv 13 filtration accessory, traps small particles including viruses and bacteria and reduces the quality of air contaminants inside the HVAC environment.  It helps to prevent the spread of viruses, bacteria and infectious airborne particles, including COVID-19.  FreshAire UV accessory is a germicidal UV-C light that is emitted and kills bacteria, molds and viruses.  The FreshAire Purifier by iWave is an accessory that is designed specifically for treating air in the HVAC system and actively purifies the air.  It reduces allergies and controls odors without any harmful effects on the environment.  FreshAire Make-Up Air System delivers filtered and treated make-up air, which is needed when the environmental conditions warrant a greater need for ventilation in order to improve the air quality.
AHLA Safe Stay Initiative for Hotels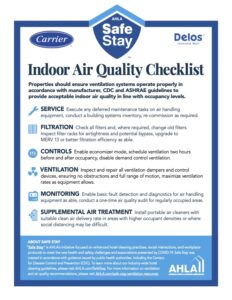 As a response to COVID-19, improvements in ventilation and air conditioning systems were also required in order for hotels to be operable.  The AHLA's Safe Stay Initiative was developed based on guidelines issued by public health authorities, including the Centers for Disease Control and Prevention (CDC).  Properties should ensure ventilation systems operate in accordance with manufacturer, CDC and ASHRAE (The American Society of Heating, Refrigerating and Air-Conditioning Engineers) guidelines to offer adequate indoor air quality in line with occupancy levels.
The AHLA Indoor Air Quality Checklist for Hotels:
Service
Execute any deferred maintenance tasks on air handling equipment, conduct a building systems inventory, re-commission as required.
Filtration
Check all filters and, where required, change old filters. Inspect filter racks for airtightness and potential bypass, upgrade to MERV 13 or better filtration efficiency as able.
Controls
Enable economizer mode, schedule ventilation two hours before and after occupancy, disable demand control ventilation.
Ventilation
Inspect and repair all ventilation dampers and control devices, ensuring no obstructions and full range of motion, maximize ventilation rates as equipment allows.
Monitoring
Enable basic fault detection and diagnostics for air handling equipment as able, conduct a one-time air quality audit for regularly occupied areas.
Supplemental Air Treatment
Install portable air cleaners with suitable clean air delivery rate in areas with higher occupant densities or where social distancing may be difficult.
The Benefits of Improved In-Door Air Quality for Hotels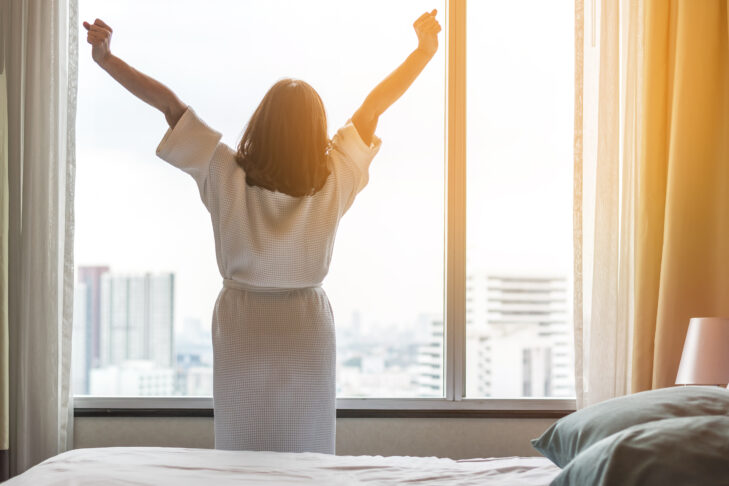 COVID-19 has caused guests to be more focused on in-door air quality more than ever before.  Guests want to stay at hotels where safety measures have been implemented to offer better in-door air quality.  In addition to outdoor pollutants, some cleaning methods like vacuuming and some chemicals from cleaning products can linger in the air and can have harmful effects.  The air can be occupied by particles, such as dust, chemicals from cleaning, smoke, as well as viruses and bacteria that are not visible to the naked eye.
Hotels can gain a competitive edge by making improvements to their in-door air quality and by clearly communicating those safety measures.  Due to COVID-19, consumers are more aware of the importance of good in-door air quality and are more likely to stay at hotels that have COVID-19 hotel safety measures in place to protect guests.  They are more aware than ever that the air can contain bacteria and viruses and want hotels to make adequate in-door air quality a priority.  Guests want to stay at hotels where they feel comfortable in knowing that the air is safe to breathe.