Hotels are Making Food Waste Reduction a Priority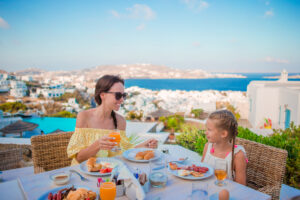 Recently, the Hotel Industry has begun establishing policies as a means of reducing their environmental impact by decreasing waste, water usage and by conserving energy.  Many hotels have created waste reduction programs to reduce the use of disposable items.  Hotels are using technology to reduce paper and plastic waste by offering mobile check-in, mobile key and digital menus.  Room sensors are also being used by hotels to conserve energy by regulating the lighting and room temperature based on whether guest rooms are occupied or unoccupied during hotel stays.  And many in the Industry have begun making the reduction of food waste a priority by utilizing technology as well.
Food Waste Statistics
According to the FDA, food waste in the U.S. is estimated to be between 30 and 40% of the food supply and the majority of waste found in landfills are a product of food waste.  85% of the greenhouse gas emissions from landfilled food waste results from food production, transport, processing and distribution.  To reduce emissions, food waste needs to be prevented from generating.  Additionally, the amount of food that is unused in the U.S. could have helped families in need and the amount of energy, water and labor expended on unused food could have been directed towards other purposes.  According to ReDEF, a nonprofit specializing in food loss and waste in the U.S. uneaten food is responsible for 18% of all cropland use, 14% of freshwater use and 24% of landfill inputs.
The Food and Agriculture Organization of the United Nations
The global volume of food wastage is estimated at 1.6 billion tons.
The total volume of water used each year to produce food that is lost or wasted is equivalent to three times the volume of Lake Geneva.
28% of the world's agricultural area is used annually to produce food that is lost or wasted.
The direct economic consequences of food wastage (excluding fish and seafood) amount to $750 billion annually.
Upgrade Your Hotel Technology!
Radisson Hotel Group's Partnership with Too Good To Go
Radisson Hotel Group partnered with Too Good To Go in an effort to reduce food waste.  Too Good To Go is a social impact company dedicated to fighting global food waste and its negative impact on the environment.  The partnership allows Radisson Hotel Group to sell ready to go meals on the Too Good To Go app.  The Too Good To Go app allows businesses to redistribute surplus foods at the end of the day or at the end of each shift in order to prevent food from being discarded.  The Too Good To Go solution connects businesses with customers who want to buy food at a set and reduced price.  Businesses like hotels can help to reduce food, energy and water wastage, as well as CO² footprint of food that would otherwise go to waste.
Radisson Hotel Group has saved 15,367 meals from going to waste as a result of its partnership with Too Good To Go, that amount corresponds to a CO² reduction of 37.6 tons.  In addition to the Too Good To Go partnership, Radisson Hotel Group has already taken measures such as portion control and improved food storage to aid in the prevention of food waste.  The Too Good To Go app is currently being used by Radisson Hotel Group to redistribute food in parts of Europe, such as the UK, The Netherlands, Poland, Spain, Portugal, Denmark, as well as other countries.
Mette Lykke, Chief Executive Officer of Too Good To Go says: "The latest figures on global food waste from the WWF have discovered the problem to be even higher than previously believed, with 40% of all food going to waste. We need to address this urgently to avoid going backwards on progress we've made in recent years. It is through partnerships like this that businesses can make an impact at scale, which we absolutely have a responsibility to do, on the complicated issue of food waste."
Inge Huijbrechts, Global Senior Vice President Sustainability, Security and Corporate Communications at Radisson Hotel Group said: "In light of the International Day of Awareness of Food Loss and Waste, we are thrilled to announce our partnership with Too Good To Go. It strengthens our positive impact and is fully aligned with our sustainability goals, including setting science-based emissions reduction targets This strong partnership across Europe highlights the importance of tackling food waste in reaching the UN's goal of SDG 12.3, to cut global food waste in half by 2030."
AHLA's Partnership to Reduce Food Waste
The American Hotel and Lodging Association (AHLA) has also been taking steps to combat food wastage by partnering with World Wildlife Fund and the Rockefeller Foundation in an effort to reduce food waste.  The three entities released a toolkit with strategies designed to help hotel properties reduce food waste that negatively impacts the environment.  The toolkit provides guidance as to how to prevent food waste from occurring at their properties by instructing hotels on ways to donate unused food and means to divert food away from landfills.  The toolkit emphasizes regular training programs, outlines practices to develop food waste prevention strategies and advises hotels on how to gather data to improve performance.  Hotels are given valuable knowledge as to how to:
Measure food waste and set reduction goals from a baseline year.
Establish food donation strategies and community food recovery partnerships.
Set goals that ensure inedible food waste from hotels is diverted away from landfills.
Travelers Want to Travel More Sustainably

By reducing food and other wastes, hotels can reduce costs and reduce the negative environmental impact, while attracting sustainable minded travelers.  According to a 2019 Booking.com Sustainable Travel Report, 73% of global travelers intended to stay at least once, at environmentally friendly accommodations.  The number of travelers increased from 62 % in 2016 to 68% in 2018 and is steadily rising.  The study also found that 70% of global travelers were likely to book environmentally friendly stays, whether they were actively searching for them or not.  And 62 % felt better about staying at hotels and other accommodations knowing that they were environmentally friendly.
COVID-19 has had an impact on the priority of travelers, according to a survey conducted by travel advisory company Virtuoso, 82% of respondents believed that COVID-19 has made them want to travel more responsibly.  When planning a vacation, 50% felt that it was important to choose hotels, cruise lines and travel companies that had strong sustainability policies and 72% believed that travel should protect the environment.  70% of travelers also believed that traveling more sustainably enhanced the vacation experience.