Hospitality TVs vs Consumer TVs: Which is a Better Option for Your Hotel?
Guests have high expectations of their hotel stays and want to experience the comforts of home during their stays.  Consumers can purchase LED, LCD, OLED and plasma screen TVs at a reasonably low cost with a variety of high-tech features, including automatic software updates.  Guests have become accustomed to a certain standard when it comes to their at home entertainment experience and they want a similar in-room entertainment experience from hotels.
They have the expectation that guest rooms are equipped with the latest hotel technology, guests want greater control of their experience, and they want a variety of in-room entertainment options.  Hospitality Technology's 2021 Customer Engagement Technology Study found that 55% of guests expected smart TVs and content streaming in guest rooms.  34% wanted the ability to control the TV, lighting and temperature with an app on their mobile devices and 31% wanted voice control features such as Amazon's Alexa.  Hotels can meet guests' expectations by investing in the right TV system designed for the Hospitality environment.
What Should Hotels Consider When Purchasing TV Systems?
In order to offer guests the best in-room entertainment experience possible, hotels need to ensure that their TV systems can meet guests' expectations.  Hotel TV systems should be customizable and should enable personalized welcome greetings and menus that allow for the marketing of hotel amenities.  Hospitality TV systems should also be compatible with the existing infrastructure and as the needs of your property changes, TV systems should be able to adapt and evolve with the needs of your property.
Hospitality TVs Vs. Consumer TVs

In order to make the best purchasing decision, it's important for hotels to distinguish between consumer TVs and Hospitality TVs/ commercial TVs.  Hotels need to be aware of the specific benefits of investing in a Hospitality grade commercial TV.
Hospitality/Commercial TVs
Commercial TVs are specifically designed with warranty policies, technology and security features that fits the Hospitality and commercial environment.  Hospitality TVs are compatible with technology solutions that deliver content across hundreds of TVs managed from one centralized location.
Warranty and Services
Commercial TVs typically come with a standard 2-year warranty that allows hotels to purchase extended coverage.  Hotels can exchange damaged TVs and have access to on-site repairs by certified technicians.
Labor and Management
Commercial TVs are compatible with technology solutions that allow content across all TVs on the property to be managed from one central location.
Technology
To deliver HD entertainment to guest, Digital Rights Management (DRM) technology is required.  Hotel TVs designed for Hospitality are embedded with Pro:Idiom and/or LYNK DRM technology to ensure secure distribution of content across multiple rooms.
Security
The lockable features of commercial TVs prevent guests from tampering with settings, such as the lock-out capabilities on the rear TV panels menu display.  The volume limiter feature prevents Hospitality TVs from reaching extreme volumes that would cause disturbances.
Consumer TVs
Consumer TVs are designed to be used at home and are not used on a continuous basis like commercial TVs, therefore their warranty and technology features differ.  These TVs are typically less expensive than commercial TV sets, but also have shorter, less robust warranties, and fewer encryption and security capabilities.
Warranty and Services
Consumer TVs have limited warranties, typically 90 days but can be voided when TVs are used in a commercial setting.  Hotel owners would have to incur full cost of service which negates any savings generated up front.
Labor and Management
Hospitality technology solutions cannot be operated using consumer TVs and would require external hardware, certification, and labor.  Hotels would also incur extra costs to set-up each TV set individually.
Technology
Consumer TVs are not equipped with encryption technology to protect HD programming from illegal duplication.  Ownership costs would increase significantly, as each TV set would require a set-top box.
Security
Unlike commercial TVs, consumer TVs lack the ability to lock-out guests from altering the TV settings.
What are the Benefits of Hospitality Grade TV Systems?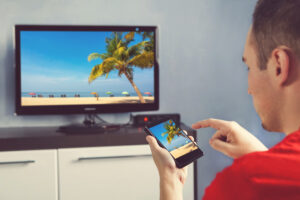 Hotels have different needs than consumers do at home, Hospitality grade TVs come with security features that allow hotels to protect guests' information, such as payment information and passwords.  Consumer TVs are ideal for homes and are inexpensive, but do not offer hotels the policies and features that are needed for the Hospitality environment.
Hospitality TVs are Equipped With Pro:Idiom
Hospitality TVs are embedded with Pro:Idiom, a digital content protection system tailored for the Hospitability Industry.  TVs designed for Hospitality are equipped with a chip and supporting circuitry that permits decryption of copyrighted content to be broadcasted on TV sets in a commercial setting.  The same way that iTunes prevents copyrighted music from being downloaded and added to apple devices, copyrighted videos cannot be broadcasted on hotel TVs without Pro:idiom.  Smart-card, pay-per-view capability, Video On Demand and LodgeNet compatible all refer to Pro:idiom.
Warranty
Hospitality TVs are built for commercial usage therefore, they are more durable and robust in nature than the typical consumer TVs.  Hospitality TV warranty covers parts and labor, unlike a consumer TV, where the hotel would incur all costs associated with repairs or replacements.
Repairs
Onsite repairs or replacement polices ensures quick repairs of hospitality TVs which minimizes disruption and maximizes the room occupancy potential.
Data Privacy
Hospitality TVs are designed to clear personal information such as passwords, payment information and email addresses at the end of the hotel stay.  Guests run the risk of leaving private information behind as consumer TVs do not prevent the next guest from having access to previous information.
Hospitality Settings
Hospitality TVs are specifically designed for hotels and offer specific features to fit the hotel environment.
Welcome Message
Hospitality TVs allow hotels to add a welcome message on to the TV's switch-on channel, as well as photos or videos.
Volume Limiter
Sets a standard maximum allowed volume to prevent the disturbance of other guests.
Channel Line-ups
Hotels can remove inappropriate channels and can tailor channel line-up to cater to specific demographics.
Remote Management
Hotels can control a network of televisions from a central location.
Interactive Information Pages
Hospitality TVs provide hotels with branding and revenue generation opportunities that can enhance the guest experience.  Guests can be provided with information about local weather conditions, room service and hotel facilities.  Hospitality TVs are also designed to be compatible with entertainment systems that are embedded on the TV.
Guests Have High Expectations
The needs of guests are changing, and they have high expectations from their hotel experience.  A study commissioned by hotel operations platform company Alice, examined guest satisfaction and the biggest points of frustration for hotel guests.  The study found that guests had technology complaints, 34% cited outdated technology in guest rooms as a point of frustration.  Guests want an at home experience from their hotel's TV system and they want the latest technology that offers access to popular streaming services.  It is important for hotels to understand the benefits offered by Hospitality grade TV systems in order to provide guests with the in-room entertainment that they want.