Reduce Costs and Enhance Guest Experience with Guest-Room Control
Hotels initially began investing in technology as a means of adhering to safety guidelines as it related to COVID-19, now hotel technology is being used to improve upon the guest experience.  The pandemic has led hotels to invest in hotel technology such as contactless mobile check-in, where guests can check in from anywhere with their mobile devices.  Guest can also use mobile key to access guest rooms, elevators and meeting rooms.  Hotels have a lot of options to choose from to address their technology needs, hotels need to meet guests' expectations of convenience, while also staying within their budgets.  Hotels can elevate the guest experience by offering guests the convenience of guest room controls, while also saving energy and driving down costs.
Upgrade Your Hotel Technology!
Lutron Code-Smart Guestroom System for Hotels
Imagine entering your hotel room without having to look for light switches in the dark? Technology company Lutron launched the Code-Smart Guestroom System, an individual guestroom automation solution for lighting, that also offers features for temperature and receptacle control.  The Code-Smart Guestroom System has the ability to detect when guests are in the room and maintains the room to their preference, even while they sleep.  Hotels can conserve energy without taking away from the guest experience, by using Lutron's easy to design, install and budget friendly solution.  The Code-Smart System uses guest presence detection that knows when guestrooms are occupied and unoccupied and enables the lighting and temperature controls to adjust.  The solution turns the lighting off and adjusts temperature once the room is unoccupied and turns lighting and outlets back on once guests return.  The Code-Smart System uses guest presence detection that utilizes a combination of Lutron XCT sensing technology and guestroom door activity to adjust guest rooms to the guest's desired comfort level.
The solution maintains the customer's desired settings and will keep the lights, temperature and outlets active as long as guests are inside their rooms.  The Code-Smart Guestroom System allows hotels to use one vendor for their room technology needs, without having to use multiple manufacturers for motion sensors, doors, HVAC, receptacle and lighting.  And hotels can offer guests a great experience while meeting their budget obligations.  Hotels can also meet the energy code requirements, as this solution supports lighting requirements and codes for most locations.  The Code-Smart Guestroom System is a one vendor solution that can help budget conscious hotels by requiring less equipment and fewer vendors to help hotels stay within their budgets while offering a great guest experience.
"The Lutron Code-Smart Guestroom System is a complete room control package at a competitive cost – easy to design for the electrical engineer, and easy to install for the contractor with no callbacks, no compromise, and no factory startup required," said Kendell Clark, Hospitality Product Manager at Lutron Electronics. "The key to the system is guest presence detection that preserves the guest experience. Lutron delivers a code-smart solution that supports meeting code while keeping the guest happy."
Enseo's Fido Room Control IoT for Hotels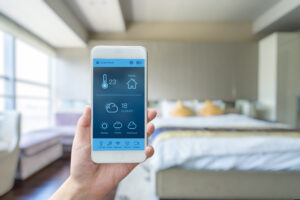 Hotels have options when it comes to their hotel technology needs, technology service provider Enseo launched Fido IoT Room Control and allows guests to take their in-room experience to the next level.  Guests will have full control of the room temperature, lighting and even control of the curtains.  HVAC and TV use represent 80% of the guest room energy use, Enseo's Fido Room Control can reduce energy use by up to 15% and can offer hotels significant savings throughout the year.  The solution allows hotels to better manage energy use when guest rooms are unoccupied by automating room temperature when guests check in and out and offers unique features such as control of lighting fixtures with the TV remote.  The Fido solution is designed to support additional devices as the need arises, hotels can manage thermostats, door locks, lighting, water sensors, motorized shades and contact motion sensors.
Benefits of Smart Guest-Room Control for Hotels
The guest expectation has changed when it comes to their hotel experience, guests crave convenience and hotels can meet this expectation by investing in hotel technology.  Many hotels are upgrading their guest rooms to elevate the guest experience by offering guests control of their in-room experience, while simultaneous reducing energy consumption and costs.
Improved Sustainability 
The pandemic has changed the way people travel, a survey conducted by travel advisory company Virtuoso, found that 82% of respondents believed that COVID-19 has made them want to travel more responsibly.  Hotels can improve hotel sustainability and energy efficiency by ensuring that room features, and device are being used only when needed.  This can significantly reduce how much energy is being used and allow hotels to save on their energy costs.
Remote Room Controls
Hotels can have access to a number of room controls from a remote location and can prepare for guests prior to their arrival.  Guest rooms can be programmed a head of time to manage the temperature before guests check in.
Personalized Room Experience
Hotels can offer guests a greater level of personalization by giving them the ability to quickly make adjustments to their rooms that meet their specific comfort level.