Vendfun Hybrid Kiosks Offers 5-Star Service at Budget Hotels
Technology has played a major role in the Hotel Industry's recovery, as hotels begin to reopen and slowly work towards full occupancy.  Guests want convenience and they want their check-in and check-out experience to be seamless, without waiting on lines and without having to fill out extra paperwork.  Guests crave the convenience that hotel technology offers and some hotels offer guests the option of mobile check-in and check-out and mobile key, which allows guests to check in and access their rooms with their mobile devices.  Some hotels offer chatbots that serve as an AI concierge that can help guests book restaurants and other experiences at hotels.  More hotels are leveraging RFID technology by the use of wristbands.  Instead of carrying room keys and wallets, RFID technology allows guests to upload their room information and credit card information to their wristbands and scan to access guest rooms and make payments during their hotel stays.  Hotels have used technology as a means of improving upon the guest experience, but what about smaller hotels and budget friendly hotels, how can they use technology to offer a more seamless experience on their limited budgets?
Which Hotel Technology Best Fits Your Needs?
Vendfun Hybrid Kiosks for Hotels
Venfund was launched in 2021 and promises to help budget hotels offer guests a 5-star experience.  Vendfun Hybrid Kiosks are multifunctional kiosks that have self-check-in and check-out, walk-in booking features and vending capabilities.  The hybrid kiosks allow guests to not only check-in and out during their hotel stay, but guests can redeem promotional vouchers and can also purchase snacks, drinks, toiletries and other hotel products from the same kiosks.  The kiosks are equipped with a 50-inch touch screen that allow for on the spot booking and payment of rooms and auto-syncs with online travel agencies.  The kiosks are also compatible with property management system software (PMS) that allows hotels to customize features.
Currently Vendfun hybrid kiosks are available for rent and rent to own directly from the company.  They are being marketed to budget hotels and homestays in Malaysia and the company plans to add additional features, such as memberships and e-concierge services by partnering with local businesses to offer food vouchers, local attraction entrance tickets and other business services.  The company is looking to add AI features by the end of the year that include a more personalized guest experience, the kiosks will soon have the ability to detect guests who are checking in with children and will dispense complimentary toys to welcome them.  Vendfun also plans to enhance security features by using facial recognition to cross-check guest ID cards during the check-in process.  "We are thrilled to introduce Vendfun Hybrid Kiosk to the market because we know many hotel operators are dealing with persistent human resources issues while scrambling to cut cost to weather the COVID-19 pandemic, and beyond. So, we want to help them by automating check-in and check-out services to increase operational efficiency and provide convenience to hotel guests." explains Vendfun.
Vendfun Hybrid Kiosks are Fully Equipped With: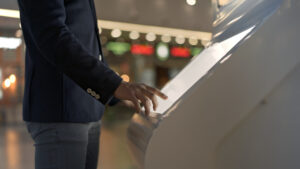 Credit card/ e-wallet payment
Passport Scanner
Room card dispenser
Receipt printer
Vending capabilities
Hybrid Kiosk Features & Benefits
Hybrid Kiosks are equipped with hotel self-service features and a profit-making kiosk capability
Able to sell snacks, drinks and toiletries to meet customers' needs
Accepts multiple payment modes such as credit card, debit card, e-Wallet
Compatible with hotel property management software (PMS) and online travel agencies (OTA)
No Expensive Upgrades to Smart Door Lock System
Solution to the traditional way of key collection
Marriott's Arrival Kiosks and Grab-and-Go Kiosks
Vendful allows hotels to rent kiosks or offer the option of rent to own and helps smaller and budget friendly hotels to offer guests a similar experience as they would receive at larger hotels.  Earlier this year, Marriott launched its Contactless Arrival Kiosks at select hotels, the Moxy NYC Times Square and the Courtyard NY Manhattan/Midtown East and the TownePlace Suites Monroe in Louisiana.  The new kiosks allow guests to skip those lengthy check in lines and allows for check in without the need to interact with staff.  The kiosks offer check in for a single reservation in a three-step process and room keys are created on the spot and dispensed to guests.
Marriott also offers guests it's concept of a centralized marketplace with its grab-and-go kiosks.  The kiosks are designed to offer guests complimentary breakfast during breakfast hours, with a selection of hot breakfast options and coffee selections.  Guests will also be able to purchase snacks and specialty items, with contactless purchasing that utilizes Bluetooth technology.  The grab-and-go kiosks will be featured at Marriott's Fairfield locations in Maryland.
Budget Friendly Option for Smaller Hotels
In addition to some hotels operating on much lower budgets, the pandemic has disrupted the Hotel Industry and has resulted in an unprecedented loss of revenue.  2020 was one of the most challenging years for the Hotel Industry and most hotels are still struggling to stay afloat. With so many hotels that are financially strapped, they simply do not have the money in their budgets to implement certain hotel technologies.  Hotels that offer mobile key or RFID wristbands to access guest rooms, will be required to upgrade every door in order to implement that technology.  That is an expense that many hotels cannot afford, Vendfun hybrid kiosks promises to allow smaller and budget friendly hotels to offer guests a seamless check-in experience with the use of technology, while still meeting budget obligations.  Vendfund hybrid kiosks is an affordable way to provide some of the same conveniences offered by larger hotels in a multifunctional kiosk.