Panic Button Systems for Schools
In most emergency situations, the amount of time it takes to report and respond to an emergency can mean the difference between life and death.  Unfortunately, school shootings are becoming more prevalent in the U.S and since 1970 there has been 1,316 school shootings.  In 2021, there has been at least 43 incidences of school shootings that has resulted in 12 deaths and 19 injuries in the U.S.  In 1999 a school shooting at Columbine High School in Denver, Colorado resulted in the deaths of 12 students and one teacher.  Also in 2012, a shooter opened fire at Sandy Hook elementary school in Newton, Connecticut and killed 26 people on school grounds.  With school shootings becoming more frequent, parents, staff and school districts are all seeking ways to ensure the safety of everyone on school premises. It is crucial that schools establish a school emergency notification system that can be activated quickly and can alert emergency responders without delay.
Interested in a Hotel Panic Button Quote?
How do School Emergency Notification Systems Work?
School emergency notification systems should be easily activated from any location and should have the ability to simultaneously alert staff, administrators and emergency responders.  The activation of school panic buttons should not require school staff to be placed in dangerous situations.  There a different types of panic button solutions, mobile panic button systems or school panic button app systems are emergency communication systems that are downloaded to mobile devices and are the most effective in a school environment, as most mobile phones are easily accessible by school staff during an emergency.  There are also panic button solutions that are effective for the hotel environment and hotel legislations are in place in many states that make panic buttons a requirement.  School panic button app systems are downloaded on the mobile devices of authorized users and are connected with the emergency school alert system and emergency dispatch centers.  In the event of an emergency on school grounds, school panic button app systems provide the user with emergency response options, such as options to select an active assailant emergency, a medical emergency or a fire emergency.  The location and the type of emergency are transmitted simultaneously to emergency responders and staff so that immediate action can be taken.
What is Alyssa's Law?
In 2018, a heavily armed assailant opened fire on the students and staff of Marjory Stoneman Douglas High School in Parkland, Florida.  The shooting resulted in the deaths of 17 people, including Alyssa Alhadeff.  A subsequent investigation concluded that insufficient emergency response time was found to be a contributing factor in the loss of life. Consequently, Alyssa's Law was established to ensure that schools had an emergency notification system in place that would directly connect with first responders and law enforcement in the event of an emergency.
What Are the Requirements of Alyssa's Law?
Alyssa's Law requires that public schools and charter schools have silent school panic alarm systems that have the ability to alert first responders and law enforcement agencies during an emergency.  Alyssa's Law seeks to improve law enforcement response times during life-threatening emergencies and the use of silent panic alarm systems in schools that are directly linked to law enforcement will increase response times and could prevent the loss of life.  Alyssa's Law requires that school panic alarm systems adhere to nationally recognized standards, including those established by the National Fire Protection Association (NFPA).
Alyssa's Law Legislations Florida and New Jersey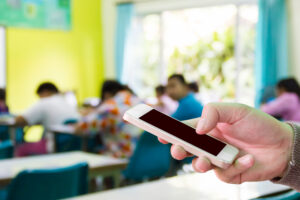 Currently, New Jersey and Florida have passed Alyssa's Law, with pending legislations in Nebraska, New York and Texas.  Alyssa's Law was also introduced on the federal level and is pending passage.  Alyssa's Law became effective in New Jersey in February 2019 and requires that public elementary and secondary schools be equipped with a school panic button system to alert law enforcement in the event of a school emergency.  Beginning with the 2021-2022 school year, Florida requires public schools and charter schools to implement a mobile school panic alarm system capable of connecting various emergency services technology to ensure real-time coordination between multiple first responder agencies.
Florida Panic Alarm Systems Requirements:
Connects diverse emergency services technologies.
Integrates a mobile panic alert system to be used by each school district.
Ensures real-time coordination between multiple first responder agencies.
Alerts appropriate Public Safety Answering Point (PSAP) of the location of the device.
Integrates with local PSAP infrastructure to transmit 911 calls and mobile activations.
Provides two-way communications.
Is customizable for districts and charter schools to adhere to local emergency codes, emergency naming conventions, update facility profiles, customize messaging, manage users and user access permissions.
Provides real-time activation of the appropriate 911 system and provides minimum details of the emergency, provides the location of the device and other unique identifiers of the device.
Panic Button Emergency Notification Systems for Schools
In order to comply with Alyssa's Law, the Florida Department of Education selected AT&T to provide Florida schools with a school emergency notification system.  The Florida school system has implemented a panic button system for schools designed to improve the outcome of emergency situations by enabling faster responses and increased effectiveness of emergency communication.  AT&T collaborated with Mutualink, Raptor Technologies and Rave Mobile Safety to implement a school emergency notification system that will provide a direct connection between school administrators and first responders by enabling the sharing of radio, video, data and texting for silent communication.  Some features include:
Management and integration with existing compliant technologies and panic alert infrastructure.
 Streamlined emergency response times with immediate and simultaneous notifications to campus staff, local PSAPs (Public Safety Answering Points), and first responder agencies.
Reduced time to incident resolution by enabling near real-time information sharing and communication between schools and multiple first responder agencies.
Delivery of critical panic alert details, such as the location of emergency and key facility data.
Implementation of school panic button app systems can significantly impact emergency response times.  Law enforcement usually arrives 30-50% of the times while an active assailant is still active on school grounds.  The use of an emergency communication app, such as a school panic button app system can increase the effectiveness of emergency communications and can help to accelerate the emergency response and save lives.
Vendor Spotlight: RelayPro
Hotel panic buttons are a new requirement for hotels, but they don't have to be a new expense. RelayPro was recently approved by Marriott, IHG and Choice Hotels and has been installed in nearly 2,000 properties.  RelayPro is BOTH a 4G/Wi-Fi walkie talkie and a cutting-edge panic button with VOICE communication.