Reinventing The Hotel Experience Through Technology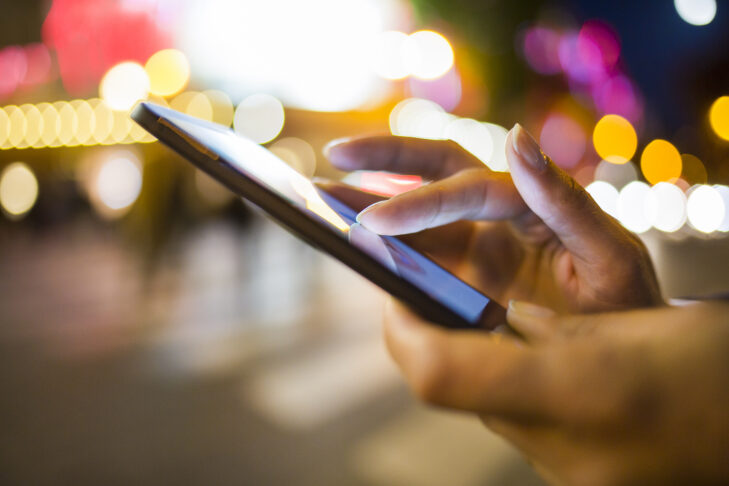 The hotel experience has changed and guests have high expectations and want the convenience that technology has to offer.  The pandemic has created opportunities for those in Hospitality to improve upon the guest experience by using hotel technology, as a result there has been a digitization of the hotel experience.  Guests can access a multitude of hotel features by using their mobile phones, features such as mobile check-in, accessing rooms and elevators with mobile key, the incorporation of digital menus and food ordering, as well as contactless payments.  Hotels have created a more enhanced guest experience by using mobile technology to provide guests with access to an array of hotel amenities and experiences at their finger tips.
Guests Want the Convenience of Mobile Technology
A recent study conducted by Taxi2Airport found that the majority of those surveyed preferred to use their mobile phones when doing business with a hotel.
58% would like to use their mobile phones to make their restaurant reservations during their hotel stay.
43% would like to use their mobile phones to order room service.
40% preferred hotels that allowed for mobile check-in and check-out.
58% would pay extra for mobile check-in and check-out.
29% preferred mobile key less room entry.
Interested in Upgrading Your Phone Systems?
OpenTable and UrVenue's Unified Booking Solution
Travel restrictions are being lifted and travelers are ready to travel again, and most are interested in convenience.  A survey conducted by hospitality technology company UrVenue, found that 85% of travelers are more motivated to book experiences directly though the hotel's website in advance, and with a singular shopping cart and purchase.  Online Restaurant Reservation company, OpenTable has partnered with UrVenue, to create a unified booking solution for hotels and resorts.  The unified booking solution enables hotels to offer guests a singular shopping cart and payment experience for multiple hotel experiences.
Hotels can offer guests a bundled experience that includes making restaurant reservations, reservations for nightclubs, attractions, pool reservations and others in one shopping experience.  Guests can enjoy the full hotel experience by browsing and booking multiple experiences in advance with one shopping cart and one transaction.  OpenTable is well known for restaurant reservations and will handle the hotel's restaurant bookings and Urvenue will offer the contactless bookings for all other experiences.
According to UrVenue, "The survey confirmed travelers are looking for advanced planning capabilities for experiences on-property. Through our seamless booking flow and shopping cart, leisure travelers are able to book their experiences in advance and hotels get the benefit of this with higher on-property retention rates and increased revenue per customer – it's a win-win."
The OpenTable and UrVenue Partnership Solution Includes:
One booking flow for diners enables venues to upsell, cross-sell, package and bundle resort experiences with restaurant reservations in real time.
One shopping cart, check out, and transactions for UrVenue resort experiences and OpenTable restaurant reservations.
Engaging guest booking experience with interactive 3D venue maps for location-based bookings like individual seats and specific sections, time-based bookings such as restaurant reservations, and duration-based bookings such as rentals.
"Booking a restaurant independently of everything else a resort has to offer is a thing of the past." According to OpenTable, "We are excited to partner with UrVenue to provide a seamless guest booking journey to our vast network of diners—because the pool, nightclub and brunch the next day should all be reserved together."
The Resorts World Las Vegas, Sahara Las Vegas and the Godfrey Hotels and Cabanas Tampa will be the first hotels to utilize the unified booking solution being offered by OpenTable and UrVenue.  "We've always been frustrated about the multiple systems our guests need to use to book the variety of property experiences we have to offer," said Anthony Olheiser, VP of food & beverage at Sahara Las Vegas. "UrVenue's partnership with OpenTable will make it easy for our staff to upsell and cross-sell and for guests to book and bundle experiences in a singular transaction, driving guest retention and making for a more expansive and diverse experience at our resort."
Resorts World Las Vegas and Grubhub Offer Mobile Ordering
Resorts World Las Vegas is taking the traditional dining experience to the next level by partnering with online food ordering company Grubhub, to provide guests with mobile food ordering.  Guests will be able to access 40 food and beverage options at the hotel, as well as select retail options.  Orders can be placed using the Grubhub app and guests can choose to either pick up their order, have orders delivered directly to their rooms or delivered to the pool area.  Guests also have the option of contactless pick up from a locker that requires a QR code to be scanned using mobile phones.  Mobile ordering enables guests to pay for orders using their credit cards or to charge the costs to their rooms.
"Our partnership with Grubhub further expands our goal of providing guests with first-of-its-kind experiences at the resort," said Scott Sibella, President of Resorts World Las Vegas. "Resorts World Las Vegas is proud to be the first resort to integrate this technology and offer our guests a convenient mobile-ordering solution for a variety of food, beverage and retail items across the property."
"We're excited to bring our integrated tech solution to Resort World Las Vegas and its guests," said Brian Madigan, vice president of campus and corporate partners at Grubhub. "Our goal has always been to make ordering food as easy and convenient as possible for hungry diners, and this mobile ordering experience at Resorts World Las Vegas is our latest proof point of that — effectively enabling diners to order from their favorite resort eateries from the tips of their fingers."
Benefits of Mobile Technology for Hotels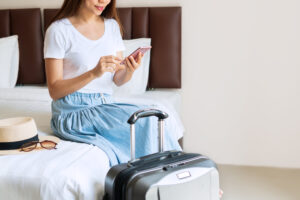 In 2020, it has been estimated that there are 4.8 billion mobile phone users globally, so it only makes sense for hotels to invest in mobile solutions.  Guests crave convenience and hotels can better attract guests by using mobile technology to provide all their services in one convenient and easily accessible place.
Improve Booking and Guest Experience
Mobile solutions allow consumers to gather information about all the amenities that are offered by hotels and requires very little work on the customer's end.
Creates Brand Loyalty
Mobile solutions allow guests to collect points and earn rewards that can be used during their next hotel stay.  It also enables guests to offer valuable feedback that the hotel can rectify immediately and can change a negative guest experience.  And guests who have enjoyed a seamless hotel experience are more likely to keep returning.
Create Sales and Marketing Opportunity
Hotels can generate revenue by exposing guests to all the experiences that the hotel has to offer.
Creates a More Personalized Guest Experience
Hotels can use mobile apps to gather data on customer behavior in order to offer a more tailored and personalized guest experience.