Guests Want Self-Service Options
Hotel technology that was introduced at the height of the pandemic have now become an expectation for guests.  Guests are more likely to gravitate to hotels that offer self-service options like mobile check-in, mobile key and guest messaging.  A new study conducted by Oracle Hospitality and Skift found that 73% of guests wanted to use their mobile devices to manage their hotel experience and 73% of travelers were more likely to stay at hotels that offered self-service technology to minimize contact with staff and other guests.
Guests also wanted more control of their hotel experience, 39% of guests wanted to order room service from their mobile devices or a chatbot and 38% wanted a fully self-service model, with staff only available upon request.  In order for hotels to attract more returning guests, they need to operate more efficiently, and self-service technology can help, 34% of travelers said that slow service would be their number one deterrent to rebooking a hotel.  Overall, guests are looking for a more high-tech hotel experience, 74% wanted hotels to use AI to offer guests more tailored services and 77% were in favor of using automated messaging or chatbots for their customer service requests.
Hotels are Investing in Contactless Technology
Hotels recognize the importance of investing in contactless hotel technology, the study also found that 96% of hoteliers are investing in contactless technology, 62% felt that a fully contactless experience is likely to be the most widely adopted technology in the next three years.  54% of hoteliers also reported that their highest priority is to adopt technology that improves or eliminates the need for the front desk experience between now and 2025.  The check-in experience is a guest's first interaction with the hotel, and it can decide whether guests have a positive or a negative guest experience.  With so many guests gravitating to hotels that offer self-service options, how can hotels meet guests' expectations of a contactless and seamless hotel experience?
Vendor Spotlight: enviivo Suite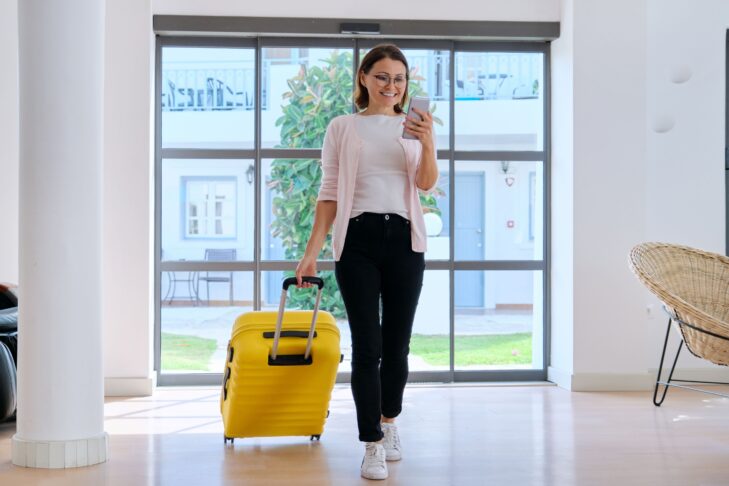 Hospitality Software Company enviivo helps hotels to modernize the check-in experience by partnering with three self-check-in solutions.  enviivo's partnership with smart lock provider Nuki, global digital check-in solution Chekin, and Vikey, an integrated solution for online check-in and remote access, provides guests with a digital and seamless check-in experience.
The partnership integrations with eviivo include:
Nuki's smart lock offers a variety of upgradeable electronic door locks that allow guests to access guest rooms and accommodations digitally.  The Nuki solution is mounted inside of door locks and automatically opens doors upon arrival and locks upon departure.  Nuki has been certified secure by independent security organizations and is also compatible with Apple HomeKit, Alexa and Google.
Hotels and other accommodations can automate all aspects of the check-in process with Chekin.  Chekin is a digital check-in solution that allows guests to check-in online and onsite, guests can also verify their identity through biometric comparison software.  Other features include digital signature, upselling/cross-selling, online payments, and remote access.  Chekin's digital solution is available at hotels and accommodations in over 22 countries.
Vikey offers hotels and other accommodations an all-in-one integrated solution for online check-in, the solution enables payments, up selling and cross selling and remote access via smart lock.  Vikey allows hotels to automate every step of the check-in process and offer guests a contactless check-in experience.  Guests can check-in and access rooms with digital keys and control the A/C, to limit waste and save energy costs.
"We're thrilled these best-in-class companies have joined our partner network to offer more secure and elevated guest check-in experiences while reducing the operational workload for hosts," Michele Fitzpatrick, CEO of eviivo. "At eviivo, we focus on providing the most versatile cloud-based platform, and the integration of Nuki, Vikey and Chekin further bolsters our product that's essential for property owners, hosts and hoteliers who truly prioritize guest experiences."
Benefits of Investing in Self-Service Technology
Operate More Efficiently
According to a report by McKinsey, businesses could free up 69% of their time by automating data processing duties.  Self- service technology could automate tasks normally performed by front desk staff, such as recording guest information and taking payments, allowing hotels to perform more efficiently.
Seamless Check-in Experience
Hotels can simplify the check-in process and reduce the amount of time guests spend waiting in line, filling out paperwork and verifying their identity.  Self-check-in systems reduce overcrowding at the front desk and communal areas.  Guests have the expectation of a seamless hotel check-in experience without waiting on lines, a five-minute wait during check-in has the potential to decrease guest satisfaction by 50%.
Offer More Personalized Experiences
Self-service solutions are linked to the hotel's PMS and therefore can be used to gather useful data about guest purchases, guest room preferences and special requests, that allow hotels to deliver a more personalized experience.
Hotels can Better Compete
Contactless technology such as mobile check-in and mobile key can have a positive impact on the overall guest experience and allow hotels to attract guests who are looking for a high-tech hotel experience.
Attract Prospective Employees
The Hospitality Industry is facing a major labor shortage and self-service technology can help hotels to attract new employees.  65% of hoteliers said incorporating new technologies for employees best describes their strategy to withstand labor shortages and attract new talent.
A Safer Hotel Stay
Self-service technology also helps hotels to offer a safe experience by limiting interaction between guests and employees.  92% of travelers don't miss being around other people during their hotel stays.  Self-service technology allows guests to check-in online or check-in using mobile devices and go directly to their rooms withing interacting with employees and other guests.