Are Your Hotels Ready to Meet Panic Button Requirements
Why are Hotel Panic Buttons Important?
Hotel employees are often required to work alone and to work overnight, as a result they are more likely to be subjected to harassment and violence.  Employees who work in guest rooms are especially vulnerable as they are often isolated from the rest of their teams and are more likely to be harassed or assaulted, 9 out of 10 hospitality workers have suffered some type of abuse during their dealings with guests.  Employee safety is a top priority for hotels and an employee safety platform is essential in ensuring their safety.  Hotel panic buttons are employee safety devices that when activated sends out an emergency alert with precise location details, allowing responders to locate distressed employees within minutes.
Major Hotel Brands Panic Button Deadline
Many hotel brands have made a commitment to equipping their staff with hotel panic buttons as a part of the AHLA's 5-Star Promise.  Participating members pledged to provide hotel employees with safety devices, to provide training and to update their policies in order to increase the safety of their employees.  To date, almost 60 member companies representing 20,000 hotel properties have committed to prioritizing employee safety and providing employees with safety devices/panic buttons.  Major hotel brands, Hilton, Hyatt, IHG and Marriott International have set deadlines for their properties to become compliant with hotel panic button requirements by 2023.
What to Consider Before Investing in Panic Button Devices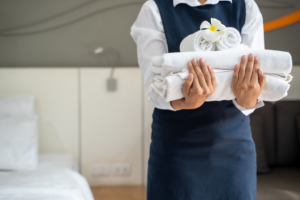 Hotels have a lot to consider before investing in a hotel panic button device, hotels must adhere to panic button city and state legal requirements, as well as brand standard requirements.  Hotels also need to pay close attention to deadlines, as cities and states and hotel brands have a specific timeframe by which panic button devices must be deployed.  There are also different types of panic button systems to choose from, such as full system panic button and mobile panic button systems.  Mobile panic button systems require hotel employees to download an emergency communication app to their mobile devices.  When mobile panic buttons are pressed, the device sends out the employee information as well as the precise location of the emergency to hotel security personnel.  Full system panic buttons are location based and require the installation of location beacons in each guest room/area.  Once panic button devices are activated, they identify the closest location beacon, and an emergency alert is sent out to the dispatch center in the hotel with precise location details.
Hotel Panic Button Legal Requirements
Many cities and states have passed hotel panic button laws and have set specific guidelines as to what constitutes as a panic button device.  Once activated, a panic button device should have the ability to provide precise location information down to the exact floor and room number and as the location changes, panic button devices should send updates in real time.  This allows responders to locate the distressed employee within seconds or minutes of an emergency alert.  Hotel panic button requirements differ depending on the city or state, but most have similar requirements as to what constitutes as a panic button device.
Panic button devices should be easily activated by a single action like a push, pull or tap. They must provide a sustained signal without delays caused by entering passwords or waiting for the system to turn on.
When panic buttons are activated, the signal is effective for the circumstances (e.g., designated personnel will be able to detect it regardless of their location and distinguish it from other audible or visual alarms and noise from vacuum cleaners and other sources.)
Panic button devices should be designed to summon immediate assistance and enable responders to accurately provide reliable locations down to room-level accuracy of where the distress signal originated.
Devices should consistently work in all locations, on all shifts and the activation of one device should not obscure the activation of other devices.
The device should minimize unintentional activation and resist possible disabling by attackers.
Hotel Panic Button Solutions
There are numerous panic button solutions on the market that can help hotels to create a safer environment for their employees, while adhering to all legal and brand requirements.  Hotels can invest in a panic button solution that provides precise location details, allowing responders to assist distressed employees within minutes.
Relay Panic Button Solutions
Relay panic buttons offer hotels two lifesaving tools in one device by enabling two-way communication within the employee safety device.  Relay panic buttons pinpoint location down to the precise room and provides simultaneous LTE and Wi-Fi connectivity for maximum coverage.  Safety button devices offers fast and efficient self-installation that requires no drilling or wires and is designed to adapt to the changing employee safety device laws and brand standards.
Benefits and Features
Room-level accuracy & Two-way communication
Low cost,Fast, Easy self-install
Brand compliant
The Smartest Software Platform
Panic button and two-way communications in the same device
Simultaneous LTE and Wi-Fi connectivity for maximum coverage
Adaptable to changing laws and brand standards by over-the-air updates
No expensive hardware deployments
Incident Management from Identification to Resolution
Two-year incident history log
Categorize your panic incidents
Input resolution notes
MadeSafe by Enseo
MadeSafe by Enseo is an easy-to-use solution that is designed to maintain privacy and only provides location when the device has been activated, indicating someone is in distress.  The safety button device provides precise room location, even in skyscrapers and features interactive 3D maps & reporting tools.  MadeSafe panic button was designed specifically to address the needs of hotel employees working in guest rooms and also to meet employee safety device legal requirements.
Features:
Tools for testing your solution
A full reporting & analytics suite
Room level accuracy, even in skyscraper hotels
Immediate installation available
Easy to use solution protects worker privacy by only providing location when activated
Features interactive 3D maps & reporting tools
Installs at full occupancy with no rooms out of service
Configurable to any policy and procedure
The MadeSafe Advantage
Built for hospitality and developed to meet legislative requirements and housekeepers' needs.
Recognized as an Allied+ member of AHLA and a 5-Star Promise program sponsor.
Works for ANY size hotel, all hotel constructions and on any hotel infrastructure including coax, ethernet or Wi-Fi.
U.S. Based 24×7 Guest Support Services and System Management.
Available for immediate installation and cost effective when leveraging existing Enseo equipment.
Vendor Spotlight: RelayPro 
Hotel panic buttons are a new requirement for hotels, but they don't have to be a new expense. RelayPro was recently approved by Marriott, IHG and Choice Hotels and has been installed in nearly 2,000 properties.  RelayPro is BOTH a 4G/Wi-Fi walkie talkie and a cutting-edge panic button with VOICE communication.