Why Hotels Should be Paying Attention at HITEC 2022
Hotels are required to provide employees with panic button devices/employee safety devices in order to comply with city and state legislations, union requirements and to meet brand standards as a part of the AHLA's 5-star promise.  Major hotel brands have made a commitment to providing employees with panic buttons by December 31st, 2022, and there are numerous hotel panic button solutions that can help hotels to meet these requirements.
The upcoming HITEC Orlando technology conference will showcase key technologies that hotels can customize to fit their specific needs.  HITEC is the largest Hospitality technology show and is produced by HFTP.  HITEC 2022 will be featuring numerous Hospitality technology providers showcasing their panic button solutions.  The Hospitality technology event will take place in Orlando this June and guests can expect to see panic button providers such as Relay, Enseo, TraknProtect, ROAR for Good and Vocero to name a few.  Hotels should pay close attention as deadlines to meet panic button requirements are fast approaching.
Hotel Panic Button Requirements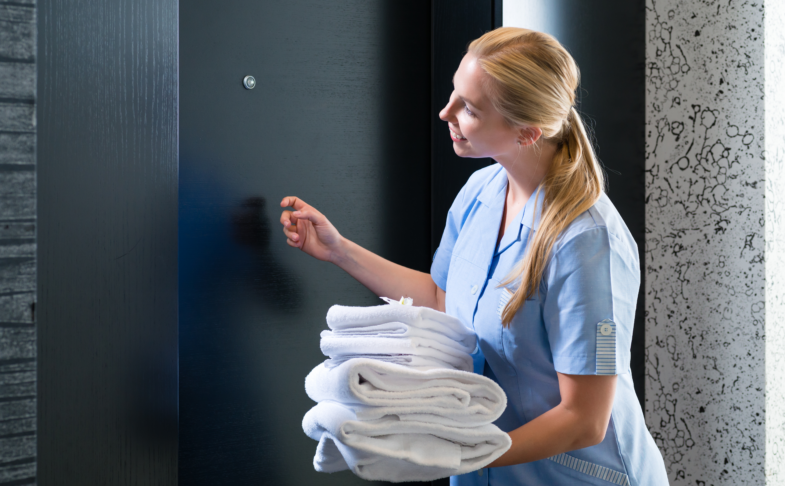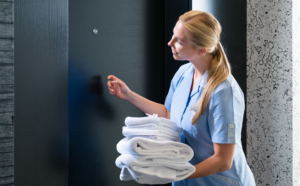 Most cities and states have similar requirements as to what constitutes as a panic button device.  Major hotel brands also require panic button systems to meet their panic button brand standard requirements and most of these standards align with panic button legal requirements.
Panic button devices should be easily activated by a single action like a push, pull or tap. They must provide a sustained signal without delays caused by entering passwords or waiting for the system to turn on.
When panic buttons are activated, the signal is effective for the circumstances (e.g., designated personnel will be able to detect it regardless of their location and distinguish it from other audible or visual alarms and noise from vacuum cleaners and other sources.)
Panic button devices should be designed to summon immediate assistance and enable responders to accurately provide reliable locations down to room-level accuracy of where the distress signal originated.
Devices should consistently work in all locations, on all shifts and the activation of one device should not obscure the activation of other devices.
The device should minimize unintentional activation and resist possible disabling by attackers.
Relay Panic Buttons
HITEC Orlando will feature key technologies from Hospitality technology providers such as Relay.  Relay panic buttons offer hotels two lifesaving tools in one device by enabling two-way communication within the employee safety device.  Relay panic buttons pinpoint location down to the precise room and provides simultaneous LTE and Wi-Fi connectivity for maximum coverage.  Safety button devices offers fast and efficient self-installation that requires no drilling or wires and is designed to adapt to the changing employee safety device laws and brand standards.
Benefits and Features:
Room-level accuracy
Two-way communication in the same device
Low cost, No expensive hardware deployments
Fast, easy self-install
Adaptable to changing laws and brand standards by over-the-air updates
Simultaneous LTE and WiFi connectivity for maximum coverage
 Two-year incident history log
AlwaysOn by ROAR for Good
Panic button legislation and brand standards require workplace safety devices to provide location tracking capability.  At HITEC 2022, ROAR for Good will display AlwaysOn panic buttons which offers room location accuracy, with features such as real time tracking and false alarm prevention.  AlwaysOn provides complete hotel coverage regardless of WIFI, cell phone dead spots and power outages.  Devices are non-intrusive, easily installed, easily maintained and offers training in multiple languages.
Benefits and Features:
Non-intrusive
Easy to install and manage​
Offers 24/7/365 live transmission
Regardless of WiFi coverage, dead spots – even power outages
Provides Room Level Accuracy
Alarm location tracking, and false alarm prevention
Complete Dead Zone Protection
Self-healing Bluetooth network & LTE back-up is always working, even in areas where WiFi or cell service is unreliable.
Superior Patented Technology
Technology allows platform to be more cost-effective than other solutions available.
Dynamic Beacon Network
Battery-powered Smart Beacons provide flexible, wireless mounting options to enhance guest experience
Hassle-Free Installation & Maintenance
Easy, streamlined, installation process and low battery notifications make maintenance a breeze
Vocera Communication Solutions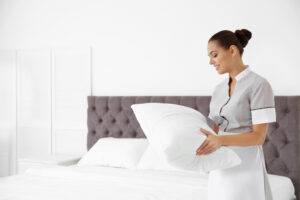 Vocera Communication Solutions is another employee safety device provider that will be showcased at HITEC 2022.  Vocera allows employees in distress to get immediate help during emergencies by pressing panic buttons that instantly connects to security personnel.  Employees can use voice commands to instantly connect with teams, by simply saying names or roles.  Vocera allows staff to communicate directly with hands free devices that are discreet and wearable, the workplace safety devices enable communication on and off the hotel's property.
Features and Benefits:
Vocera communication software runs on iOS® and Android™ smartphones. Allows hotels to equip each user with the appropriate device to meet the needs of their job.
Summon help with one touch button, wearable and hands free.
Voice Commands allow you to say the name, group, department, or role of the person you're trying to reach, to connect instantly. Without the need to know a name, extension, or phone number.
Respond to calls or texts without interrupting critical tasks or important interaction with guests.
Audio technology allows smooth and natural conversation.
MadeSafe by Enseo
Privacy is important to employees and Enseo will also be at HITEC Orlando to display MadeSafe, an easy-to-use solution that is designed to maintain privacy and only provides location when the device has been activated, indicating someone is in distress.  The safety button device provides precise room location, even in skyscrapers and features interactive 3D maps & reporting tools.  MadeSafe panic button was designed specifically to address the needs of hotel employees working in guest rooms and also to meet employee safety device legal requirements.
Features and Benefits:
A full reporting & analytics suite
Room level accuracy, even in skyscraper hotels
Built for hospitality
Immediate installation available
Easy to use solution protects worker privacy by only providing location when activated
Only employee safety system featuring interactive 3D maps & reporting tools
Installs at full occupancy with no rooms out of service
Configurable to any policy and procedure
TracknProtect Safety Button Solution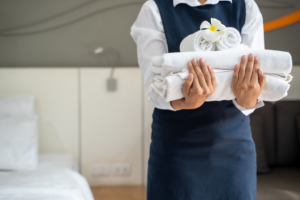 Panic button solutions are customizable, attendees at HFTP HITEC should be on the lookout for TracknProtect Safety Button Solution.  The TraknProtect platform utilizes BLE/Wi-Fi hubs that continuously tracks and provides precise locations.  TracknProtect devices require minimal training and is designed to easily integrate into the hotel's existing technology.  Devices are simple, reliable and provides accurate location details and are easily installed without taking rooms out of inventory.  TraknProtect allows hotels to comply with union requirements, panic button legislations and AHLA's 5-Star Promise.
Features and Benefits:
Location Accuracy
TraknProtect applications and web portal displays real-time location data on mobile, web and desktop applications.
Know exact room & floor location when the button is pressed
Get updated location, even if the employee moves/is moved
Easy to Use
The platform is intuitive and easy to use requiring minimal training so that the staff can use the applications anytime anywhere. Light and easy to carry
Alerts
One-click activation on safety button
Seamless Communication
Receive alerts via multiple means: SMS, Push Notifications, Desktop Alerts and Email.
Incident Record
Record notes, pictures & files right from the App
Vendor Spotlight: RelayPro
Hotel panic buttons are a new requirement for hotels, but they don't have to be a new expense. RelayPro was recently approved by Marriott, IHG and Choice Hotels and has been installed in nearly 2,000 properties.  RelayPro is BOTH a 4G/Wi-Fi walkie talkie and a cutting-edge panic button with VOICE communication.