Panic Buttons for Hotels
Despite great efforts by Brands and owners to increase security in their hotels, the reality is that a reported 58% of hospitality workers are victims of various forms of harassment/assault. With our staff satisfaction and safety as our greatest asset in ensuring a quality guest experience, the hospitality industry has gone to great efforts to face this challenge head on.
Recently, many hotel brands have promised to provide staff alert devices to their employees to empower them to urgently and easily request assistance to their location. Today, there are thousands of hotels that may need to select and deploy solutions to meet unique hotel panic button requirements imposed by local municipalities, trade unions and/or brand specifications.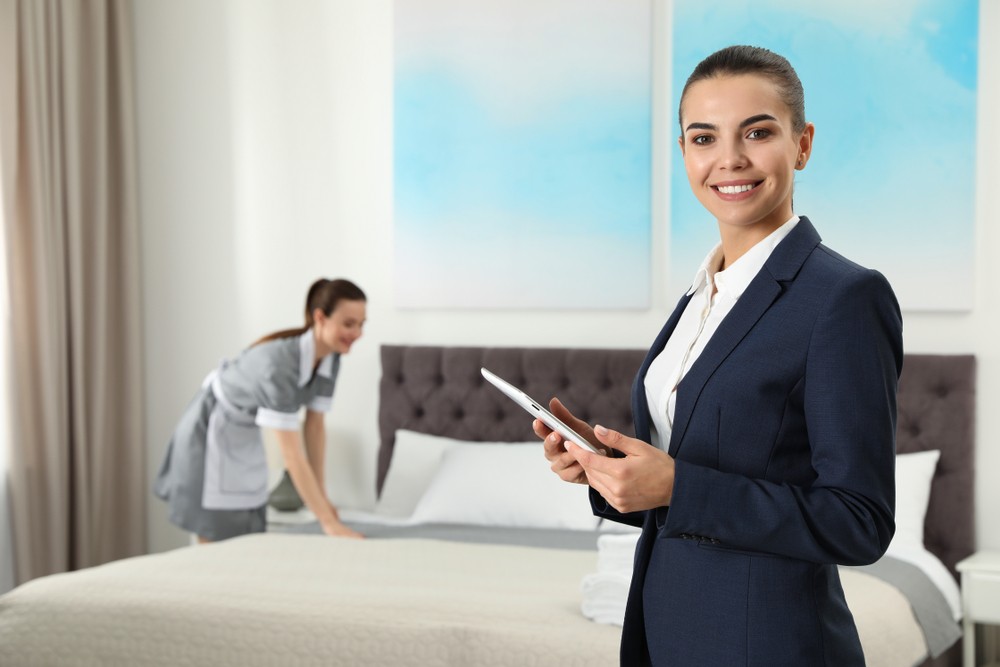 A Bit of History
In September 2018, major brands came together with the American Hotel & Lodging Association (AHLA) to deliver the 5-star promise. This promise was "a pledge to provide hotel employees across the U.S. with employee safety devices (ESDs) and commit to enhanced policies, trainings and resources that together are aimed at enhancing hotel safety, including preventing and responding to sexual harassment and assault."
Along with HTNG's Staff Alert Workgroup, AHLA has a task force of industry participants to begin the process of outlining an implementation framework. To that effect, there have been a number of vendors who have developed solutions specifically for the hospitality market and have done so with the support and collaboration of major brands and hotel organizations.
As a Business Owner, you Know What you Need
As an owner or decision maker for a hotel or group of hotels, it's important to choose a solution that takes into account the unique requirements of your property. As such, you'll want to provide as much information to the vendor as possible and common discovery questions may include:
Number of properties
Locations of properties
The number of employees you intend to provide an alert device to
The hours of the security team
What areas need to be covered (e.g. guest rooms, public spaces, etc.)
Description of your IT Infrastructure
Description of your layout (e.g. a campus vs a high-rise)
Description of your operations and operations limitations, for example:

Do you have a security team, and if not, who responds to emergencies?
Hours of the security team, if you have one
Organizations should also make sure they are fully educated on any local, state or government regulations and laws that they may legally need to oblige by.
The Best Fit for Your Hotel
Just as important, hoteliers will need to be able to differentiate between various vendors and solutions to find the best fit for their hotel.
Below is a list of questions that should assist you in your buying process:
General Product Information
Staff Alert solutions are being delivered to hotels in a variety of ways. It's important to understand some of the basic technology behind the solution you are vetting:
Describe the technology your product uses to determine the location of the individual who activates the staff alert device.
Does your solution provide updated location of the employee (i.e. "follow-me" feature) if the staff moves after the staff alert device has been activated?
Describe the technology your product uses for communication from the activated device to the receiving system, and from the receiving system to the designated responder(s)? (e.g. BLE, RF, Ultrasonic, WiFi, cellular, multiple technologies, etc.)
How are alerts received and what options are available for handling and escalating alerts?
What peripheral equipment (e.g. hubs, beacons) is required for your solution to work?
Are there any instances (e.g. power outage, internet outage, device tampering, range from associated devices) in which your solution would not be able to identify a staff member's location? If these instances occur do you have an alternative method of identifying a staff member's location?
Additional Product Information
Does your solution have a (iOS and Android) mobile application? If so, please describe it. What about a web dashboard?
Please describe the availability of real-time incident report capabilities as well as historical reports and insights?
Does the device sound a local audible alarm when activated?
Install
How is your solution deployed/installed at a property? Describe your pre-implementation, implementation and post-implementation process – include all steps required to implement the solution and transition to a steady state of operations. Be sure to describe any site survey, installation and testing processes. This response may be provided in a timeline, Gantt chart, table or narrative.
Detail any specific requirements to deploy the solution, including site access requirements (e.g. rooftop access), site resource requirements (e.g. security escorts), and documentation requirements (e.g. list of all the guest rooms).
Assuming a 200-room hotel requires 30 alert devices, how long (in a number of days) would it take for you to deploy your solution at this property?
Training
Do you provide on-site training for the staff alert device users? What does this involve?
Is there an online or ongoing training program for re-training or training new employees? Describe what materials are available? If online, please provide a link or copy of materials.
Pricing
Provide first year or initial rollout costs in US dollars:

Equipment purchase cost
Installation cost
Professional fees – what is included, such as training
Estimate travel costs
And any other set-up costs

Provide details for ongoing costs to the property including:

Annual service/maintenance cost per unit
Software licensing fees
Hosting costs

Provide details for any cost of replacing equipment, including alert devices, batteries, etc
Are there any other additional fees? This may include the cost for 24×7 support, customization costs, integration fees, on-site support billing, etc.
To Tie it All Together
While you may not be able to have comprehensive knowledge of every detail and iteration of this technology, our hope is that this post provides you with a starting place for providing the right information and asking the right kinds of questions to land on a solution that works for you and your team.
Please schedule a call to go over your questions and concerns and let us help you make the right choice.
Vendor Spotlight: RelayPro 
Hotel panic buttons are a new requirement for hotels, but they don't have to be a new expense. RelayPro was recently approved by Marriott, IHG and Choice Hotels and has been installed in nearly 2,000 properties.  RelayPro is BOTH a 4G/Wi-Fi walkie talkie and a cutting-edge panic button with VOICE communication.