Ways Hotels Can Create a Digital Guest Journey from Check-in to Check-out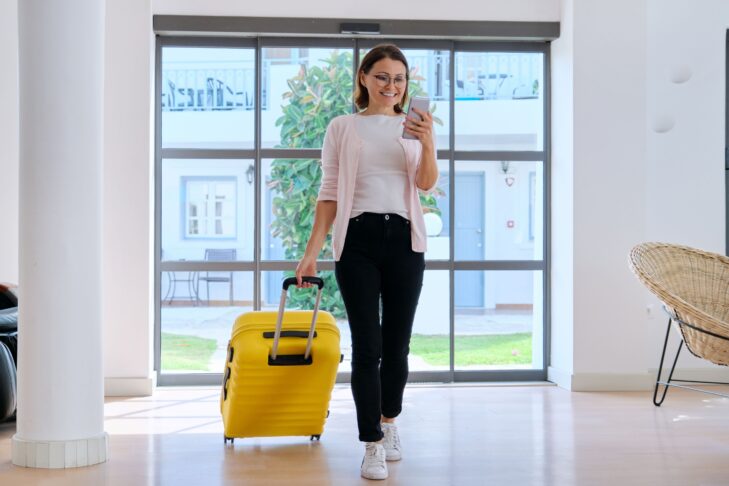 Mobile Check-in
Mobile check-in allows guests to check-in remotely using their smartphones, eliminating the need to wait in long lines at the front desk.  Guests can also provide their ID, credit card details, and other necessary information in advance, which speeds up the check-in process.
Digital Room Keys
Digital room keys enable guests to access their rooms using their smartphones, eliminating the need for traditional keys.  With digital room keys, guests don't need to worry about losing their key or having to wait in line to pick up a new one.
In-room Tablets
In-room tablets allow guests to control various room features, such as temperature, lighting, and TV channels.  Guests can also use tablets to order room service, book spa treatments, and access other hotel amenities.
Personalized Messaging
Personalized messaging allows hotels to communicate with guests before, during, and after their stay.  Hotels can use messaging to welcome guests, provide information about the hotel, and offer personalized recommendations for local attractions and restaurants.
Digital Concierge
A digital concierge provides guests with 24/7 access to hotel staff who can offer recommendations and provide information about local attractions and events.  With a digital concierge, guests can also book activities and make reservations at restaurants and other establishments.
Contactless Payments
Contactless payments allow guests to pay for their stay and other services using their smartphones or other digital payment platforms.  This eliminates the need for guests to handle physical cash or credit cards, which can reduce the risk of transmitting viruses and other illnesses.
Room Service App
A room service app allows guests to order food and beverages directly from their smartphones, without having to call the front desk or use the in-room phone.  Guests can also track their order status and receive notifications when their order is ready for delivery.
Digital Check-out
Digital check-out allows guests to check-out remotely using their smartphones.  Guests can review their bill, make any necessary adjustments, and complete the check-out process without having to wait in line at the front desk.
Loyalty Program
A digital loyalty program rewards guests for their loyalty to the hotel by offering discounts, upgrades, and other perks.  Guests can earn points for each stay or purchase, and redeem them for rewards such as free nights, room upgrades, and spa treatments.
Feedback System
A digital feedback system allows guests to provide feedback on their stay, which can help hotels improve their guest experience.  Hotels can use the feedback to identify areas for improvement and implement changes that enhance the guest experience.
Benefits for Hotels
Implementing a digital guest journey can offer several benefits for hotels, from improved efficiency and guest satisfaction to cost savings and enhanced security.
Increased Efficiency
Digital solutions can streamline various hotel operations, such as check-in, check-out, and payment processing, which can help reduce wait times and enhance overall efficiency.
Improved Guest Experience
By offering digital solutions that cater to guests' needs, hotels can enhance the guest experience and improve guest satisfaction.
Personalization
With personalized messaging and recommendations, hotels can create a more tailored experience for their guests, which can help build brand loyalty and drive repeat business.
Cost Savings
Digital solutions can help hotels reduce costs associated with labor and materials, such as printing and physical keys.
Enhanced Security
Digital solutions such as mobile check-in and contactless payments can enhance security by reducing the need for guests to handle physical items such as keys and credit cards, which can help prevent fraud and theft.
Data Insights
Digital solutions can provide hotels with valuable data insights, such as guest preferences, spending habits, and booking patterns, which can help hotels make informed decisions and improve their overall business strategy.