Employee Safety Devices are the Must Have Tech for Hotels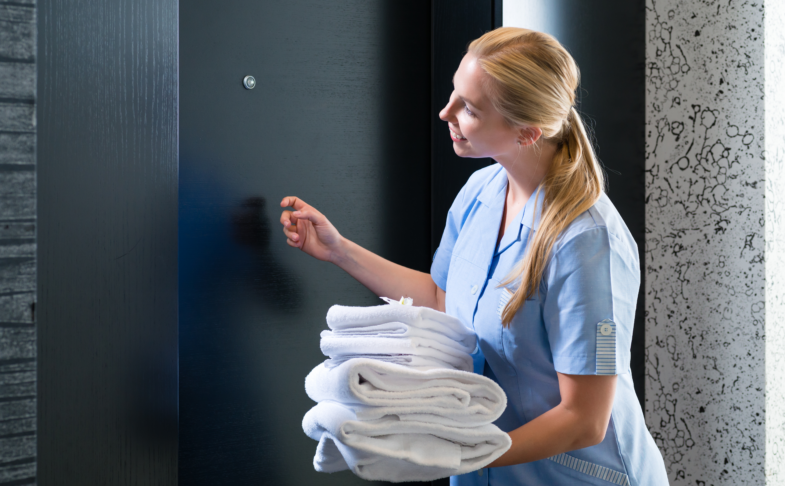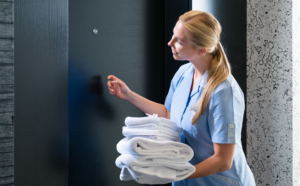 Ensuring the safety of employees is an obligation for all hotels, but with the passing of hotel panic button legislation, it has now become a requirement in many states and local municipalities.  By the press of a button, panic button devices provide precise location details of an employee in distress.  Hotel employees, such as housekeepers can benefit greatly from employee safety devices (ESD) as they are often required to work alone.  Panic button devices are designed to be operable regardless of an employee's location and will summon immediate assistance should employees encounter dangerous or threatening behavior.  Panic button technology provides hotels with a solution that not only keeps employees safe but also protect hotels from legal liabilities.  But with so many solutions on the market, how can hotels go about choosing the right employee safety system?
What Should Hotels Look for in an Employee Safety Device?
Reliable Location
Ensuring that responders can reach distressed employees quickly, requires real time location tracking.  ESDs should have the capability to enable real time tracking, so that responders can quickly locate employees.  Real time updates should also be sent continuously, in the event that the employee changes location.
Customizable
A customizable employee safety solution allows hotels to make changes that fit their environment.  Hotels should look for panic button solutions that allow hotels to choose a designated person to receive emergency notifications.  Hotels will also need to decide which employees are provided with safety devices and how notifications are sent.
Durability
Employees are required to carry panic button devices for the entirety of their shifts.  Panic buttons should be durable and be able to withstand employees accidently dropping them on hard surfaces or in water.
Network Requirements
In order for ESD devices to be operable, they require a network connection, some solutions utilize an existing Wi-Fi signal and others use an LPWAN signal.  The right network requirements are determined by the specific needs of your hotel.  Hotels can benefit from LPWAN signals as they offer longer ranges and low consumption which can make them more effective at reducing dead spots.
Historical Logs
It is crucial for hotels to choose a panic button solution that provides a log of all incidences.  This is highly beneficial in helping hotels to improve their response times and also provide evidence in the event of an investigation.
Battery Life
The battery life of hotel panic buttons is crucial, as employees will wear devices every day for the entirety of their shifts. Panic buttons can be powered by rechargeable batteries, non-rechargeable batteries, or swappable devices.  Some panic button devices offer a battery life of 2 years and other solutions are rechargeable and don't require batteries to be replaced.
Reasons Why Hotels Should Invest?

Drive Employee Retention
Providing employees with panic button devices show that hotels take employee safety seriously.  According to the latest study conducted by the AHLA, almost 80% of hotels are still experiencing staffing shortages.  Hotels are more likely to attract and retain employees by showing that they are valued, and hotels can achieve that by investing in their worker's safety.
Reduce Costs
Implementing panic buttons in your hotel can be a cost-effective solution for improving employee safety.  ESDs can be integrated into existing Wi-Fi solutions, as well as with IOT technology.  Less hardware is required if panic buttons are being added as an additional feature and hotels can leverage existing equipment for installation.  As a result, installation is cost effective, and service is reliable with less points of failure.
Hotels can use ESDs to further reduce costs, as hotels that implement an employee safety program are entitled to a discount.  Depending on the state, hotels can qualify for a credit on their worker's compensation insurance premium by implementing a panic button solution.
Extend Security Throughout Property
Panic buttons send out emergency alerts within seconds and are especially beneficial to hotel employees such as housekeepers, who are often required to work alone.  They are also a valuable tool that can be used to summon assistance when guests are experiencing a medical emergency.  All employees can benefit, including the valet staff, pool attendants and those who work in hotel spas.
Protect Your Hotel's Reputation
Negative incidences that are associated with your hotel can have an impact on attracting employees and guests alike. 69% of job seekers would reject jobs from companies that had a bad reputation, even if they were unemployed.  Investing in an employee safety platform reduces the risk of negative incidences being associated with your hotel.  Travelers are also doing their research before booking hotels, 90% of consumers read reviews online before choosing a business and 74% are more trusting of businesses with positive reviews.
Meet Brand Standards and Legal Requirements
Numerous cities and states have passed hotel panic button legislation and major hotel brands have also developed panic button requirements as a part of the AHLA's 5-Star Promise.  Each state and local municipality have specific deadlines by which hotels are required to provide employees with panic button devices.  Hotels that are found to be non-compliant could be subjected to costly fines.
Full System and Mobile Panic Buttons
The right panic button solution depends on the specific needs of your hotel.  Hotels can choose between full system panic buttons or mobile panic buttons.  Full system panic buttons require the installation of location beacons in each guest room/area.  These panic button systems generally cost $10,000 to implement and can include monthly service and support costs.  Once these devices are activated, they identify the location down to the precise floor and room number of the distress signal.  These ESDs also have the ability to send out a silent alarm that cannot be heard by the assailant and can be configured to send emergency alerts to predetermined emergency personnel or law enforcement.
Mobile panic button solutions require the download of a panic button app to mobile devices.  When mobile panic buttons are pressed, the device sends out the employee information as well as the precise location of the emergency to hotel security personnel.  Most mobile panic buttons cost around $5000 to implement, other options require no money at purchase but would require a monthly service fee.  These workplace safety devices enable one push activation and can be configured to alert hotel security personnel or law enforcement.
All employees deserve to feel safe while at work, but many have been subjected to unwanted sexual advances and assaults by hotel guests.  According to a recent survey, 9 out of 10 Hospitality employees have been subjected to harassment and assaults while at work. Choosing the right hotel panic button system is an investment into the safety of hotel employees and hotels cannot put a price on their most valuable asset.
Vendor Spotlight: RelayPro
Hotel panic buttons are a new requirement for hotels, but they don't have to be a new expense. RelayPro was recently approved by Marriott, IHG and Choice Hotels and has been installed in nearly 2,000 properties. RelayPro is BOTH a 4G/Wi-Fi walkie talkie and a cutting-edge panic button with VOICE communication.