What Should Hotels Look for in an Employee Safety Platform?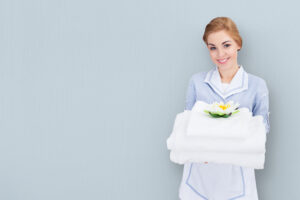 What is a Panic Button Device?
Hotel employees often work alone and work late hours and need a reliable employee safety device that has the ability to summon help during life threatening emergencies.  Employee safety is a top priority for hotels and an employee safety platform is essential in ensuring the safety of workers.  Panic buttons are employee safety devices that when activated sends out an emergency alert that allows security responders to locate distressed employees within minutes.  Hotel panic button systems provide locations down to the precise floor and room number.  There are many employee safety platforms on the market and hotels need to ensure that they are choosing a panic button system that is effective at keeping employees safe, while also meeting hotel panic button legislative requirements.
What Should Hotels Look for in a Panic Button System?

Panic Buttons Should be Easily Activated
Hotel panic buttons offer protection to all employees and help them to better respond to co-workers and guests who are in distress.  During an emergency, panic buttons should be easily activated and should send out an emergency signal to authorized personnel that an employee is in distress.  Panic button devices should be easily activated by a single action like a push, pull or tap.  They should provide a sustained signal without delays caused by entering passwords or waiting for the system to turn on.
Panic Buttons Should Send Employee Alerts
Panic buttons can be configured to alert hotel security personnel as well as local authorities. Once a panic button has been activated, employees need to be assured that assistance is on the way.  Hotel panic button systems will automatically send the users information and location to security personnel through a text, email, or push notification during an emergency.  Some panic buttons enable two-way communication and other panic buttons change colors, allowing the employee to be alerted that the distress signal was received.
Panic Buttons Should Ensure Employee Privacy
A recent survey found that 96% of respondents felt that hotel panic buttons would give them a sense of safety while at work.  But some employees may be concerned about panic button devices continuously tracking their location, most employee safety devices are designed with privacy protection.  Hotel panic buttons only provide location information when the button has been pressed indicating that an employee is in distress.
Panic Buttons Should Provide a Comprehensive Reporting System
In a hotel environment, there can be multiple incidences occurring that require the attention of security personnel.  Panic buttons can be configured to send emergency alerts to predetermined emergency contacts or to local authorities.  A panic button system with a comprehensive reporting system ensures that all information and updates are relayed in real time, allowing authorized personnel to indicate which emergency they are responding to.  Panic Button devices will continuously send a distress signal until the issue has been resolved and a log will also be recorded by the dispatch center to be kept as a record.
Panic Buttons Should Meet Legislative Requirements
Many states and cities have passed hotel panic button laws requiring that hotels equip their employees with panic buttons. Each jurisdiction has a specific criterion of what constitutes as an employee safety device/ panic button.  Washington State hotel panic button laws require devices to be easily activated by a single action.
They must provide a sustained signal without delays caused by entering passwords or waiting for the system to turn on.
When panic buttons are activated, the signal is effective for the circumstances (e.g., designated personnel will be able to detect it regardless of their location and distinguish it from other audible or visual alarms and noise from vacuum cleaners and other sources.)
Panic button devices should be designed to summon immediate assistance and enable responders to accurately identify the location of the distressed employee.
Devices should consistently work in all locations, on all shifts and the activation of one device should not obscure the activation of other devices.
The device should minimize unintentional activation and resist possible disabling by attackers.
Hotel Panic Buttons are Essential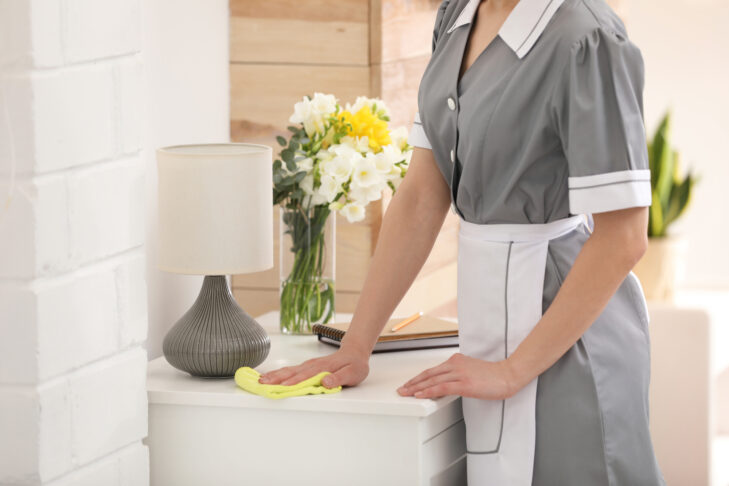 Surveys across the globe reveal that housekeepers are sexually assaulted at twice the rate as those in other industries, 9 out of 10 hospitality workers suffered some type of abuse during their dealings with guests.  A 2016 study found that more than half of hotel workers disclosed that they had been sexually harassed or assaulted during the course of their work.  A hospitality survey conducted in the UK found that 86% of responders had experienced one or more incidences of sexual harassment while at work.  Panic buttons are not only beneficial for housekeeping staff, but they are also beneficial for employees who work in hotel bars and restaurants, those who work at hotel pools and in hotels spas.  Equipping employees with safety devices allows them to get life saving assistance during an emergency.
Vendor Spotlight: RelayPro
Hotel panic buttons are a new requirement for hotels, but they don't have to be a new expense. RelayPro was recently approved by Marriott, IHG and Choice Hotels and has been installed in nearly 2,000 properties.  RelayPro is BOTH a 4G/Wi-Fi walkie talkie and a cutting-edge panic button with VOICE communication.