The Ray Baum's Act and Kari's Law were signed in 2018 and 2019 respectively. The two laws, aimed at ensuring someone can directly dial 9-1-1 from a multi-line telephone system, went into effect on February 16, 2020.
Ray Baum's Act and Kari's Law Background
Kari's Law and Ray Baum's Act require that all businesses, hotels, buildings that utilize multi-phone systems in the United States are able to directly dial 9-1-1, provide a direct route to a 9-1-1 center, enact an on-site notification that a 911 call has been made that includes a detailed "dispatchable location" to improve emergency response time.
Ray Baum
On the one hand, Ray Baum stands for: Repack Airwaves Yielding Better Access for Users of Modern Services. The language focuses on a much broader set of Federal Communications Commission (FCC) regulations that deal with a number of telecommunications statutes.
The Act is also named for Ray Baum, a lawyer and politician whose contributions to both state and federal regulations spanned decades. He served as the Commissioner and Chairman of the Oregon Public Utilities Commission (PUC), on the Board of Directors of the National Association of Regulatory Utility Commissioners (NARUC), and as the Chair of NARUC's Committee on Telecommunications.
These two laws are the result of a number of cases in which a life could have been saved had the victim been able to:
Successfully dial 9-1-1
The front desk had been notified of the victim's 9-1-1 call
Emergency responders would have been able to directly reach the victim rather than having to wait at the front desk for additional details
According the National Emergency Number Association (NENA) there are an estimated 240 million 911 phone calls each year. Unfortunately, many of these calls are not able to find the exact location of the caller. Typically, EMS are able to quickly and efficiently tend to 95% of 911 calls. However, prior to Ray Baum's Act and Kari's Law being signed into law, the survival rate of victims fell to 10% due to EMS being unable to locate the callers in large buildings or hotels.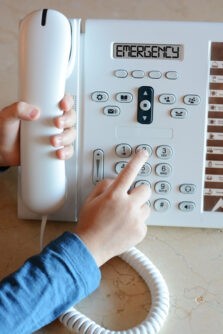 FCC Requirements for Kari's Law
All multi-line telephone systems (MLTS) must be pre-configured to ensure 911 calls complete successfully, whether the caller dials an access digit or not. For example, callers no longer have to dial "9" to access an outside line; they can dial "911" directly and it must succeed.
Upon dialing 911, an immediate notification must be made to a location within the business, or another person/location, that is staffed. The notification must include the following:

Notice that 911 call was made
A valid callback number for the caller placing the 911 call. This does not need to be a DID number, it can be the caller's extension
The dispatch location of the caller
The notification must not delay the 911 call*
*Note that some legacy notification solutions do not provide the 911 notification to staff until after the call completes (i.e. after the caller hangs up)
Ray Baum's Act Requirements
Ray Baum's Act has similar requirements as Kari's Law in that it mandates:
An on-site notification of a 9-1-1 call is made
Exact location (Floor & Room) from where the call is made
Section 506 of the Ray Buam Act mandates the proper set up of MLTS to provide information to emergency response dispatchers, thus making it easier for EMS to locate the caller, and improve emergency response time. This is known as the "dispatchable location" or Public Safety Answering Point (PSAP).
PSAP provides valuable information to emergency responders. It not only provides the street address, but also provides the room number, which floor the person called, and the extension from which the cal was made. All this information has proven empirically to improve response time and provide a positive outcome. Being able to provide a PSAP is only possible by removing legacy phone systems and upgrading to a new hotel phone system .
How Does Ray Baum's Act and Kari's Law Affect My Business?
Each of these laws are direct the ownership of the property to be compliant, which ultimately leaves hotel owners directly liable for compliance. All legacy hotel PBXs and phone systems are risk of not meeting the requirements of these laws.
Jet Hotel Solutions has worked directly with members of major brands and professional organizations like HTNG to understand the complexities of these new legal requirements. We aim to provide cost effective solutions to support our hoteliers. Please contact us for more information and hotel consulting services.
There is additional great information that can be found via the FCC's website about Kari's Law and Ray Baum's Act.