Why Hotels Should Be Investing in Self-Check-In Kiosks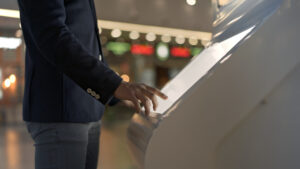 In the world of Hospitality, every aspect of the guest experience matters, one of the key areas where hoteliers can make a difference is in the check-in process.  The check-in process is a guest's first experience with a hotel, and it can determine whether they have a positive or a negative guest experience.  Traditionally, guests have had to wait in line and fill out paperwork at the front desk in order to check-in, which can be a time-consuming and frustrating experience.  But, in recent years, there has been a significant increase in the use of self-service technology, and many hotels are making the shift towards the use of hotel kiosks in an effort to streamline the check-in process.
The Benefits of Self-Check-in Kiosks for Hotels
 Streamline Check-in Process
Self-check-in kiosks offer numerous benefits to both guests and hotels.  Guests have the expectation of a seamless hotel check-in without waiting in line, a five-minute wait during check-in has the potential to decrease guest satisfaction by 50%.  Self-check-in kiosks can help to reduce wait times and reduce overcrowding at the front desk and communal areas.  By enabling guests to check-in quickly and efficiently, hotels can simplify the check-in process and reduce the amount of time guests spend waiting in line, filling out paperwork and verifying their identity.
Improve Efficiency
The Hospitality Industry is facing a major labor shortage and hotels are forced to do more with less resources.  Self-check-in kiosks can help hotels to operate more efficiently with less staff, as fewer employees are required to handle the check-in process.  According to a report by McKinsey, businesses could free up 69% of their time by automating data processing duties.  Self- service kiosks could automate tasks normally performed by front desk staff, such as recording guest information and taking payments, allowing staff more time to dedicate to other duties.
Upselling Opportunities
Another benefit of self-check-in kiosks is that they can be used to upsell and promote hotel amenities.  For example, hotels can use the kiosks to promote spa services, restaurant reservations, or local attractions.  This can help to increase revenue and enhance the guest experience.
Reduce Errors
Self-check-in kiosks can help to improve data accuracy and security.  By using electronic forms, hotels can eliminate errors caused by illegible handwriting or typos.  Furthermore, the use of electronic forms can help to reduce the risk of identity theft and fraud, as sensitive information is securely stored and encrypted.
Personalized Guest Experience
Self-service kiosks are linked to the hotel's PMS and therefore can be used to gather useful data about guest purchases, guest room preferences and special requests, that allow hotels to deliver a more personalized experience.
A Safer Hotel Stay
Self-service kiosks also help hotels to offer a safe experience by limiting interaction between guests and employees.  Self-service kiosks enable social distancing and contactless check-in, ensuring that adequate safety measures are in place to protect employees and guests.
Implementing Self-Check-in Kiosks in Hotels

User Friendly
When considering implementing self-check-in kiosks at your hotel, there are several factors to consider.  Firstly, you need to ensure that the kiosks are user-friendly and easy to navigate.  Guests should be able to complete the check-in process quickly and without any issues.
Integrated with Hotel Management Systems
You need to ensure that the kiosks are integrated with your property management system (PMS) and other hotel systems.  This will enable you to automate the check-in process and ensure that guest data is accurately recorded and stored.
ADA Compliant
One important consideration is the accessibility of the kiosks.  It's essential to ensure that the kiosks are ADA compliant and can be easily used by guests with disabilities.  This can include features such as audio instructions, large text, and adjustable height.
Regular Maintenance & Updates
It's important to ensure that the self-check-in kiosks are regularly maintained and updated.  This includes ensuring that the software and hardware are up to date, and any issues or bugs are promptly resolved.  By doing so, you can ensure that the kiosks operate smoothly and provide an excellent guest experience.
Support for Guests
Another consideration is the availability of support for guests who may encounter issues during the check-in process.  It's essential to have staff members nearby who can provide assistance and ensure that any issues are resolved quickly and efficiently.
Strategically Placed
You need to ensure that the kiosks are strategically placed within your hotel.  Ideally, they should be located in a prominent and accessible location, such as the lobby or near the front desk.  This will ensure that guests are aware of their presence and can easily locate them.
By implementing user-friendly and accessible kiosks that are integrated with hotel systems, hotels can improve the guest experience, reduce costs, and increase revenue.  Regular maintenance and updates, as well as adequate support for guests, can ensure that the kiosks operate smoothly and efficiently.
Vendor Spotlight: Aavgo Contactless Check-In Solution
Aavgo's contactless check-in solution provides guests with numerous options to check-in without interacting with hotel staff.  Once guests make a reservation, an automated email and text message is sent that enables guests to check-in remotely.  The contactless solution doesn't require guests to download any apps and guests can make special requests prior to their arrival.  Aavgo's contactless check-in solution uses the digital identity management feature to verify ID cards and guests' photos to authenticate their identity.  The solution allows hotels to expedite the check-in process by digitally managing the registration process and verifying guest identity before they arrive.
The check-in solution also enables contactless on-site check-in using NFC or QR code to check-in on the hotel's premises.  Aavgo's contactless check-in solution allows hotels to add the Virtual Front Desk, which will enable guests to check in and retrieve room key directly from the hotel kiosk.  The automatic key dispenser will allow guests to pick up their key cards from the key dispenser using NFC or QR code.