Streamlining Operations and Enhancing the Guest Experience
Today's guests have high expectations of their hotel stays, in order for hotels to meet these expectations they are required to do more with less resources.  It is essential for hotels to streamline their operations in order to remain competitive and one of the most effective ways is through workflow automation.  Workflow automation enables hotels to automate repetitive tasks, hotels can increase efficiency, reduce errors, and enhance the guest experience.  Workflow automation is an essential tool that helps hotels to remain competitive and provides hotels with valuable data that can be used to improve hotel operations and increase customer loyalty.  With the right automation tools in place, hotels can streamline their operations, reduce costs, and provide guests with a superior experience.
How Can Hotels Utilize Workflow Automation?
Check-in and Check-out Automation
By automating the check-in and check-out process, hotels can significantly enhance the guest experience by providing a seamless and efficient service.  Guests can check-in and check-out effortlessly, without the need to wait in line or to fill out paperwork.  Automated systems can also provide guests with valuable information such as Wi-Fi passwords, restaurant hours, and local attractions.
Room Service Automation
Automated room service requests enable guests to order meals quickly and easily.  Guests can use their mobile devices to access menus, select meals and specify their dietary requirements.  Automated systems can then forward room service requests directly to the kitchen, reducing the risk of errors and ensuring that meals are delivered promptly.
Inventory Management Automation
Automated inventory management systems can help hotels to manage their supplies more efficiently.  The system can track inventory levels, reorder items when needed, and provide real-time updates on inventory levels.  This can help to reduce waste, prevent stockouts, and ensure that the hotel always has the necessary supplies to meet guest needs.
Maintenance and Housekeeping Automation
Automated systems can help hotels manage their maintenance and housekeeping tasks more efficiently.  For example, a maintenance team can receive automated alerts when a room needs repairs or maintenance.  Similarly, housekeeping staff can receive automated notifications when a room is ready for cleaning or when a guest checks out.  This can help hotels maintain a high level of cleanliness and prevent delays in providing services to guests.
Benefits of Workflow Automation for Hotels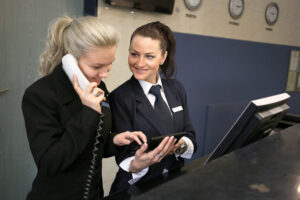 Increased Efficiency and Productivity
Workflow automation enables hotels to automate repetitive tasks such as check-in, check-out, room service requests, and inventory management.  By automating these tasks, hotels can free up staff time, enabling them to focus on other important duties.  Automation also reduces the risk of errors that can occur when tasks are performed manually, further increasing efficiency and productivity.
Improved Guest Experience
Offering guests a quality experience is an essential part of the hotel stay and increases the likelihood of guests returning.  Workflow automation can significantly improve the guest experience by allowing hotels to provide guests with quick and efficient services.  Automated check-in and check-out systems can reduce wait times and provide a seamless check-in experience for guests.  Similarly, automated room service requests enable guests to place room service orders quickly and easily, further enhancing their hotel experience.
Enhanced Data Management and Analytics
Workflow automation can help hotels to manage their data more efficiently.  Automated systems can collect and analyze data on guest preferences, booking patterns, and other key metrics.  This data can provide valuable insights that hotels can use to improve their services and enhance the guest experience.  Hotels can use the data to personalize their services, offer targeted promotions, and increase brand loyalty.
Vendor Spotlight: Alice Hotel Operations

ALICE Front of House
ALICE's Front of House helps hotels to increase guest satisfaction and create revenue generating opportunities with its messaging and front of house concierge tools.  The solution allows hotels to deliver a quality contactless hotel stay, even with staffing shortages.  ALICE enables hotels to use one platform to handle and track guest requests up until their completion.  Hotels can communicate with guests via the guest messaging app, through SMS or WhatsApp prior to their arrival and during their stay.  The solution allows hotels to centralize tasks and conversations, ensuring that staff transitions, and shift changes are seamless.
Features and Benefits
Begin conversations prior to arrival that lead to incremental revenue during the guest stay.
Deliver curated local recommendations and branded digital itineraries with Guest Services.
Recapture on-property revenue with automated and real-time promotions and communications.
Keep track of guest preferences to build relationships and loyalty.
ALICE Housekeeping Management
ALICE's Housekeeping Management App allows the housekeeping department to communicate more efficiently with team members.  The solution's mobile functionality allows housekeeping to receive requests from each department anywhere on the hotel's property and automatic room assignment decreases the time it takes to assign rooms.  Hotels can also reduce delays and decrease wait times with mobile reassignment which updates staffing assignments to ensure that rooms are ready for early arriving guests.  Departments can improve communication by allowing everyone in the department to access room assignments and rooms that require inspection.  Managers can also track the progress of room status and room attendants and see which areas need to be improved upon.  The solution allows hotels to reduce costs by increasing the efficiency by which rooms are turned over.
Features and Benefits
Room Assignment
Decrease the time it takes to assign rooms with a digital interface and auto room-assignment.
Real-Time Two-Way PMS Integration
Get up to the minute updates on the status of rooms.
Mobile Reassignment
Alter and update staff assignments without the hassle of radios or going back to the office.
Productivity Reports
Robust reporting provides insight into this complex department.