Why Hotels Should Be Investing in a Mobile Communication Solution
The Hospitality Industry is currently facing a major labor shortage, a May 2022 survey conducted by the AHLA found that 97% of hotels were experiencing staffing shortages and 49% considered those shortages to be severe.  58% of hotels were finding it most difficult to hire housekeepers, forcing some hotels to reduce housekeeping services.  Housekeeping is one of the most important areas of the Hotel Industry and creates the first impression as soon as guests arrive.  Unkept guest rooms and common areas can have an impact on the guest experience and can lead guests to leave negative reviews that can deter potential customers.
Hotels are taking steps to increase wages, improve working hours and offer better benefits in an effort to attract more employees, almost 90% of hotels have increased wages, 71% are offering greater flexibility with work hours, and 43% have increased benefits.  Hotels still need to come up with additional ways to attract and retain employees and they can start by operating more efficiently and by finding ways to enhance the work experience.  Potential employees are concerned that the labor shortage will lead to an increase in workload, hotels can utilize a mobile communication solution to increase efficiency and streamline operations, allowing staff to do more in less time without becoming overwhelmed.
Mobile Communication Solutions for Hotels
Due to staffing shortages, hotels are expected to do more with less resources and the right hotel technology is essential in helping hotels to perform more efficiently.  Hotels can invest in a mobile communication solution that helps to improve operational efficiency and to enhance the work experience.  In order for the housekeeping team to perform efficiently, they have to communicate with other departments such as the front office and the food and beverage department.  A mobile communication solution creates a centralized network for communication that ensures that employees are provided with information in real time anywhere on the hotel property, allowing employees to better manage their time and to work more efficiently.  Hotels can improve communication and centralize tasks and can keep employees abreast of tasks that require immediate attention.  Employees and managers will have access to assigned tasks via mobile devices or desktops, allowing managers to better track employee progress, offer support to employees when needed and keep track of room status.
Vendor Spotlight: Alice Housekeeping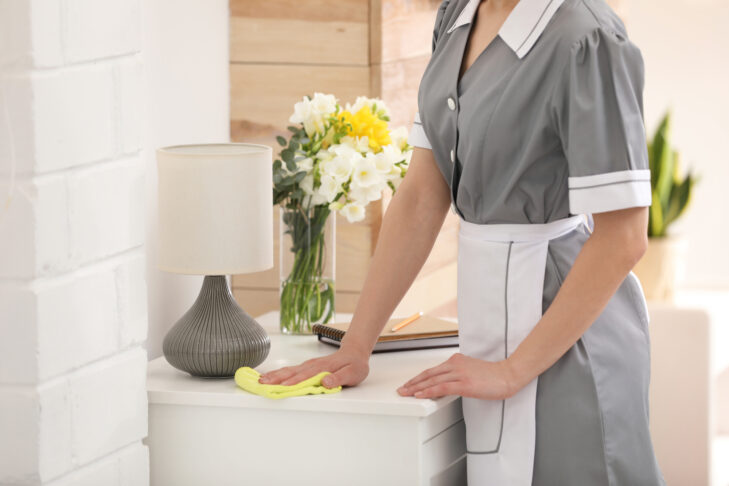 Alice Housekeeping is an all-in-one platform that allows the housekeeping department to communicate and to work more efficiently,  the solution allows hotels to reduce costs by increasing the efficiency by which rooms are turned over.  The mobile functionality allows housekeeping to receive requests from each department anywhere on the hotel's property and automatic room assignment decreases the time it takes to assign rooms.  Hotels can also reduce delays and decrease wait times with mobile reassignment which updates staffing assignments and ensures that rooms are ready for early arriving guests.  Departments can improve communication by allowing everyone in the department to access room assignments and rooms that require inspection.  Managers can also track the progress of room status and room attendants and see which areas need to be improved upon.
Features and Benefits
Room Assignment
Decrease the time it takes to assign rooms with a digital interface and auto room-assignment.
Real-Time Two-Way PMS Integration
Get up to the minute updates on the status of rooms.
Mobile Reassignment
Alter and update staff assignments without the hassle of radios or going back to the office.
Productivity Reports
Robust reporting provides insight into this complex department.
Vendor Spotlight: Optii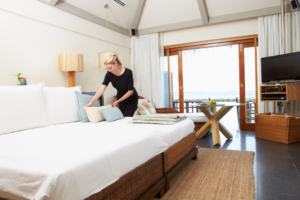 Optii Housekeeping allows hotels to operate more efficiently with better planning in housekeeping to achieve faster turnaround times.  The solution uses predictive AI to improve room attendant routes in real time to ensure more efficiency in cleaning.  Optii enables hotels to improve communication and team performance with better management of room attendants and room status.  The solution auto-assigns tasks and guest requests, allowing staff to complete assignments and fulfill requests more efficiently.  Optii can also be used to update employees on the latest information such as new cleaning protocols.
Fielding phone calls can lead to errors that can cause delays, Optii housekeeping solution allows hotels to eliminate the need for phone calls and reduces manual error.  Hotels can lower the number of calls between the front office and the back office by 95%, managers can monitor and track all job activities in real time for a more efficient hotel operation.  Team members can communicate using desktop computers or via the mobile app, ensuring that everyone is connected.  The solutions also allows hotels to communicate precise information in different languages to eliminate confusion and streamline the communication process.
Features and Benefits
Housekeeping
Employs predictive, intelligent AI to optimize room attendant routes in real-time to deliver cleaning efficiency and an excellent guest experience.
Centralizes operations for full visibility and improved team performance.  Manages room attendant and room status with intelligent automation, eliminating ineffective manual communications.
Tracks and traces audit trails for cost-efficiency per occupied room.
Resource clustering and streamlines the supervisor function.
Trains team members on evolving cleaning protocols, like irregular stayovers and delayed departure cleans.
Service
Lower the number of calls between front office and back office by 95%.
Greater insights, accountability, and control saves on labor.
Real-time team management monitors and tracks all job activities for improved hotel service levels.
Benefits for Hotels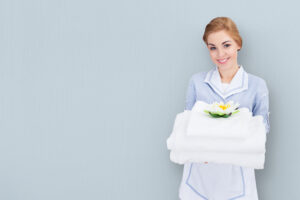 Improve Communication
The housekeeping team is required to communicate with other departments including the front office and the food and beverage department.  A mobile communication solution can streamline the communication process between teams, allowing for the assignment and follow up of tasks and the updating of guest information to ensure that the front desk staff are aware when rooms become available.
Streamline Workflows
A mobile communication solution removes the need for the housekeeping team to find rooms that require cleaning.  Staff are automatically assigned tasks and tasks can be easily reassigned to indicate rooms and areas that require immediate attention.  This simplifies the workday for staff, allowing them to use their time more efficiently.
Improve Productivity
A mobile communication solution makes it easier to communicate with staff, to set goals, assign tasks and track progress in real-time.  A mobile solution can help to increase employee morale and allow staff to work more efficiency by having access to all the information needed to perform their jobs.
Eliminate Notes and Reduce Phone Calls
A mobile communication solution eliminates the need for phone calls and allows for the passing of information in real-time.  Notes can be misplaced, and calls are sometimes missed, causing delays in response times and delays in making changes to room status.  A mobile communication solution gives staff access to the most updated information, allowing staff to effectively prioritize tasks.
Performance Tracking
Managers can track the performance of their teams more effectively and can track the progress of tasks to see specific areas that need improvement.  A mobile communication solution encourages accountability among the employees and motivates them to perform better.