Is a Hosted PBX Phone System Right for Your Hotel?
Guests Depend on Reliable Wi-Fi More Than the Hotel Phone
The hotel phone system is no longer the center of communication for guests, most guests rarely utilize their hotel phones and instead rely heavily on their mobile devices to stay connected.  Since the pandemic, there has been an increase in remote work and workers are now working from all over including from hotels.  According to a 2022 Wi-Fi survey conducted by Hotel Internet Services, 80% of guests are using the hotel's Wi-Fi to work remotely.
Today's guests will also be traveling with multiple devices, including mobile phones, laptops and tablets and they have the expectation of connecting them to a reliable hotel network.  These guests depend on reliable Wi-Fi service more so than on the hotel phone system, 53% of guests surveyed were unlikely to return to a hotel that failed to meet their Wi-Fi needs.  But the right hotel phone system still plays a vital role in helping hotels to remain competitive, a hosted PBX phone system relies on an internet connection and offers hotels innovative features including mobile functionalities that can better appeal to guests.
Hosted/IP/VoIP PBX Phone System
The right communication system can improve the guest experience, increase productivity and allow team members to stay connected regardless of their location.  The internet and WIFI have become the most important means of communication for hotels and have provided other options of managing hotel phone systems.  Hosted PBX phone systems are cloud based and rely on an internet connection instead of traditional phone lines.
Hosted PBX require S.I.P. Trunking (Session Initiation Protocol) to be in place, S.I.P. Trunking is a process by which business telephone systems can operate using an existing internet connection, instead of a traditional phone line.  SIP utilizes VoIP (Voice Over Internet Protocol) to move your PBX phone calls over an internet connection.
Using a PBX phone system that is IP based allows hotels to offer guests the latest technological features and removes the need for on-site maintenance and expensive hardware that are normally associated with on-premise PBX.  Consulting with an experienced Hospitality provider can help hotels to make an informed decision as to what PBX phone system best fits the needs of their business.
Hosted PBX Phone Features
Today's guests want immediate ways to communicate with hotels and connecting with them via mobile devices is the most convenient way.  Guests also enjoy features like unlimited wake-up calls from the hotel phone and a hosted PBX phone system can offer both.  PBX phone systems allow hotels to handle guests' requests more efficiently and offers features that helps to connect team members, that increases the productivity of staff, and that creates a seamless hotel experience for guests.
Guest Messaging
In the event of an emergency, hotels can send broadcast messages to guests and staff and can also send messages to specific departments such as the housekeeping department.  Guest messaging can be used to communicate with guests prior to their arrival to update them on changes to the housekeeping policy, and to inform them of the safety procedures implemented by the hotel.  Hotels can also utilize guest messaging to promote events, restaurants, and other services.
Call Reporting
IP based phone systems allow hotels to capture and analyze data, hotels can access numerous reports including data on emergency calls and wake up calls.  Call reporting can be used to analyze call frequency, the number of missed calls and guest behavioral patterns.  This feature can also be utilized to make staffing improvements or to show the effectiveness of marketing campaigns.
Audio & Video Conferencing
80% of guests are using the hotel's Wi-Fi to work remotely, audio & video Conferencing is beneficial for both travelers and hotels, and it allows guests working remotely to keep in touch with team members.  Hotels can also use the audio and video feature to host virtual meetings with their employees.
Wakeup Calls
Travelers from all over the world stay at hotels, this feature allows guests to receive wakeup calls and voice mail prompts in their native language.  Unlimited wakeup calls can be scheduled according to the guests' preferences and guests can customize wakeup calls to send alerts daily, on weekdays only or on weekends only.
How can Hotels Benefit from a Hosted PBX Phone System?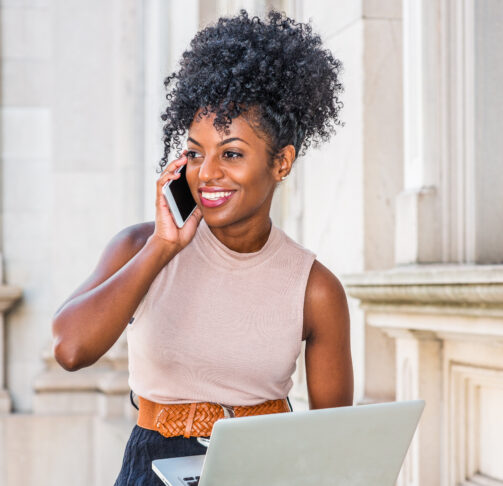 Compliance with Emergency Dialing Laws
IP based PBX phone systems also play an essential role in allowing hotels to comply with emergency dialing laws by enabling hotel phones to directly access 911.  RAY BAUM's Act and Kari's Law requires that hotel phone systems enable callers to directly dial 911 without the use of any prefix or access code.  Hotel phone systems should also be programmed to show the caller's exact location during an emergency call.  And all IP- enabled phone systems must be programmed to alert the front desk and emergency services of a 911 call.
Improves Customer Service
Hosted PBX allows hotels to manage calls with features like ring groups, hotels can select multiple locations for incoming calls, calls can be sent to mobile phones, office phones or routed to another location all at the same time.  Phones will ring at all locations simultaneously, allowing employees the opportunity to answer essential calls, as well as stay on top of guests' requests.  Employees can also manage chat, web, and email requests to offer guests assistance in a timely manner.
Improves Efficiency & Productivity
Hosted PBX enable employees to work more efficiently by giving them access to the hotel's system through a mobile application, allowing them to work from anywhere.  Conferencing functionality, screen sharing, and business messaging ensures that employees are always connected and are available to provide information and to promptly respond to requests.
Streamlines Communication Systems
Hotels can consolidate all their communication needs in one place and use the same network for voice, video conferencing, instant messaging and other features.  There is no need to subscribe to multiple services, as businesses grow, features and services can be easily added or removed.
Cost Effective
Service providers can offer hotels a fully managed PBX phone system that decreases costs, reduces the burden placed on IT departments and offer more innovative features while improving service.  Hosted PBX can be a more cost-effective option for hotels, as they require a monthly support cost and phone systems are also covered under a service agreement that includes upgrades at no additional cost.  This allows hotels to offer guests the latest technological features.  Hotels can also avoid the cost of purchasing and installing expensive hardware and reduce the burden placed on IT departments to maintain PBX systems.  Hosted PBX pricing is predictable and allows hotels to add and remove features as their business needs changes.
A Secure Network
Hosted PBX rely on your internet to provide service, so it's important to ensure that your hotel's network is secure.  The cost of cybercrime includes loss of productivity, theft of personal and financial data, the cost of restoring data systems and damage to your hotel's reputation.  An experience Hospitality provider will ensure that systems are maintained and updated to offer hotels a PBX system that is reliable and secure.