5 Reasons Why Hotels Should Be Investing in Panic Buttons
Many cities and states have passed hotel panic button legislation that require hotels to provide employees with safety devices/panic buttons as a safety measure.  Major hotel brands have also made a commitment to providing their employees with safety devices as a part of the AHLA's 5-star promise.  Investing in panic buttons will allow hotels to meet requirements and create a safer work environment that increases retention, better attracts prospective employees and helps to protect and boost your hotel brand.
Protect Employees Anywhere on Hotel Property
9 out of 10 Hospitality workers suffered some type of abuse during their dealings with guests, employees who work in guest rooms are especially vulnerable, as they are often required to work alone.  Panic buttons can offer employees who are in threatening or emergency situations assistance within minutes.  With the press of a button, panic button devices will provide precise location details of employees who are in distress, allowing security personnel to immediately respond.
Hotel panic buttons also helps employees to better respond to co-workers and guests who are in distress.  Panic buttons are not only beneficial for guest room staff, but they are also beneficial for employees who work in any area of the hotel.  Employee safety devices can help to protect front desk associates, restaurant workers, employees who work in pool areas or those who work in hotel spas.  Equipping them with safety devices allows them to get assistance immediately when faced with uncomfortable or threatening situations.
Attract Prospective Employees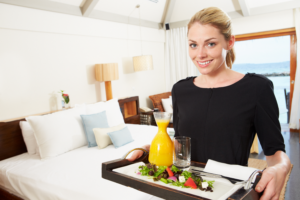 The Hospitality Industry is currently facing a major labor shortage, a May 2022 survey conducted by the AHLA found that 97% of hotels were experiencing staffing shortages and 49% considered those shortages to be severe.  58% of hotels were finding it most difficult to hire housekeepers.  In an effort to better attract employees, hotels have taken steps to increase wages, improve working hours and offer better benefits.  Almost 90% of hotels have increased wages, 71% are offering greater flexibility with work hours, and 43% have increased benefits.
Now that hotels are offering more competitive salaries and flexible hours, they need to invest in employee safety devices to ensure that employees feel safe.  Investing in panic buttons will aid in the effort to attract more candidates, by offering prospective employees a safe work environment.  Safety is important to employees and hotels that take employee safety seriously are more likely to stand out to prospective employees.
Increase Retention
Staff turnover rates in the Hospitality Industry is significantly higher than in other industries and rates now slightly exceed pre-pandemic levels, room attendant turnover is now over 103% annually.  The average turnover for each room attendant is more than once per year.  90% of hotels have increased wages and are offering better benefits and more flexible work hours, but in order to retain employees hotels need to focus on safety.  Hotels need to invest in an employee safety platform that ensures that employees are able to send out emergency alerts when they are in unsafe or uncomfortable situations and know that they will receive assistance immediately.
When hotel panic buttons are activated, they have the ability to provide precise location details down to the exact floor and room number of the distress signal.  Providing employees with panic button devices will give them an increased sense of safety and will create a better work environment.  96% of employees felt that hotel panic buttons would make them feel safer while at work and employees are more likely to stay with hotels where they feel safe and supported.
Meet Brand Standards and Legal Requirements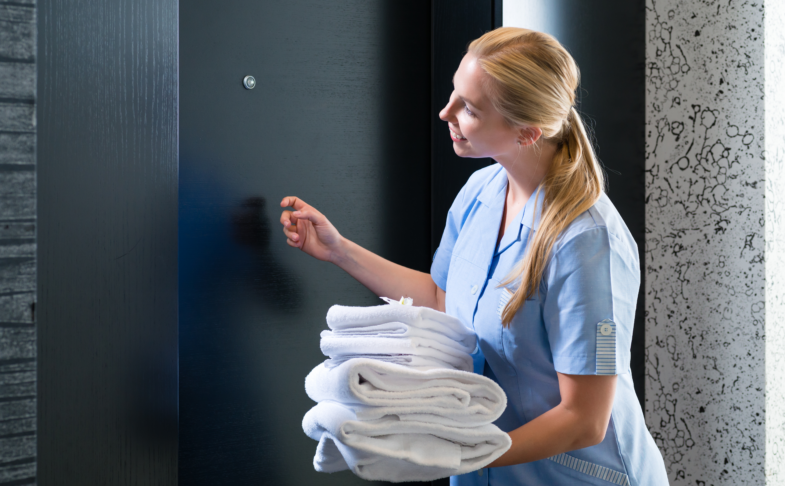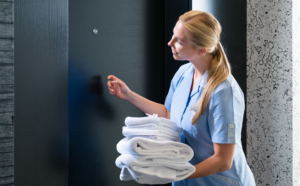 Many hotel brands have committed to providing their employees with employee safety devices/ panic buttons as a part of the AHLA's 5-Star Promise.  Almost 60 member companies representing 20,000 hotel properties have committed to prioritizing employee safety and equipping employees with safety devices.  Major hotel brands such as Marriott, Hilton, Hyatt and IHG have also been focusing on employee safety and require their properties to become compliant with panic button requirements by 2022/2023.
During quality assurance inspections, hotels will be evaluated to see if they meet certain brand standard requirements.  Hotel brands like Marriott have specific requirements that their properties are required to adhere to.  Marriott's Associate Alert Device System requires brand standards, such as:
Reliable geolocation capability with the ability to locate employees to 100% room-level accuracy within 5 meters of the horizontal plane.
System coverage is required in all guest rooms, public restrooms, spa treatment rooms, housekeeping closets and service landings on guest floors.
Employees that are regularly in direct contact with guests in enclosed areas are required to be provided with the safety devices.
In addition to the 5-Star Promise, hotels are also required to provide employees with employee safety devices/panic buttons in order to adhere to city and state panic button legislation.
Protect Your Hotel Brand
According to a study conducted by Corporate Responsibility Magazine, 69% of job seekers would reject jobs from companies that had a bad reputation, even if they were unemployed.  Negative incidences that are associated with your hotel have the potential to reach millions of people and can have a negative effect on your hotel's reputation and can deter potential employees and guests.
84% of job seekers would consider leaving their current jobs if offered another role with a company that had a great reputation.  Investing in hotel panic buttons can help to protect and to bolster your hotel's reputation.  Panic buttons provide employees with a sense of comfort in knowing that they can receive immediate assistance when needed, they also help hotels to effectively respond to incidences before they escalate.  Hotel staff can use panic buttons to report suspicious behavior or medical emergencies on the hotel's premises.  And notifying guests that panic buttons are in use can also help to deter inappropriate behavior.
Negative reviews about your hotel will influence prospective guests, as 90% of consumers read reviews online before choosing a business.  And 74% of consumers are more trusting of businesses with positive reviews.  At least 50% of Americans google companies before conducting business with them, therefore investing in an employee safety system can mitigate the risk of negative incidences being associated with your hotel.
Vendor Spotlight: RelayPro
Hotel panic buttons are a new requirement for hotels, but they don't have to be a new expense. RelayPro was recently approved by Marriott, IHG and Choice Hotels and has been installed in nearly 2,000 properties.  RelayPro is BOTH a 4G/Wi-Fi walkie talkie and a cutting-edge panic button with VOICE communication.