SIP Trunking and Your Hotel's Phone System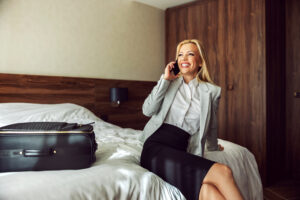 What is S.I.P. Trunking?
SIP Trunking (Session Initiation Protocol) is a process by which business telephone systems can operate using an existing internet connection, instead of a traditional phone line.  SIP Trunking replaces the need for a conventional phone company by providing a connection between a business and its internet telephone service provider.  SIP "Trunk" is installed virtually over your business's existing internet connection and replaces the need for traditional analog phone lines.
How Does SIP Trunking Work with PBX Hotel Phone Systems?
PBX (Private Branch Exchange) is a privately managed telephone system that is primarily used by hotels and other businesses.  SIP utilizes VoIP (Voice Over Internet Protocol) to move your PBX phone calls over an internet connection.  This allows your PBX to connect with a Public Switched Telephone Network (PSTN) without the use of traditional phone lines.  VoIP is a technology that allows you to make phone calls using an internet connection instead of an analog phone line.  SIP Trunking uses VoIP technology to replace the need for physical phone lines and allows businesses to use their existing hardware and systems in order to upgrade their telephone systems.  Businesses will have the ability to make and receive calls over the internet while using analog phones throughout the office.
What are the Benefits of S.I.P. Trunking For Hotels?
SIP Trunking is internet based and allows businesses to operate their hotel phone systems by using an existing internet connection and replaces the need for traditional analog phone lines.
Cost Effective and Offers Seamless Integration
SIP Trunking for hotels replaces expensive physical phone lines and seamlessly integrates into existing hardware and systems.  This allows businesses to avoid the expense of purchasing new equipment.  SIP Trunking also offers packages that include unlimited calling, as well as packages for long distance and international calling.  And most businesses can expect a significant decrease in cost by switching their hotel phone systems to SIP Trunking.
Streamlines Communication Systems
SIP Trunking allows hotels to consolidate all their communication needs in one place and bypass those extremely high charges associated with a local telephone company.  Hotels can use the same network for voice, video conferencing, instant messaging and other features.  There is no need to subscribe to multiple services, SIP Trunking for hotels allows for voice and data on one network.  As businesses grow, features and services can be easily added or removed.
Offers Employee Mobility Features
Unlike traditional telephone systems, SIP Trunking allows calls to be rerouted to employee mobile devices, which gives employees the flexibility to work from anywhere.
Offers Reliable Phone Service
Hotels and businesses will receive a reliable phone service that can be rerouted in the event of a power outage.  SIP Trunking for hotels offers great call quality by ensuring there is enough bandwidth for calls.
Give Businesses a Local Presence
By investing in SIP Trunking, businesses can establish phone numbers with local area codes, without having a physical office in that area.
Offers a Secure Network
With SIP Trunking, your hotel network is reserved exclusively for your company's use and there is no sharing of bandwidth with other customers.  Your network is monitored for unusual activity and network breaches can be quickly identified.
Outstanding Call Quality
Hotels can offer guests excellent call quality, as SIP Trunking ensures that there is sufficient bandwidth for all calls.  Despite the quantity of calls, SIP Trunking offers a communication system without audio issues.
RAY BAUM's Act and Kari's Law Hotel Compliance
The National Emergency Number Association (NENA) estimates that there are 240 million 911 calls placed each year.  But with many of these calls, the specific location of the caller could not be determined.  Compliance of RAY BAUM's Act and Kari's Law ensures that hotel phone systems are equipped to identify the specific location of the distressed caller.  RAY BAUM's Act requires that after January 6, 2021 that hotel phone systems be programmed to show the caller's exact location during an emergency call.  Kari's Law requires that after February 16, 2020, that all IP- enabled phone systems be programmed to alert the front desk and emergency services of a 911 call.  Hotel phone systems must provide direct access to 911 and hotels can save lives and comply by switching to an SIP Trunking service provider.
Why Should Hotels Invest in SIP Trunking?
Traditional telephone systems must be physically installed on the premises and will require costly onsite management and maintenance.  Unlike traditional phone systems, SIP Trunking offers a hotel phone system that requires very little maintenance with the ability to easily add and remove features.  Businesses can establish phone service from anywhere by utilizing SIP Trunking for hotels, as it only requires high speed internet, which most hotels already have in place.  SIP Trunking can revolutionize your hotel's phone system and help to provide guests with a great hotel experience.