GrubHub Mobile Ordering for Hotels
GrubHub has been satisfying the cravings of over 30 million customers by allowing them to find and order food from any location.  Consumers can search for specific cuisines, restaurants and menu items and get their orders delivered directly to their doors.  Hotels can now offer guests a similar mobile food ordering experience by partnering with GrubHub to provide guests with access to hotel restaurants and shops and have items delivered directly to guest rooms and other areas of the hotel.
Grubhub and Resorts World Las Vegas Mobile Ordering
GrubHub has partnered with Resorts World Las Vegas to take the traditional dining experience to the next level by providing guests with mobile food ordering.  This is a hotel branded version of the GrubHub platform that guests can utilize to place orders only from restaurants and retail locations on the hotel's property.  On The Fly at Resorts World powered by Grubhub, allows guests to place orders using the GrubHub app or using GrubHub QR codes at locations throughout the hotel.
The GrubHub platform allows hotels to modernize the room service experience by giving guests access to 40 food and beverage options, as well as select retail options.  The app enables contactless payments and gives guests the option to charge purchases directly to their rooms or to pay using credit cards.  Mobile ordering offers guests the option to either pick up their orders, have orders delivered directly to their rooms or delivered to the pool area.  Guests also have the option of contactless pick up from a temperature-controlled smart locker that requires a QR code to access.  Guests are also able to keep track of their orders, as the app sends delivery notifications that alerts guests as to where their orders are in the delivery process and exactly when they will be arriving.
Take the Guest Experience to The Next Level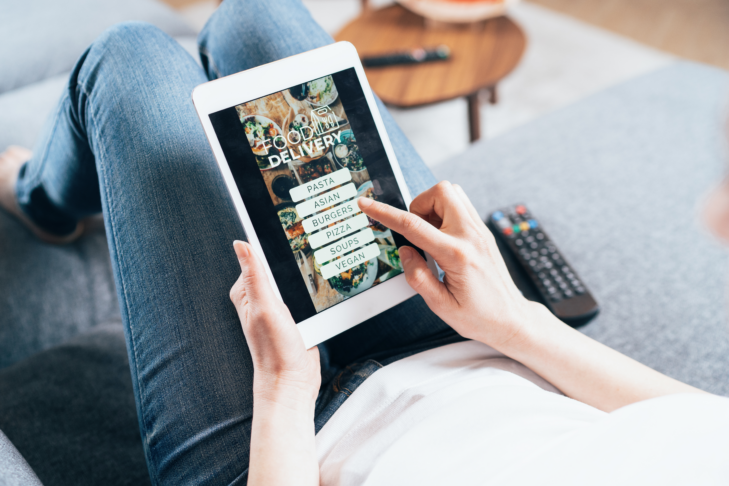 GrubHub is the ideal platform for hotels and resorts that want to elevate the guest experience and showcase their hotel's culinary offerings and retail options, that guests can access at their fingertips.  Hotels can utilize staff in other areas, as the app takes orders, payments and handles the tracking of deliveries to guest rooms, pools and smart lockers and provides an easy way to send alerts to guests regarding deliveries.  Hotels can improve upon the guest experience while creating revenue generating opportunities by promoting their own restaurants and retail stores.  GrubHub's mobile ordering takes convenience to the next level, the app displays the hours of operation for stores, guests can view wait times, delivery times and fees associated with their orders.
GrubHub Mobile Ordering Key Points
Delivery Available from Hotel Stores Only
This is the hotel branded version of the GrubHub platform that guests use to only order from restaurants and retail locations on the hotel's property.  The app gives hotels the opportunity to promote their restaurants and retail stores.
Mobile Ordering
GrubHub's mobile ordering platform increases the number and ticket value of the orders.  If guests log-on to their personal GrubHub app to order McDonald's, they'll be directed to the hotel's hamburger offerings instead and hotels may offer incentives, such as coupons or reward points connected to their VIP status with the hotel.  Mobile ordering makes it easier for smart upsells like "add a shot to your latte?" and increases the total sale value by more than 10%.
Point of Sale  
GrubHub's platform can replace or be easily integrated into the hotel's current Point of Sale System (POS).  No need for staff to manually field room service phone calls and manually enter information into the POS.  Orders are placed directly from the app and the ticket and payments are automatically processed by the app as well.
Guest Experience
The GrubHub platform will have an impact on the guest experience by offering guests a convenient mobile food ordering experience, like they have at home.  Guests prefer this style of ordering, as the app knows who they are and automatically adds charges to their rooms or cards.  Delivery notifications are sent just like they are for home deliveries at every stage of the order (kitchen is preparing your order, Michael from Room Service is approaching your door, leave a review/tip).
The Impact on Hotel Staffing
The mobile ordering platform will impact staffing and will allow hotels to better utilize staff especially during the current labor shortage affecting the Hospitality Industry.  The app completes the ordering, payment and delivery notification functions that would normally be done by staff.  Tips are automatically built-in along with any delivery fees applied by the hotel as a means of generating additional revenue.
The GrubHub app will have an impact on staffing in the following areas:
Point Of Sale
The app records orders, so no need for staff to manually input orders.
Temperature-Controlled Smart Lockers
Staff can deliver orders to smart lockers strategically placed at points throughout the property instead of going all the way to guest rooms.
Cashless Kiosks
No staff are required behind the registers at cafe and cafeteria-style eateries.  GrubHub can supply kiosks for guests to use their credit cards, room key cards, mobile and other options to pay.
Robot Delivery
Delivery robots have been utilized at select colleges for GrubHub deliveries and can be an option for hotels as well.  Less staff can be utilized for deliveries, as delivery robots have the ability to access elevators, allowing guests to retrieve orders with a QR code.  Delivery robots have the capability to make numerous food deliveries around the clock.
Reporting
GrubHub's accounting reports are simplified, as the app can be customized to auto-send reports to the appropriate departments on a daily or weekly basis or based on the hotel's preference.
Why Hotels Should Invest in GrubHub's Mobile Ordering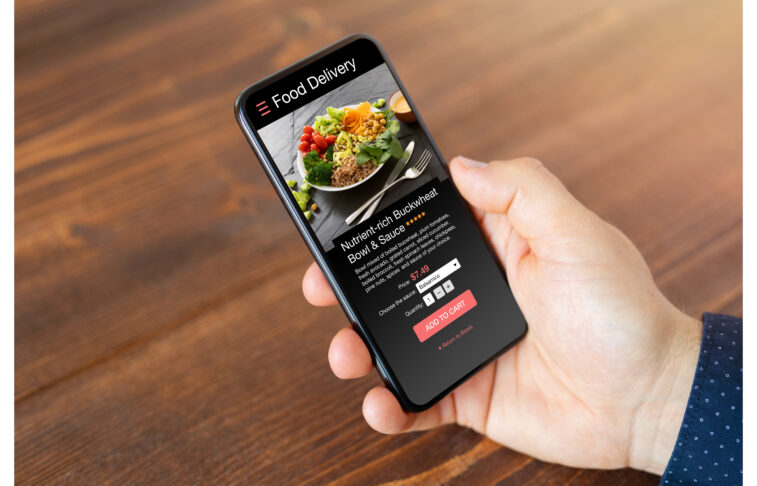 Enhance the Room Service Experience
The GrubHub app allows hotels to place all their food and retail offerings in one location, giving guests the option to browse and make purchases directly through the app.  The app allows employees to work more efficiently to address guest concerns, to fulfill requests and to provide guests with the best experience possible.
Guests Want Technology
Hotels can attract technology minded customers by modernizing the guest room experience, as guests crave the convenience that hotel technology offers.  Contactless and mobile technology are hugely popular among guests, a 2020 survey conducted by Skift, and Oracle Hospitality found that 71% of travelers were more likely to stay at hotels with self-service technology.
Guests Already Have the App
GrubHub is highly popular and has over 30 million customers, so guests are likely to already have the app on their phones and are familiar with using it.
The Convenience of Contactless Service
Guests can pick up orders from temperature-controlled lockers with the use of QR codes, without the need to interact with staff or to wait on lines.
No Need to Train Staff
There is no need to train staff on how to use the kiosks, staff can be used to prepare orders instead or can be better utilized in other areas.
Revenue Generating Opportunity for Hotels
The mobile ordering app gives hotels the opportunity to showcase their food and beverage and retail options.  The app makes suggestions, allowing guests to easily add on to their orders, and create additional revenue for hotels.
The App Takes Care of Everything
GrubHub's mobile ordering simplifies the ordering process, the app takes orders, processes contactless payments directly to rooms or to credit cards and sends step by step delivery notifications.