Enhancing the Guest Experience with Android TV Setup
Those working in Hospitality are always on the lookout for ways to provide guests with quality services, while utilizing the most cost-effective means.  There are numerous Hospitality TV solutions on the market that allow hotels to provide guests with access to local channels, premium cable channels and streaming services.  With some hotels catering to hundreds of guests, providing guests with the entertainment that they want can be costly.
Android TV Setup for Hotels
Guests want a similar entertainment experience from hotels as they have at home.  An Android TV setup is a cost-effective solution that allows hotels to provide quality content at a much lower cost.  Android TVs can be installed in most areas of the hotel and can be programmed to provide information to guests, as well as provide interactive services.  Android TV set-up is an ideal solution for hotels since most guests will arrive with accounts for popular streaming providers and hotels won't be required to pay a monthly fee.  Hotels will require high speed internet to allow guests to stream content from their mobile devices without interruption.
A survey of 1,005 American consumers conducted by market research company Prolific that was commissioned by Forbes Home, found that 78% of households were subscribed to at least one or more streaming services.  The survey also found that video streaming apps increased with revenue surpassing $72 billion in 2021 and is projected to increase to $115 by 2026.
The survey also found the following:
Americans spend an average of 13 hours and 11 minutes per day using digital media.
The number of subscriptions to online video streaming services worldwide reached 1.1 billion in 2020, according to data by the Motion Picture Association.
82 million Americans pay an average of $10 a month for on-demand music streaming services.
Consumer interest in video game streaming is growing rapidly among users and is a $9.3 billion per year industry.
Smart TVs are Essential
Verizon's 2022 Connected Hospitality Experience Study found that smart TVs with mobile capabilities, mobile key/keyless entry, mobile apps, kiosks for check-in/check-out are expected to become more widespread.  A separate study conducted by Oracle Hospitality and Skift, found that mobile technology is in high demand and 73% of guests are in favor of using their mobile devices to control their hotel experience, smart TVs allow guests to operate the hotel TV with their smartphones and other personal devices.
In order to offer guests, the in-room entertainment experience that they want, hotels should invest in smart TVs.  In addition to allowing guests to access popular subscription services and accessing a host of entertainment options, smart TVs also allow guests to access in-room dining, housekeeping services, guest billing and other hotel services.  Smart TVs allow guests to check-out directly from the hotel TV.  The TV system enables guests to access real-time information regarding their stay, as well as access restaurant menus and tourist attractions.
How can Hotels Benefit from an Android TV Setup?
Improved Guest Experience and Satisfaction
By providing guests with access to a range of entertainment options, customized content, and a user-friendly interface, Android TV set up can enhance the overall guest experience.  This can lead to improved guest satisfaction and increased positive reviews, which can ultimately lead to more bookings and revenue for hotels.
Customized Content and Services
Hotels can customize the content and services to match the preferences and needs of their guests.  This means that hotels can tailor the entertainment options to different demographics and preferences, such as children's shows or sports channels.  Additionally, hotels can promote their services, such as in-room dining, spa services, and local attractions, through the Android TV.
Data Analytics and Insights
Android TV set-up provides hotels with data analytics and insights that can be used to improve guest satisfaction and drive revenue.  Hotels can track guest viewing habits, preferences, and feedback to improve the content and services provided on Android powered TV.  Additionally, hotels can use this data to identify revenue opportunities, such as promoting specific services or local attractions.
Reliable Wi-Fi Makes It All Possible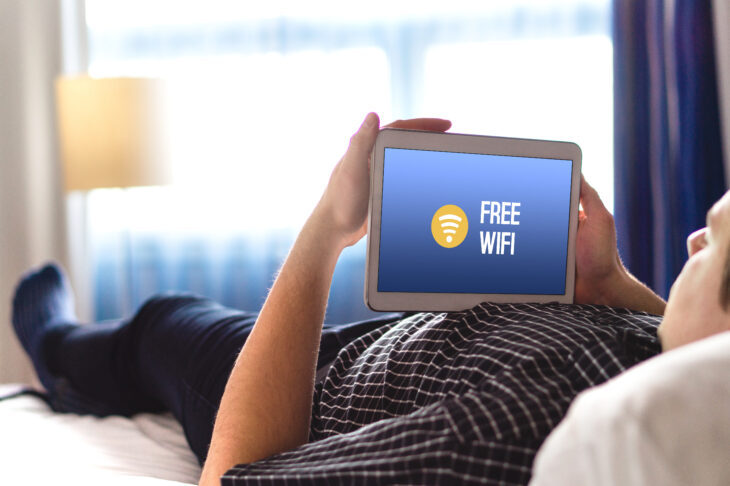 Hotel Internet Services 2022 Guest Wi-Fi Expectations Study found that travelers require greater bandwidth to accommodate their devices.  As more travelers are arriving at hotels with multiple devices with the expectation of connecting them to the hotel's network, hotels need to be able to meet the demand.
Mobile streaming has surpassed TV growth, the percentage of Americans with access to TVs dropped from 76% to 56% in 2021.  Mobile technology is in high demand, therefore reliable Wi-Fi is essential in order to provide guests with the entertainment options that they want.  The biggest issues affecting guests were slow internet speeds, dropped connections and spotty Wi-Fi coverage.  42% of guests had complaints about slow internet speeds, 42% had the most issues with dropped connections and 23% experienced spotty Wi-Fi coverage during their hotel stays.
In order for hotels to provide uninterrupted services to guests, the Wi-Fi infrastructure must be in place to accommodate the increased demand for bandwidth and instant connectivity.  Hotel Wi-Fi service is only as good as the hotel internet service provider that supports it.  An experienced provider will ensure that your hotel has sufficient bandwidth, is scalable, reliable, secure and can keep up with the advances in hotel technology.