Hotel Door Lock Systems: Which is Right for Your Hotel?
Hotel door locks are one of the most important components of ensuring the safety and security of your hotel.  When upgrading your hotel rooms or building a new hotel, choosing the right door lock can be a challenge.  There is an overwhelming amount of locks and new systems on the market and hotels have a lot to take into consideration.  Hotels must consider the lock technology and hardware, how secure the lock is, its reliability, how it will contribute to the guest experience and the expense.
Upgrade Your Hotel Technology!
Types of Door Lock Technology

Hotel door locks not only offer access to guest rooms, but they also allow guests to enter the hotel premises, to access conference rooms, elevators, and the hotel gym.
Magstripe Locks
Magstripe lock technology requires the use of keycards with magnetic strips to unlock hotel room doors.  These types of locks can be programmed to allow guests access to rooms and areas of the hotel during a specific timeframe.  The key card is programmed with guests' information that verifies that the user is authorized to access a specific room.  This style of hotel lock has been in use for years and is inexpensive but is prone to wear and damage.  Keycards are often lost or misplaced by guests and require hotels to fix and reissue the cards.
RFID Technology
RFID hotel locks (Radio Frequency Identification) allow hotels to offer guests more options than the magnetic key card lock.  RFID keycards are embedded with an RFID chip that uses proximity and radio frequencies to communicate with the RFID reader on the door.  This style of hotel lock requires guests to wave the RFID card in front of the reader in order to gain access, the cards are programmed with guest information and once it has been verified, authorizes access to hotel rooms.  RFID technology is more expensive compared to magstripe locks, but they are more durable as they don't require the swiping or inserting of keycards.
PIN Code Locks
Unlike other types of hotel door lock systems, this style of lock requires the use of a sequence of numbers in order to gain entry into hotel rooms.  A numerical code is automatically assigned to guests once they make their reservations and must be entered correctly on the keypad to unlock the hotel doors.  The pin code lock software allows hotels to record the time of entry and guests are not required to carry a key card but must be able to remember their pin.
Bluetooth Low Energy (BLE) Locks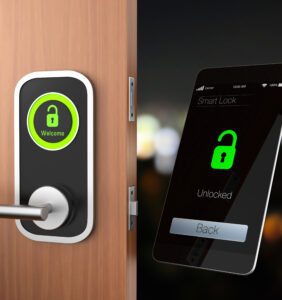 Bluetooth low energy (BLE) locks do not require the use of keycards and once enabled will allow guests to use their phones to access their guest rooms.  To enable BLE, guests must first download the hotel's app and must hold their smartphones up to the sensor on the hotel door lock, which reads the encrypted key and unlocks the door.  Hotel technology such as mobile check-in and mobile key are highly popular with guests, BLE allows hotels to reduce the likelihood of guests losing key cards and getting locked out of guest rooms.  Guests can avoid going to the front desk and potentially waiting on lines to replace lost or malfunctioning key cards.
Full-Body and Separate Component lock Hardware
Hotel door lock hardware plays an important role in the type of door lock technology that hotels can put in place and how easily they can upgrade hotel door locks in the future.
Full-body or unibody lock hardware includes a reader and door handle within one structure.  These locks house the battery supply inside and allows them to be easily recharged.  Full-body locks are easy to install and require minimal modifications to the door during installation.  Due to their similar shape to the magstripe locks, full-body locks allow for the easy upgrade from traditional the magstripe lock system.
Separate component locks include two separate components, a reader and a lock handle and requires a two-step installation process.  This type of lock installation differs from the full body lock hardware as it requires the installation of both components in two separate steps.  Most separate component locks house the batteries inside the look and due to its design, offers hotels more flexibility to upgrade their door lock systems in the future.
More Options for Hotels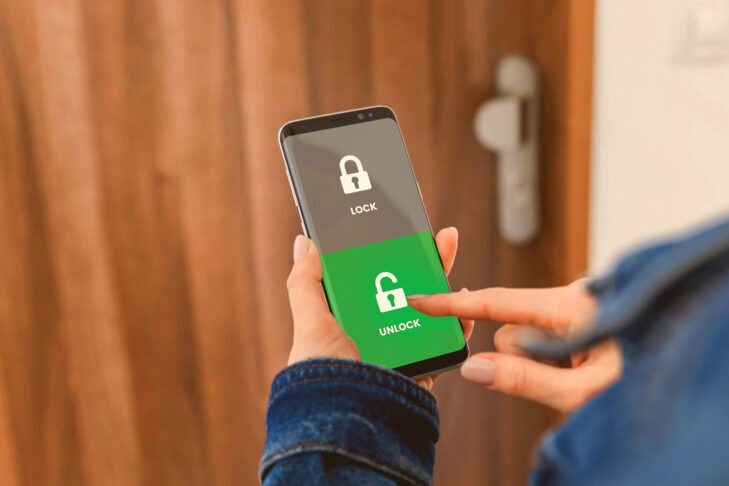 Hotel door lock systems are a big investment for hotels and the right door lock technology can allow hotels of all sizes to upgrade their locks without the need for expensive technology.  The ASSA ABLOY's Mobile Access solution enables hotels of all sizes to upgrade locks and offer keyless entry without the expensive technology and without the cost of replacing locks.  Mobile Access solution is compatible with the latest generation of classic and signature RFID locks.  Unlike other digital key solutions, Mobile Access does not require the replacement of guestroom locks and hotels will only be required to add a small Bluetooth low energy board to locks to enable key less entry.  Hotels with older lock systems can also utilize Mobile Access and can keep the majority of the lock's hardware by upgrading the reader electronics to the latest RFID version before the Bluetooth low energy board can be added.
 Door Lock Technology and the Guest Experience
The right investment in hotel door lock systems could have an impact on the guest experience.  Most guests crave the convenience that technology offers, and recent studies of hotel technology trends found that guests have the expectation of a seamless hotel check-in experience without waiting on lines, a five-minute wait during check-in has the potential to decrease guest satisfaction by 50%.  Hotel technology also has an impact on hotel selection, 49% of consumers reported that high tech features within guest rooms influenced their booking decisions.