Hologram Enabled Hotel Check-in
The investment in hotel technology has revolutionized the guest experience and has made hotel stays more convenient for guests.  Hotel technology has increased in popularity over the past few years, with guests gravitating more towards hotels that offer self-service technology.  Today's guests have lots of options to choose from when it comes to hotel technology, from digital check-in, such as mobile check-in and mobile key, guests can check-in from anywhere with the use of their mobile devices and skip the line and the wait and go directly to their rooms.  Other technology such as self-check-in kiosks, guest messaging, digital menus and digital payments, allow guests to only interact with staff when needed.  With all the convenience that hotel technology has afforded travelers, some travelers still appreciate human interaction.  Hotels can offer guests both the convenience of digital check-in and human interaction, by investing in a hologram check-in solution.
Vendor Spotlight: Holobox Hologram Technology
Holoconnect's Holobox Hologram technology is revolutionizing the check-in process by adding a person touch.  Holobox takes the self-service kiosk experience to the next level by utilizing interactive holographic technology that provide guests with assistance with any number of tasks, including checking in, dispensing room key, and answering questions.  With an 86-inch screen, a pre-recoded video and a touch screen, guests can receive assistance in real time with a life-like hologram.  The hologram technology allows guests the option of connecting with a real-life agent and also allows guests to select their preferred languages.
The holobox technology can be deployed in multiple locations at the same time and can be utilized to offer guests support during high traffic times.  They can be used in many locations, including at the reception area, during events, meetings and performances.  Holobox can also be used for marketing purposes, serve as hosts in restaurants and can be customized for your hotel's specific needs.
Technology Features:
86″ transparent LCD screen with a life size & realistic holographic projection.
20-point IR Multitouch Holobox with an advanced touch system.
Built-in Bose speakers concealed for excellent sound.
Anti-Reflection glass for the best experience.
Extended ports, 3x HDMI, RGB (VGA), Line-out, S/PDIF, 3.5mm jack
Optional: Use the live connection to be digitally present.
Hotels are Investing in Self-Service Technology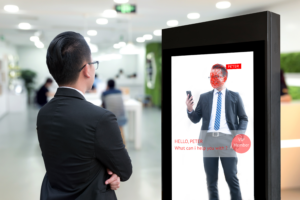 According to a study conducted by Oracle Hospitality and Skift, 54% of hoteliers reported that their highest priority is to adopt technology that improves or eliminates the need for the front desk experience between now and 2025.  The study also found that 73% of travelers were more likely to stay at hotels that offered self-service technology.  Guests want more control of their hotel experience, 38% wanted a fully self-service model, with staff only available upon request.
Self-service technology can help hotels operate more efficiently and can help to attract more returning guests, 34% of travelers said that slow service would be their number one deterrent to rebooking a hotel.  Guests are looking for a more high-tech hotel experience, 74% wanted hotels to use AI to offer more tailored services and 77% were in favor of using automated messaging or chatbots for their customer service requests.
Benefits for Hotels
Streamline Check-in Experience
Hologram technology offer numerous benefits to both guests and hotels.  Guests have the expectation of a seamless hotel check-in without waiting in line, a five-minute wait during check-in has the potential to decrease guest satisfaction by 50%.  Hologram technology can help to reduce wait times and reduce overcrowding at the front desk and communal areas.  By enabling guests to check-in quickly and efficiently, hotels can simplify the check-in process and reduce the amount of time guests spend waiting in line, filling out paperwork and verifying their identity.
Improve Efficiency
Hotel technology, such as hologram technology allow hotels to increase efficiency while maintaining a personal touch.  Hotels can quickly answer questions and provide guests with information directly from the hologram.  Hotels could free up 69% of their time by automating data processing duties, incorporating hologram technology helps to complete tasks normally performed by hotel staff, such as recording guest information, verifying identity, and taking payments.
Address Staffing Shortages
The Hospitality Industry is experiencing a major labor shortage, according to the AHLA 80% of hotels were experiencing staffing shortages and 22% considered the shortages to be severe.  Hotels are struggling the most to fill vacancies in the housekeeping department, with 43% of hotels finding it the most difficult to staff housekeepers.  Hotel technology, such as mobile and hologram technology can help hotels to automate tasks normally performed by the front desk and allow staff to perform other essential duties that can help hotels to operate more efficiently.
Reduce Errors
Self-service technology can help to improve data accuracy and security.  By using electronic forms, hotels can eliminate errors caused by illegible handwriting or typos.  Furthermore, the use of electronic forms can help to reduce the risk of identity theft and fraud, as sensitive information is securely stored and encrypted.
A Safer Hotel Stay
Self-service technology also helps hotels to offer a safe experience by limiting interaction between guests and employees.  92% of travelers don't miss being around other people during their hotel stays.  Self-service technology allows guests to check-in and go directly to their rooms without interacting with employees and other guests.
Hotels can Better Compete
Self-service technology such as hologram and mobile technology can have an impact on the overall guest experience and allow hotels to attract guests who are looking for a high-tech hotel experience.