Is On-Premise PBX The Right Choice for Your Hotel?
What is a PBX Phone System?
Private Branch Exchange, more commonly known as PBX is a privately managed telephone system that is primarily used by hotels and other businesses.  PBX enables internal and external dialing and allows hotels to manage calls with features such as call routing, call recording, voice menus, and queue management.  Although most guests utilize their mobile devices more than the hotel phone, the right phone system still plays a vital role in keeping employees and guests safe, in connecting team members, and improving the productivity of staff.
What is an On-Premise PBX Phone System?
On-premise PBX is installed and managed on the hotel's premises and requires the monitoring, the upgrading of technology, and troubleshooting by the hotel's IT department.  Traditional PBX connects via a Public Switched Telephone Network (PSTN) with the use of traditional phone lines and all hardware is on-site with an on-premise PBX.  Hotels purchase and own all aspects of their communication system, with ownership of the phone system hardware, the network and server equipment.  The hotel's IT staff are responsible for all updates and maintenance of the PBX system.
S.I.P. Trunking and On-Premise PBX
On-premise PBX can utilize S.I.P. Trunking (Session Initiation Protocol) to modernize phone systems and to save on expenses.  S.I.P. Trunking is a process by which business telephone systems can operate using an existing internet connection, instead of traditional phone lines.  SIP utilizes VoIP (Voice Over Internet Protocol) to move your PBX phone calls over an internet connection.  This allows your PBX to connect with a Public Switched Telephone Network (PSTN) without the use of traditional phone lines.  With S.I.P. Trunking, hotels can save by only paying for internet service, as opposed to paying for service from a separate phone and internet service provider.
Is On-Premise PBX the Right Choice for Your Hotel?
There are several persuasive reasons to adopt an on-premise PBX phone system and a knowledgeable Hospitality provider can help you make the right choice.  With an on-premise PBX, hotels purchase and own all aspects of their communication system, with ownership of the phone system hardware, the network and server.  If you are weighing the benefits of a PBX that is kept and maintained on your premises instead of hosted by your providers, there are various benefits to consider.
Lower Running Costs
On-premise PBX typically has a lower cost in the long run and the use of SIP Trunking can help hotels to reduce costs.  Setting up an on-premise PBX system will require a larger up-front cost than hosted PBX services, but it's a one-time expense, while hosted PBX require a monthly fee.  On-premise is a good option if it will cost your business less to manage, along with associated trunks, than it would to retain a hosted license for each user.
Greater Control and Flexibility
An on-premise PBX system offers business owners full control over their communication system with the ability to customize it to meet their specific needs as well as to fit future requirements. Hotel owners would own their own hardware, network, and server systems with the ability to make changes as needed.  Ownership of on-premise PBX also means that hotels won't have to pay a monthly fee to use the equipment that is hosted.
Reliable Service
On-premise based PBX phone service is available even in the event of an internet outage and allows hotel operations to continue without disruption.  A power outage can affect faxes, video conferencing and voice services, but on-premise PBX systems are always operable and allows hotels to carry out business as usual.
Customizable Security
An on-premise PBX solution can be beneficial to your hotel by allowing your experienced IT team to determine the level of security that will meet your needs.  This gives your IT department the ability to manage phone systems by applying their own customized solution.
Choice of Platform
On-premise PBX gives hotels the option to choose from a range of manufacturers, such as NEC, Panasonic, Unify, Avaya & LG.  Many of the hosted PBX solutions utilize the same underlying technology platform.
Compliance with RAY BAUM's ACT & Kari's Law
In the past hotel phone systems required the caller to dial 9 or a similar digit to place calls outside of the hotel, even to dial 911.  RAY BAUM's Act and Kari's Law require that hotel phones provide direct access to 911 and are equipped to identify the specific location of the caller (building, floor, room #).  Hotels can comply by switching to an S.I.P. Trunking provider to ensure that PBX phone systems directly access 911, to provide callback compliance and to provide accurate location information.
On-Premise PBX Features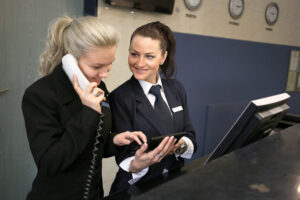 PBX phone systems come with features that help hotels to operate more efficiently, therefore increasing the guest satisfaction.  PBX is designed for the business environment and offers Hospitality features that helps to connect team members and to improve the productivity of staff.  When calls are placed to the front desk, the guest's information is automatically displayed allowing the front desk agent to offer a personal greeting.  PBX phone systems come with other valuable features that helps hotels to run smoothly.
Voicemail to Email Forwarding
The voicemail to email feature transcribes voicemails to emails and allows hotel staff to receive voicemails directly to their inbox.  Emails are routed to the appropriate department and will include the caller's information.
Auto Attendant
The auto attendant feature reduces the number of missed calls and voicemails by ensuring that calls are always answered by directing calls to an available staff member.  The feature uses a prerecorded menu to give incoming callers information and directs them to different departments.
Interactive Voice Response
An Interactive Voice Response (IVR) functions similarly to an auto-attendant but uses your voice to route calls to the appropriate department instead of pressing numbers.  IVR menus can expedite incoming calls, route calls and schedule a call back.
Call Routing & Queue Management
This feature allows callers to be placed in a queue when an employee is not immediately available to take their call.  An automated message notifies callers of their position in the queue and lets them know their expected wait times.  The call routing feature allows calls that are sent to the wrong department to be diverted to the most appropriate department without the need for callers to rejoin the queue.